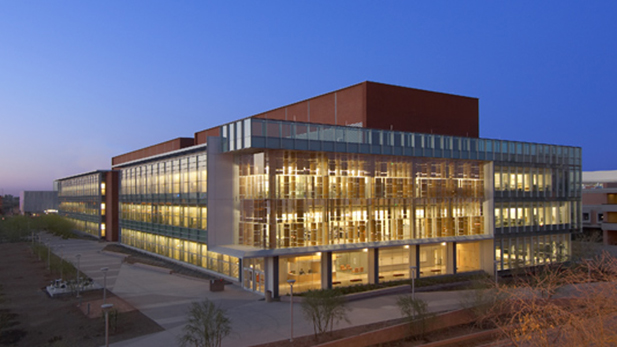 Arizona State University's Biodesign Institute.

Courtesy of Arizona State University.
By Nicholas Gerbis, Arizona Science Desk
An Arizona State University institute has developed a radiation dosage test that could help doctors triage victims of a nuclear attack, something the U.S. has lacked throughout the 70 years of the nuclear age.
Current tests gauge contamination – radioactive matter consumed or breathed in – but not exposure, like gamma rays from a nuclear blast. ASU's Biodesign Institute has developed the Radiation Biodosimetry Test, or ARad, which uses gear already found in many medical centers to test thousands of blood drops per day.
ARad looks at 13 genes known to undergo changes in expression under different levels and periods of radiation, project lead Joshua LaBaer explained.
"We can predict the dose of radiation that persons received over a fairly broad range – from zero to eight or nine gray – and from the moment of the exposure to seven days after the exposure."
"Gray" (Gy) refers to the international unit for ionizing radiation dosage: 2-plus Gy is worrying; 4-6 Gy can be lethal.