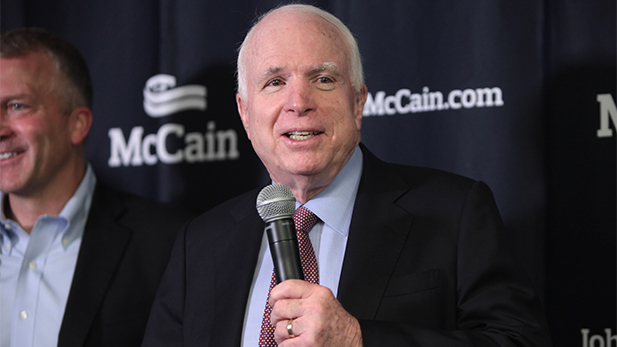 U.S. Sen. John McCain, R-Ariz.

Gage Skidmore
Sen. John McCain won a sixth term in the U.S. Senate in a race often characterized by the veteran politician's conflicts with Republican presidential candidate Donald Trump.
McCain had 53.3 percent of the vote compared to challenger Democrat Ann Kirkpatrick's 41.2, with more than 80 percent of precincts reporting.
McCain had characterized his run for re-election as "the toughest race" of his political career, facing a staunch conservative challenge in the primary and a strong Democratic challenger in Congresswoman Kirkpatrick.
McCain began his first term in Congress in 1983. He ran for and won a seat in the Senate in 1986. He had cited national security and Arizona's environmental challenges as important issues in his campaign.
"The nation is under attack, and, according to the director of National Intelligence and the head of the CIA, there will be further attacks on the United States of America," said McCain. "And the other [issue] is our environment – fire and water. Fire and water are the challenges for Arizona for our children and our grandchildren," he continued.
Kirkpatrick is also a Capitol veteran. She is serving her third term in the House. The district she represents, Arizona's 1st Congressional District, is one of the largest in the nation. It stretches from Oro Valley to the Utah border so she has experience in running a nearly statewide campaign.
During the campaign, Kirkpatrick repeatedly attacked McCain for supporting Donald Trump.
"At some point, he needs to explain to us, the citizens of Arizona and the country, 'Why?'" Kirkpatrick said in an interview. "Why, somebody who has said divisive, hateful, racist things, even insulted John McCain himself, and yet he still supports him," said Kirkpatrick.
And when McCain pulled his support from the Republican presidential nominee, Kirkpatrick again attacked.
"John McCain showed today he only cares about one thing: his political career," Kirkpatrick said in a statement emailed to news media outlets.
"His decision is nothing more than a political calculation. It's been more than 24 hours since Trump's comments were released. If it takes a full day for McCain to decide something is inappropriate, then he clearly doesn't have the leadership Arizonans need."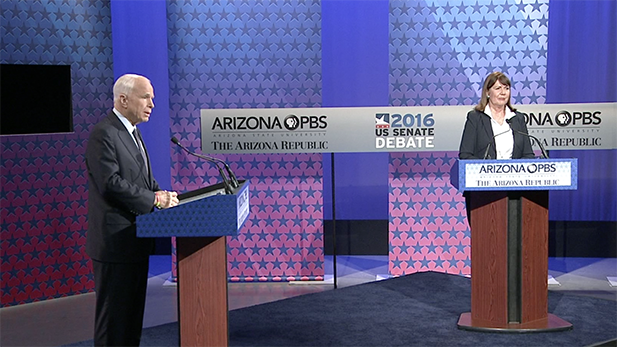 U.S. Senate candidates Republican John McCain and Democrat Ann Kirkpatrick participate in a debate on Oct. 10, 2016.

Courtesy KAET
Both candidates ran on long-held positions, though McCain changed his rhetoric on immigration. Six years prior, his campaign tagline was "build the dang fence." He then began to move away from that idea.
"What works is sufficient Border Patrol, sufficient surveillance, sufficient interior enforcement as well. We have made significant improvements in border security, particularly in the construction of towers that can see many sections," McCain said.
"I'm sure that some people have visited China or read about China. The Chinese built a great wall at one point. That didn't work either."
Kirkpatrick was more direct in her opposition to the proposal.
"Donald Trump's idea of building a wall at the Arizona border is bad for business. But deporting 12 million people? That's personal to a lot of Arizonans," she said, adding that border security and immigration go beyond walls.
"We've got to pass comprehensive immigration reform, including the (DREAM Act) [https://radio.azpm.org/p/kuaz-featured/2015/6/15/66040-half-a-million-young-immigrants-benefit-from-obamas-program-3-years-later/]. You know we think we could do it now in Congress if leadership would let us vote."
McCain's view begins with border security, but he too goes beyond surveillance.
"We have to do a number of other things. One of them of course is E-Verify. That means that anyone who applies for a job has got to have a document that proves they are in this country legally," he said.
"I'm hoping that we can have a secure border, a path to citizenship. That means fines. It means background checks. It means back taxes. It means getting in line behind everybody else – a very tough path."