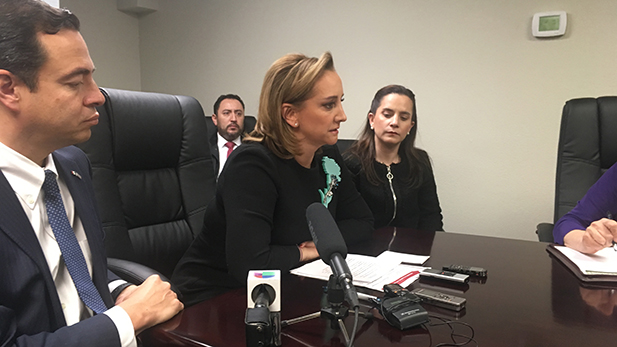 Mexico's Secretary of Foreign Relations Claudia Ruiz Massieu speaks in Tucson, Dec. 2, 2016.

Christopher Conover, AZPM
The changing White House administration has led a number of high-ranking Mexican officials to visit Arizona to shore up relations.
Mexican Secretary of Foreign Relations Claudia Ruiz Massieu visited the Mexican consulate in Tucson to make sure operations were running smoothly but also to reassure Mexicans and Americans.
Massieu has visited Arizona three times this year. Earlier this week, she met with the mayors of Los Angeles, California, and Austin, Texas.
She admitted there is a sense of "uncertainty" right now as the President-elect Donald Trump prepares to take office. However, she said, that is typical anytime there is a change in leadership in either country.
"But we know, understand and have a conviction as well that this is a relationship that is going to be built on mutual respect, trust and understanding, like it has always been," said the secretary.
During the campaign, Trump said many Mexicans who illegally cross the border are violent criminals. He has since tried to clarify that statement, saying most Mexicans who come to the United States are hard workers.
Massieu said the Mexican government will, "not take any step back when it comes to defending the dignity and the rights of our community in the United States."
After her meetings in Tucson, Massieu travelled to Hermosillo, Mexico, to meet with members of the Arizona-Mexico Commission and Arizona Gov. Doug Ducey.
Earlier this week, Mexico's ambassador to the U.S. met with lieutenant governors in Nogales, Arizona. He was also in Tucson to meet with Mayor Jonathan Rothschild.