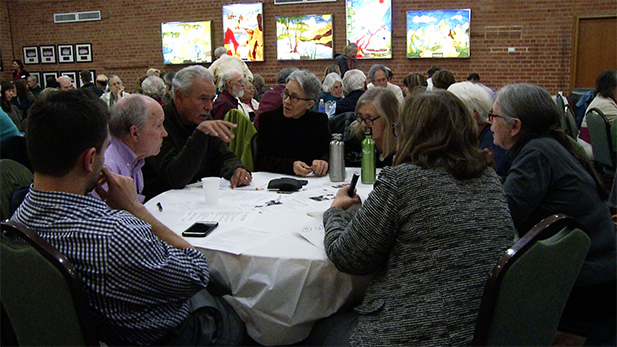 Listen:
Civility in politics seems almost an oxymoron, but there are those working on improving discourse and trying harder to listen well.
One such event recently in Tucson at Temple Emanu-El drew 200 residents, who gathered at tables and talked about the election. The turnout surprised the organizers
"We had no idea when we came up with this idea if we'd have anyone who'd even show up, so it's really thrilling to see a packed room of people who want to invest some time in joining us for a dialogue this evening," said Beth Morrison, CEO of Our Family Services. The nonprofit organized the event with Tucson City Councilman Steve Kozachik.
Several other elected officials joined the event, but they were there to listen.
At each table, groups of eight started the conversation by revealing their emotional responses to the November election.
"It's easy for me to write off the people on the other side, but I was really amazed by the people that I thought I was allied with and my feelings about that," said Mitzi Cowell.
She said it broadened her perspective to be surprised with her own reaction to the election.
Lesley Beach, who was also dissatisfied with the election results, said she finds solace in being with people who agree with her.
"The next morning when we were all crying at work, I was, well, I'm scared, and I also don't want to watch the news. I can't believe how wrong I was. I missed something," Beach said.
Some at the event said they didn't feel others listened to them during the election campaign. Mark Hoffman felt the opposite, and said he wishes he had listened more.
"I was also disappointed from the folks that I agree with that we did not engage people that we disagreed with or who come from a different point of view more fully, and allow their own fear and anger to be acknowledged," Hoffman said.
After everyone at the table shared their reaction, the groups turn their attention to brainstorming. The facilitators at each table asked the participants to make suggestions for the community leaders, elected and otherwise, to help improve the tone of discourse.
Then, they turned the tables and had to address what they will do to create a community they desire.

"The first thing that strikes me is to not depend on our leaders to get us out of this," said Hoffman. "I would like for them to set a tone, yes, and to be forthright and transparent. And because one of the reasons people do all this negative stuff is because it works, negative ads work, and a lot of the negativity stuff works. It doesn't do much for building a community or strengthening a democracy, but it might help people get elected."
Then, each of the tables had to summarize their conversation, and report back to the elected officials observing the process.
They suggest changes that require governmental action, personal commitment and community cohesiveness:
Elected officials should govern in a non-partisan manner
Residents should volunteer as a political action
People should reach out to others to bring them to community events
Everyone should try to spend time with people who have different opinions.
"At our table we had people who were, in the main in agreement with how we were feeling, so we didn't get to engage with people who were feeling different from us," said Peggy Wenrick, after the event. "But nevertheless I think it's a value, I think it's critical and hopefully in the future more people with different political points of view will come and participate."
Reflecting on the event, Cowell said maybe it worked out that the crowd was politically homogenous.
"Right now I also have to be real that there are some really heavy feelings and I don't think that we need to squash them down. I think we also need to come together in groups where we agree with each other and say what needs to be said about how much we've been hurt," Cowell said.
There will be a time when those hurt feelings turn into some other kind of conversation, she said.
"This could make some steps in our community."
One challenge that remains is finding those other parts of the community, the people one may not agree with.
"I think within neighborhoods is a good idea," Cowell said, reacting to one of the suggestions made during the event. "We have all different kinds of viewpoints on the street where we live, and I know that talking to neighbors is a place where we can start."