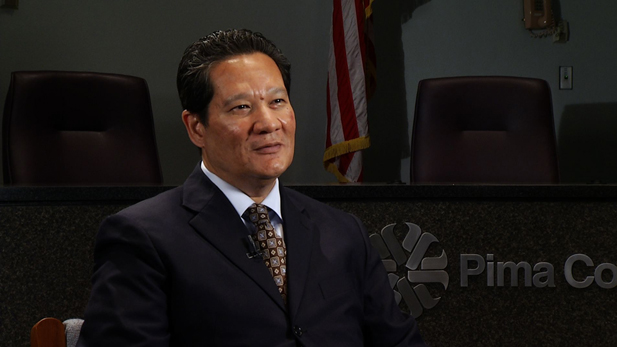 Pima Community College Chancellor Lee Lambert.

AZPM Staff
Pima Community College will likely remain under sanction at least another nine months, its accrediting agency has informed the Tucson school.
The Higher Learning Commission removed the college from probation last year, placing it "on notice," a lesser sanction. The commission's review team identified 11 areas of continued concern.
The report from a team of peer reviewers was made public this week, recommending sanctions be removed in 10 of those 11 areas, citing significant progress.
It called for the school to remain under sanction because of concerns over the 11th area: how Pima assesses student learning outcomes. Specifically, the reviewers want the college to hire two positions: a director of assessment and a research analyst.
Chancellor Lee Lambert wrote in an e-mail to the college that an offer had already been made to a candidate for the director's position and interviews for the research analyst were underway this week.
Lambert wrote that the college had hoped to come fully off sanction, but he was "heartened and encouraged by the significant progress to date."
The Higher Learning Commission's Board of Trustees is expected to decide in March whether to follow the review team's recommendation to keep Pima under sanction.