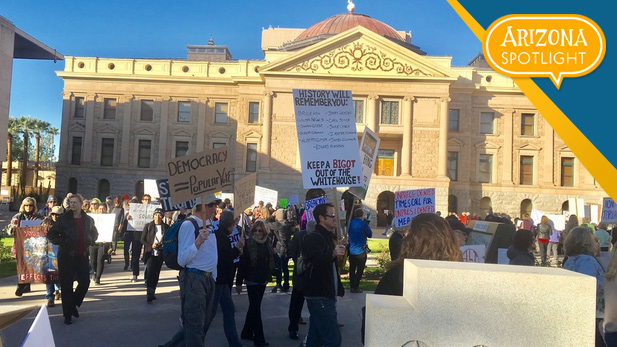 Featured on the December 23rd, 2016 edition of ARIZONA SPOTLIGHT with host Mark McLemore:
Eleven members of Arizona's electoral college cast their votes for President-elect Donald Trump this week, but that vote was cast after each elector received thousands of protest messages. Christopher Conover talks with electors and protesters in the state capital about what transpired...

How will the year 2016 be remembered? In a new edition of Under the Sun, Andrew Brown talks to attendees at the 4th Avenue Winter Street Fair about the highs - and lows - they've experienced in the past 12 months...
Andrew Brown spoke with Ruth the Tarrot reader, Rebecca Safford, Paul Richard, James Fitzsimmons, Avi Lamb, Bethany Evans, Timmy Morgan, TPD Officer Chris Hawkins, Sharita Collins, Sean Parker, Martín Fontes, Ken Andre, David Patrick McGan, Jim Anderson & Donovan White.
Video games have now been part of American culture for almost half a century, and for many stir up nostalgic memories around the holidays. Mark talks with Ken McAllister and Judd Ruggill, co-directors of The University of Arizona's Learning Games Initiative Archive about preserving and celebrating video game history...

And, the debut of The Drum and the Story, a new series of folktales from around the world that highlight Tucson's multicultural diversity. Praise Zenenga, director of the University of Arizona's Department of Africana Studies, shares a story from the Kalahari Desert region that offers an explanation for "Why the Owl Flies at Night"...
ARIZONA SPOTLIGHT airs every Friday at 8:30 am and 6:00 pm and every Saturday at 5:00 pm on NPR 89.1 FM / 1550 AM.