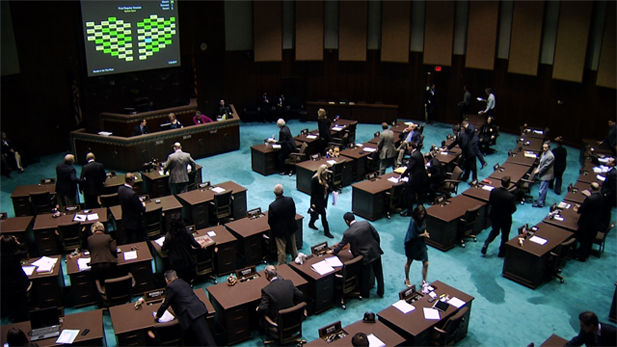 Members of the Arizona state Legislature meet at the Senate Building.

AZPM
Arizona business leaders are excited about the shape of Arizona's economy.
"We're very bullish, where the state is going," said Glenn Hamer, president of the Phoenix-based Arizona Chamber of Commerce and Industry. "We've made tremendous progress in the state in terms of our economic competitiveness."
Groups in the state's capitol and largest metropolitan area are not the only ones who think the economy is doing well.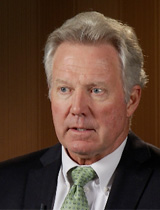 Michael Varney, president and CEO of the Tucson Metro Chamber.

AZPM Staff
"The wind is back in the sails of the local economy here in Tucson and Southern Arizona," said Tucson Metro Chamber of Commerce President Michael Varney.
Tucson's economy is carrying momentum into the 2017 legislative session. What do business leaders think the Legislature can do to further the state's economy?
For many, the biggest issue is the same.
"I think education is a top priority for most of the citizens in Arizona as well as the businesses who are worried about attraction of customers or even new industries to Arizona," said Tucson Hispanic Chamber of Commerce President Lea Marquez-Peterson.
Hamer and Varney agree.
"It's critically important for businesses to have well-educated students coming out of our schools because that's our workforce," said Hamer.
Varney said well-funded schools are also helpful to employers recruiting top talent to Arizona, and both of those notions are reasons to increase education budgets across the board.
"We're going to do everything we can to promote more money for K-12 education, for the technical schools, especially Pima, right here in our community, and for our four-year degree institutions," he said.
Another area all three of these business leaders agree on is the need to spend more on transportation infrastructure.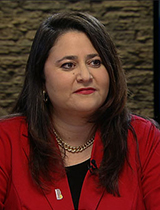 Tucson Hispanic Chamber of Commerce President Lea Marquez Peterson
"Where the state goes in terms of funding certainly impacts what the county can do in terms of Regional Transportation Authority reauthorization or any kind of other initiative to support transportation," said the Tucson Hispanic Chamber's Marquez-Peterson.
"And the City of Tucson is now talking about an increased sales tax, related in part to transportation. So all of that impacts how we do business."
The Tucson Metro Chamber's Varney said transportation spending is a big topic for Tucson businesses.
"We've done a lot of survey work with the major investors in the Tucson Metro Chamber, and over and over and over again they tell us, 'Just fix our roads,'" he said.
Education and transportation infrastructure are common refrains, but what other areas concern these business leaders?
One area, according to Varney, is ensuring taxes stay as low as possible.
"We're never going to be a no-tax state. No state is," said Varney. "But we want to make sure that we have the funds available to do these critical things to keep our economy rolling forward."
Another, according to Marquez-Peterson, is ensuring the state does not take actions that would prove injurious to local relations with Mexico.
"I was president (of the Hispanic chamber) during SB 1070, and certainly saw the economic impact of that law," said Marquez-Peterson. "We're hoping that there are no rules or laws or policies put in place that would impact what we think is a continuing-to-grow economy with Mexico."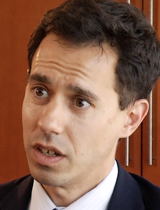 Glenn Hamer, president and CEO, Arizona Chamber of Commerce and Industry.

AZPM
For the Arizona Chamber's Hamer, whose organization is currently fighting a voter-approved minimum wage increase in court, a priority is restricting how propositions make their way to the ballot.
"We have an initiative process where anyone from anywhere in the country can basically get anything on the ballot for a million bucks," he said, adding that such matters can only be altered by again going through a process of public voting.
"We have to be very, very careful when we use the initiative process, what the effects will be and what are the abilities of the Legislature to change obvious defects."
For all three, it is easy to be optimistic heading into the legislative session.
"The economy is a fickle animal, and it can change on a dime. But everything right now seems to be pointing towards a pretty darn good year for our local and state economy and in 2017," said Varney.
And the direction of that fickle animal could be strongly affected by legislation that comes up in the session that begins Monday.