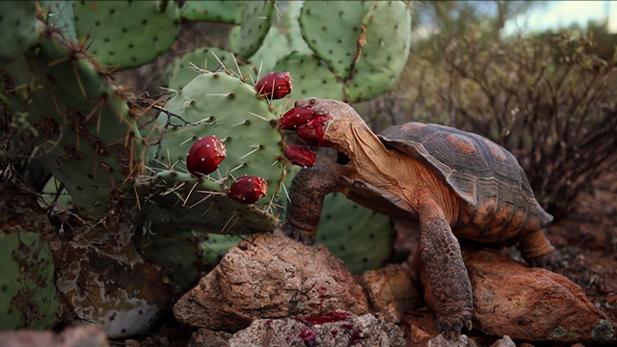 A desert tortoise snacks on a prickly pear fruit. somewhere the Sonoran Desert.

AZPM
Are you considering getting a pet, but the usual furry or feathered options seem a little too demanding?
Arizona Game and Fish is looking for people who would like to care for a low-maintenance pet that is distinctly southwestern.
The department has nearly 100 adoptable desert tortoises, and it would like to find new homes for the animals as they awaken from hibernation.
Tortoises are available to anyone living in the animal's natural range, which includes Tucson, so long as they have a yard that is declared suitable for the animal.
Suitability requirements include a tortoise shelter and an enclosed space free of potential hazards, such as pools, fire pits or dogs.
The tortoises that are available are captive-born animals whose previous owners could no longer care for them or moved out of the animal's natural range.
It is illegal to release a captive-born tortoise into the wild, so the past owners have turned the animals over to the state.
There is no charge to adopt a tortoise.
More information on adoption is available on Arizona Game and Fish Department's website.