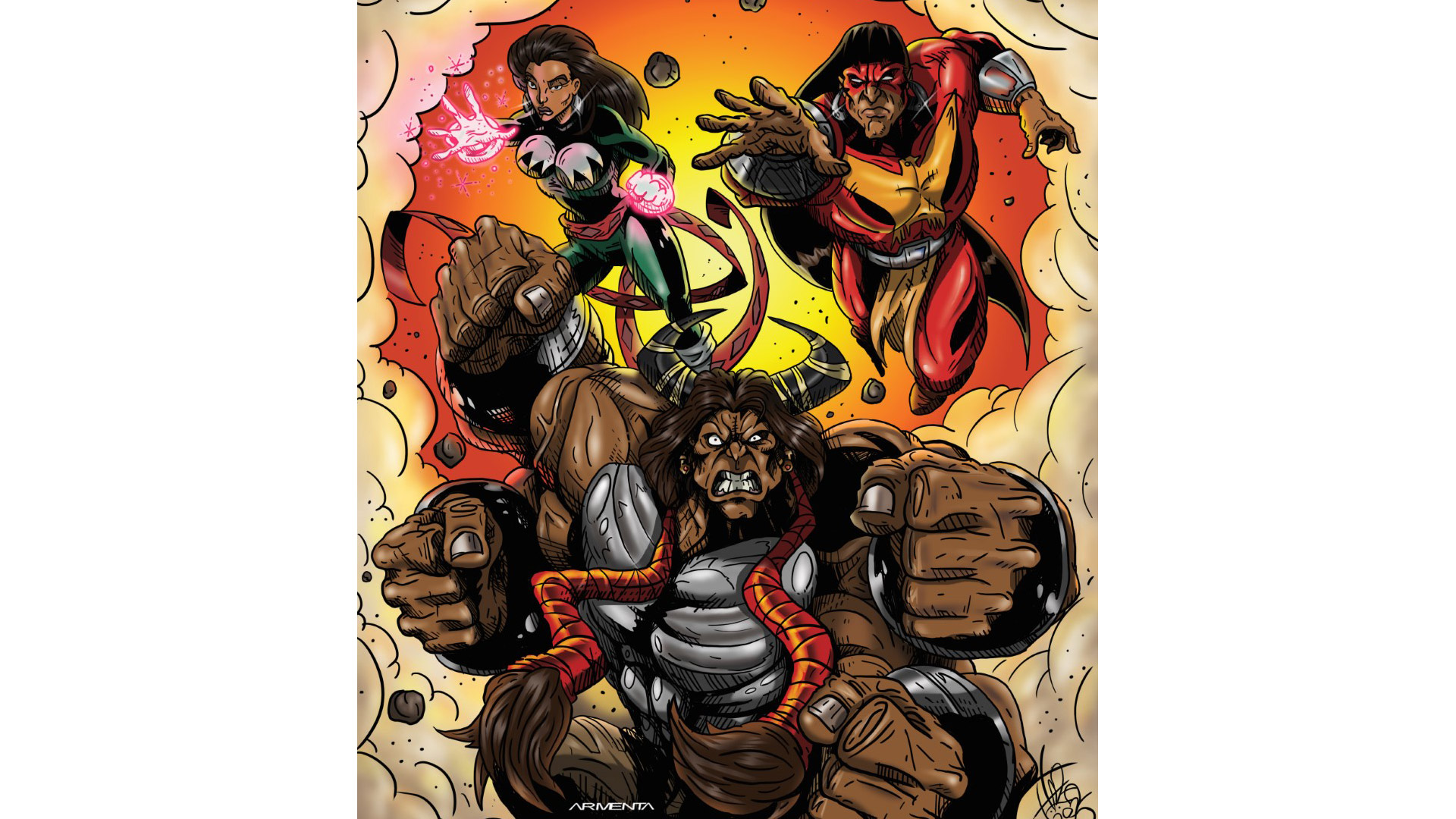 An image from "Tribal Force", the nation's first all Native American superhero comic book.
Tribal Force
Growing up, Jon Proudstar didn't have heroes who looked like him. So he created them. In doing so, he also created the nation's first comic book starring an all-Native American superhero team.
"There's such a deficit for us having heroes," said Proudstar, who is of Yaqui, Latino and Jewish heritage. "What most of society doesn't realize is that when you turn on the TV, or open a magazine or a comic book, and there's nothing but white heroes, it's daunting. It's hard to relate to that."
When he did see Native American characters, they were often stereotypes: "noble savages" wearing feathers, war paint, and armed with "mystical arrows," or wild-animal Spirit Guides.
"It's hard not to say 'the white people' – but that's who was doing it," he said. "It was white publishers, and they didn't get it. They didn't understand the importance of superheroes for us."
When a comic book did create a complex Native character, it typically wasn't for long. That was the case with a young Proudstar's favorite character: Thunderbird.
In 1975, Thunderbird was introduced as a full-fledged member of the X-Men superhero team. He was an Apache character with a realistic storyline: He learned advanced combat skills as a Marine in the Vietnam War, and hailed from an Indian reservation in Camp Verde, Arizona.
"I was so happy to see this Native guy who looked like me," Proudstar said. "And they killed him off four or five issues later. And I was heartbroken. I think I was 8 years old."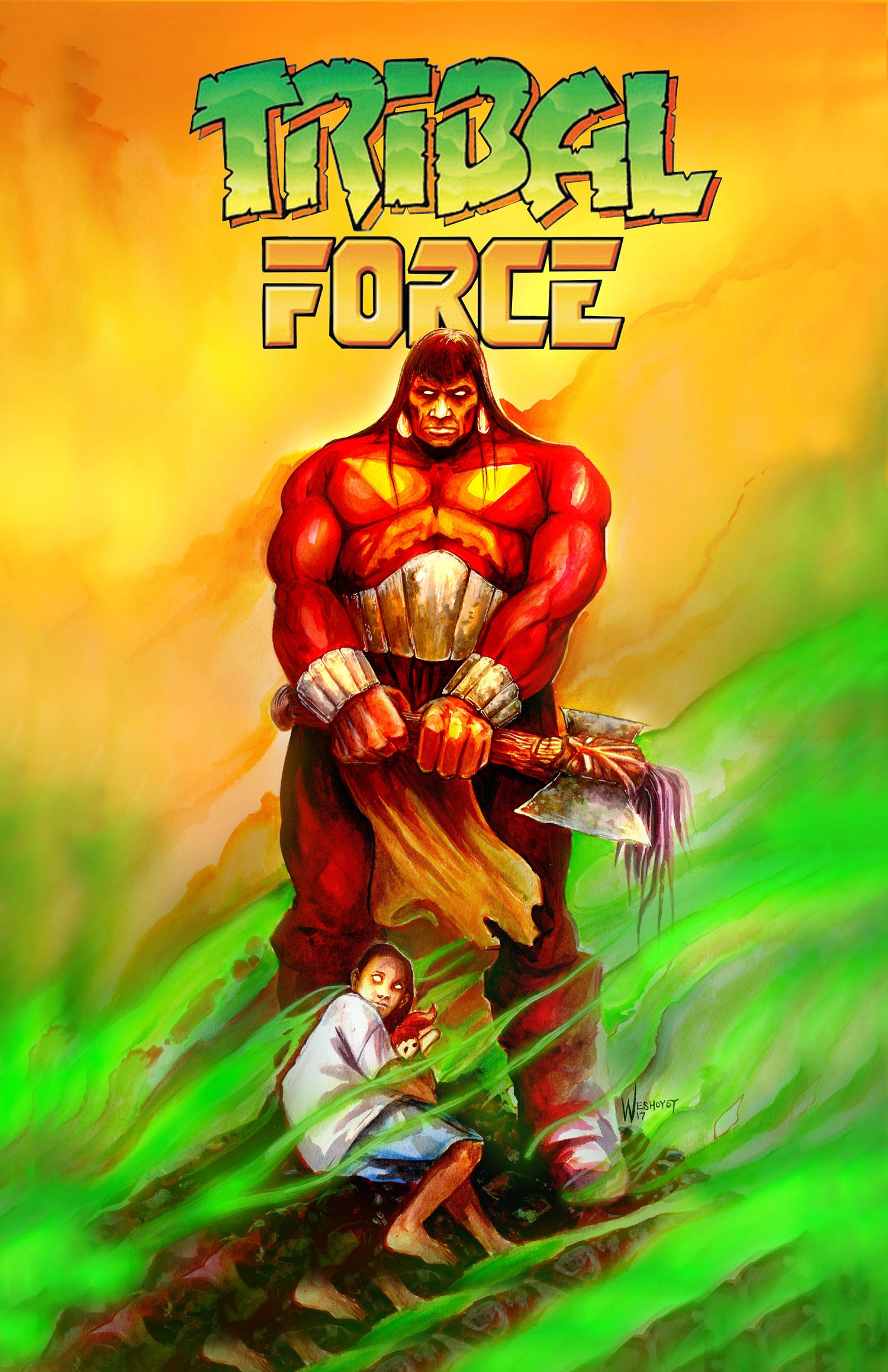 VIEW LARGER Cover by Weshoyot Alvitre

Native Realities Press
Fast forward to the 1990s. Proudstar partnered with fellow Tucsonan Ryan Huna Smith – whose own heritage is Cemehuevi and Navajo – to create Tribal Force.
Today, Smith is a professional illustrator and educator. He says Tribal Force is still an important project.
"As Native people, we tend to get categorized into the Old West, and people tend to look at Natives as a people who used to exist at one time," he said. "Well, we still do exist. We have our cultures, and we have our traditions, but it's part of this new, contemporary world we're part of."
Tribal Force stars a cadre of flawed Native characters – who deal with ugly, real-world problems that Indian kids face today, like high rates of alcoholism and domestic violence on Indian reservations.
Proudstar didn't grow up on "the rez" – but did counsel troubled youth offenders from the Pascua Yaqui and Tohono O'odham reservations. Some Tribal Force stories are drawn from real life.
"There are tribes making progress, which is great, but there's still many, many tribes that are living in Third World conditions," he said. "And that's my war. That's what I want to take on."
"As Native people, we tend to get categorized into the Old West, and people tend to look at Natives as a people who used to exist at one time," he said. "Well, we still do exist. We have our cultures, and we have our traditions, but it's part of this new, contemporary world we're part of."
The Tribal Force team includes a time-traveling god called Thunder Eagle, and a 15th century Aztec warrior who has trouble adapting to modern society. There's Gabriel Medicine Dog, a Hunkpapa Sioux Man struck mute by Fetal Alcohol Syndrome. He transforms into the Incredible Hulk-like character Little Big Horn.
He in turn protects Nita, a Latina-Navajo molestation survivor who becomes the goddess Earth. She has the power to command Lava, Rock and Fire.
The first issue of Tribal Force was published in 1996. In 2008, it became part of a traveling pop-culture exhibition called Comic Art Indigène. One stop was in Washington, DC – at the National Museum of the American Indian.
"Tribal Force was influential," said show curator Tony Chavarria. "One, it was creator-owned, independently published. It was Native artists producing something as pop culture, and that wasn't something completely and often done at that time. People either worked in souvenir art or fine art."
In addition to wild, sci-fi storylines, "Tribal Force" also includes factual details about individual tribes. As the characters learn more about their own tribal histories, their powers grow.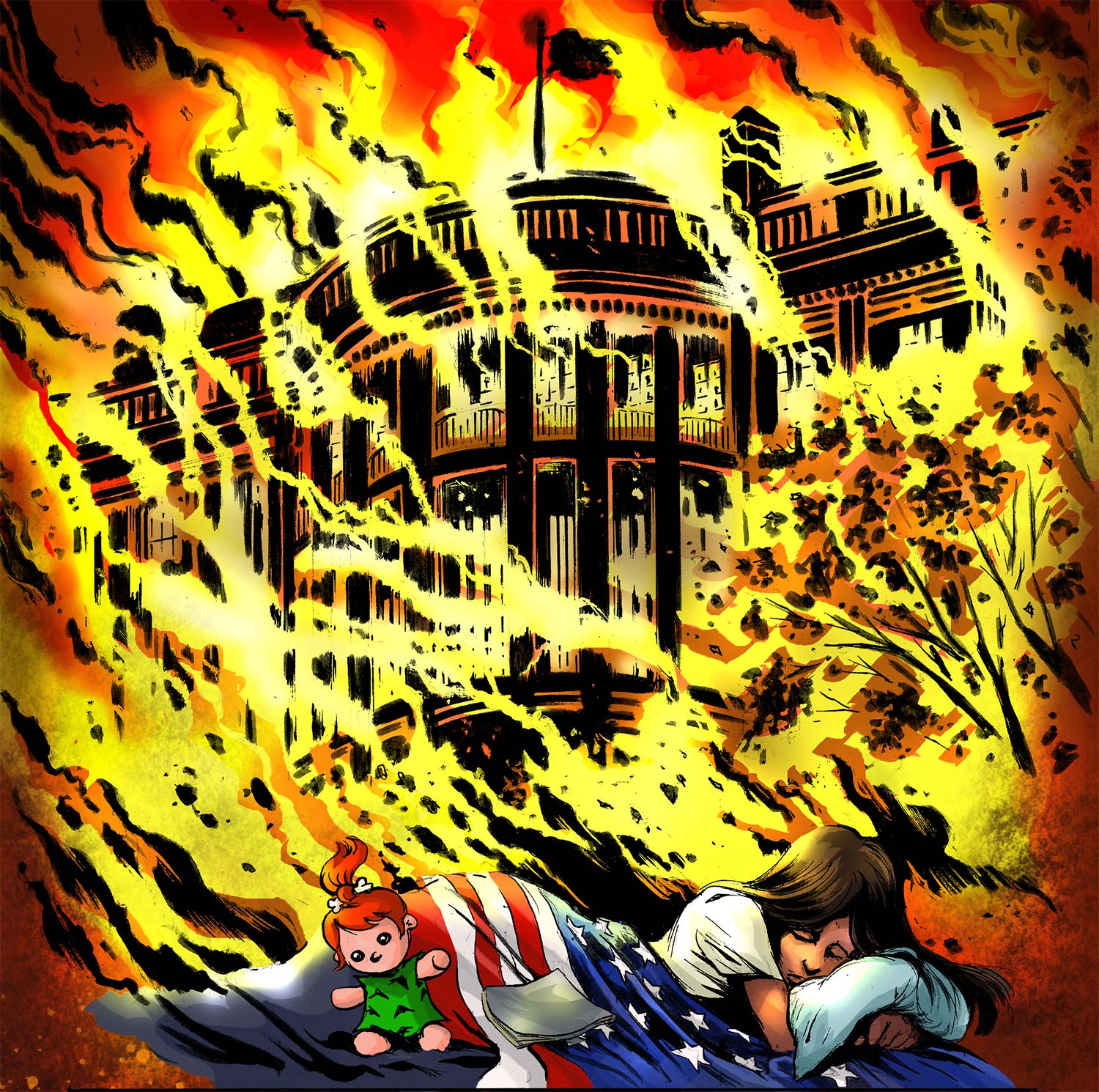 VIEW LARGER Pencils and inks by Ron Joseph, colors by Weshoyot Alvitre.

Native Realities Press
Comic book readers learn along with them. The message is clear: Knowledge is power.
Proudstar said he has been approached by larger comic book companies, but refuses to sell rights to the characters he created.
"The biggest problem I've had with publishing companies is they don't want me to write about all the bad stuff," he explained. "They always want to cauterize it, and they usually think, 'Well, we'll just offer him money and that'll shut him up.' I want Tribal Force to stand for something other than, 'Oh, they're just Indian heroes.' No, they're going to be Indian heroes that deal with Indian problems."
Proudstar said these are uncomfortable stories, but they need to be told.
"People always want to know: 'How did you guys go from being this incredible race of warriors to where you are now – which is on the reservation, with diabetes, child molestation, alcoholism, crime?'
"When you do the forensics, unfortunately, all arrows point back to the government – and the promises that were broken, and the treaties that were broken. It becomes political, whether you want it to or not."
In November, Proudstar will appear at Indigenous Comicon, a Native-themed pop-culture convention in Albuquerque. The three-day event will celebrate comic books, graphic novels, film and TV shows, as well as video and tabletop games.
The convention promoter is Lee Francis IV, CEO of Native Realities Press. He is also managing editor of Albuquerque-based INC Comics. He said Tribal Force really resonates with a Native audience.
"We've been enamored with super heroes since – as Native people, as indigenous people – since time immemorial," he said. "These are our Tricksters. These are our Hero Twins. These are the characters that have been factored into our stories. And I think we share that as humanity."
Proudstar will promote Tribal Force at the convention, and hopes to find an open-minded publisher for additional issues.
"I don't know if anyone is ever going to pick up 'Tribal Force,'" he admitted. "I get patted on the back a lot, and they're like 'As soon as somebody picks it up, you're going to be a millionaire, and they're going to make toys and shirts and video games and movies' – and I'm like 'Well, I struggle to pay my electricity bill and phone bill, so that reality is not a reality for me.'"
These days, Proudstar is in demand as a public speaker and actor – most often in independent short films like "Running Deer" – where he co-starred with Native American actor Booboo Stewart. Stewart had a recurring role in the "Twilight" movie series, and also played Warpath in the X-Men film "Days of Future Past." In comics, Warpath was the younger brother of Proudstar's favorite hero, Thunderbird.
In his midtown Tucson apartment, the 49-year-old Proudstar is literally watched over by a large collection of colorful, plastic superhero action figures. He said there's a reason for that.
"You don't want to be the cautionary tale at family picnics – even though I am," he said, with a laugh.
"You don't want it. So I surround myself with the Hulk, and I have Superman over there, and Thor, and the X-Men up there. It's a constant reminder of when I feel weak – to not be weak."
As long as Native kids need heroes, Proudstar said he will keep trying to tell their stories.
And after all these years, that is heroic in itself.