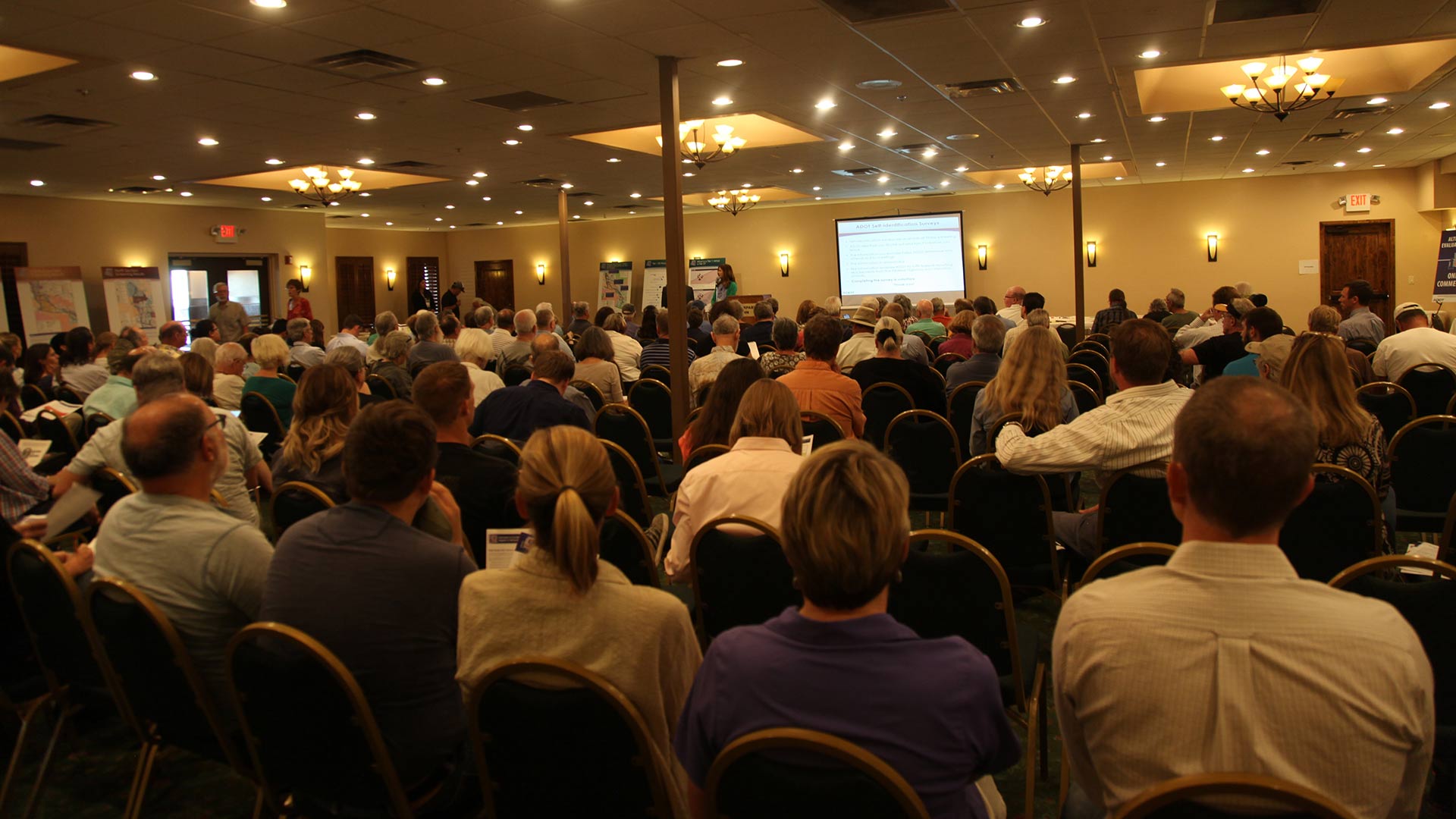 People listening to a presentation at an ADOT public meeting on Interstate 11 in Tucson. (PHOTO: Zac Ziegler)
There were not many open seats at a pair of meetings last week over proposed routes that would send Interstate 11 through the Tucson area.
Many of those in attendance were there to speak against two of the alternatives, which run west of Saguaro National Park West in the Avra Valley.
"I understand the need to provide ways for people to move around," said Kimberly Baeza, "But it doesn't have to come at the expense of our open landscapes and beautiful Sonoran Desert."
The meeting is part of the second step in selecting the route I-11 could take through Arizona. The freeway will connect Mexico and Nevada and may eventually reach Canada.
"It's not the time for more freeways," said Keith Bagwell. "It's time to spend our money more wisely on things that are not as environmentally destructive."
People discuss the proposed Interstate 11 routes with an I-11 staff member over a map of the Southern Arizona portion of the project. (PHOTO: Zac Ziegler)
In Southern Arizona, possibilities include further expansion of Interstates 10 and 19, bypassing Tucson via one of two routes through the Avra Valley, or a no-build option.
Many residents of Avra Valley, such as Jeff Huber, showed up to protest the plan to run a highway through their area.
"Avra Valley is a very quiet region in the state of Arizona. We all moved out here because of the quiet," he said.
He said that quiet could be spoiled if an interstate runs through the area.
Of the 20 people interviewed at the meetings, none expressed a positive view of the Avra Valley routes.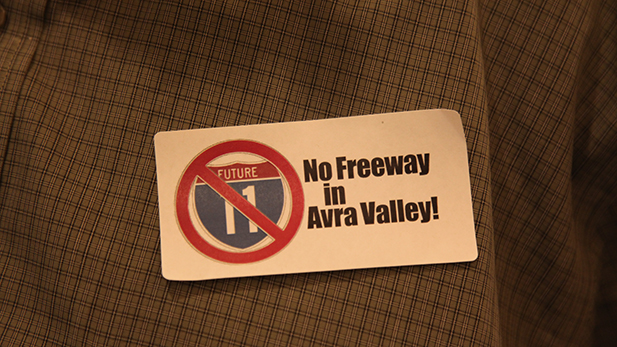 Many attendees at the meetings wore these stickers in protest of two of the proposed alternatives. (PHOTO: Zac Ziegler)
Others in the crowd expressed their views on their clothing, wearing stickers that read, "No freeway in the Avra Valley."
Arizona Department of Transportation officials were happy to have the crowds because they need the information those people can provide.
"We do very much value the people that live in these communities, that have the information, that ride and drive on these roads on a daily basis," said the I-11 study manager Jay Van Echo.
Environmental damage was not the only concern expressed by people in the meetings. Some expressed the fear that any improvements that allow more goods to enter the U.S. from Mexico could have an effect on American jobs.
"When are we going to get smart about not supporting jobs for foreign countries and supporting bringing those jobs back to America?" said Frank Koch.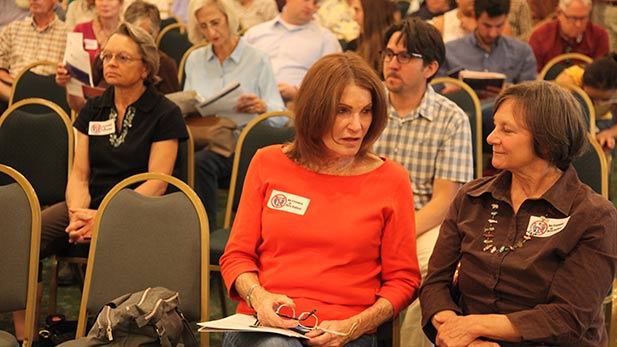 An assembled crowd waits for an ADOT presentation in Tucson. (PHOTO: Zac Ziegler)
Officials said they hear the opposition but federal law dictates that they explore all possible routes in order to find the most viable alternative.
"It's not a popularity contest," said Van Echo. "We do appreciate the opposing views, but there are also people that have pointed out that we do need an alternative to I-10 and I-19."
Along with opposition, many attendees offered ideas that they think would be a better alternative than running a new interstate through the Avra Valley.
Buzz Davis suggested expanding and improving rail in the area.
"The purpose is to deal with trucks. The trucks should be taken off of the interstate," he said.
While rail is not a part of this study, it is being considered in another, and the two study managers routinely talk.
"We meet on a regular basis," said Van Echo. "We take the information that they have gleaned from the freight industry on where does the freight want to move, how's it coming across the Mariposa Port of Entry, where does it want to go within the state and interstate."
ADOT expects to select a route between August and November of 2019. There are no estimates on when construction will start or be completed.
Meetings continue May 10-16 in Casa Grande, Wickenburg and Buckeye. A schedule of those meetings is available here.
Details on how to comment via website, email, phone or mail are available here.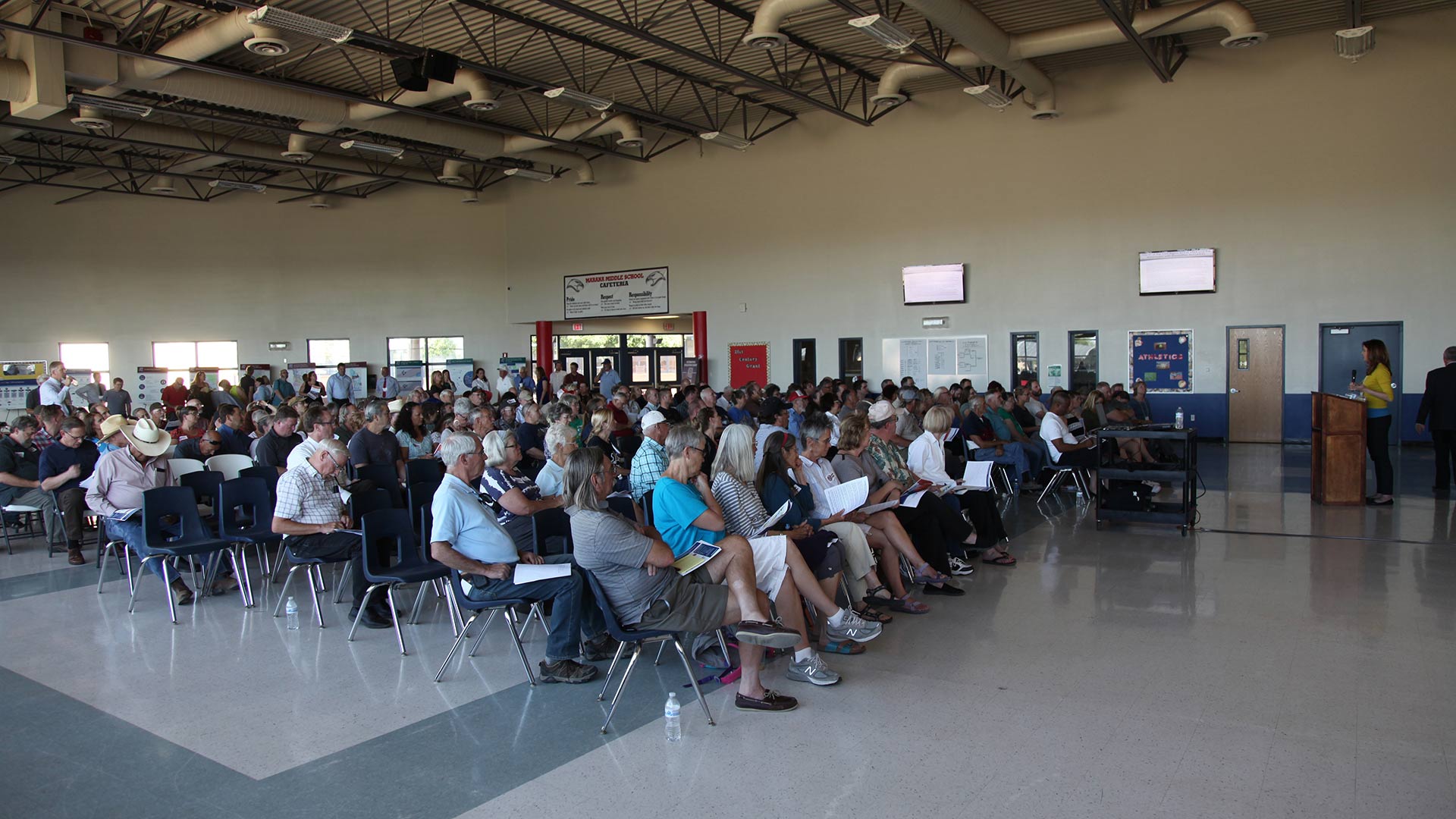 A crowd assembled at Marana Middle School to comment on proposed routes for Interstate 11. (PHOTO: Zac Ziegler)