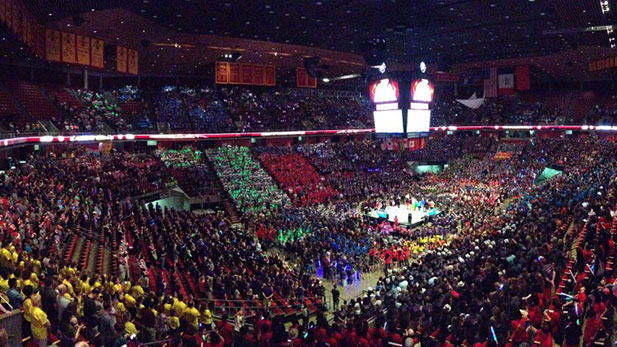 Opening ceremonies at the 2016 Odyssey of the Mind World Finals.

Odyssey of the Mind via Twitter
Arizona will send 30 teams to the world competition for Odyssey of the Mind, and nine of them are from the Amphitheater Public Schools district in Tucson.
The competitions involve complicated problems requiring the student teams to come up with creative solutions.
"I always tell people that Odyssey of the Mind is like science and engineering meets theater and the arts," said Cymbry DeBoucher, the head coach for the Odyssey program at Canyon del Oro High School.
She coaches other teachers who coach students in Odyssey programs throughout the state. The projects must be completed entirely by students, so she said it's inspiring to watch students work and watch them learn in the process.
The Amphitheater district has had Odyssey programs since the 1988-89 school year, DeBoucher said.
"That's the first year that we had Odyssey teams and it's the first year that we had teams go to world finals" she said. "We have built a culture that supports and celebrates students solving problems and learning to work on teams and communicating well."
A long-running program means success builds on itself, DeBoucher said.
The ability to have students start in the program in lower grades means they're stronger problem solvers in high school, she said.
The world competition is this week in Michigan.