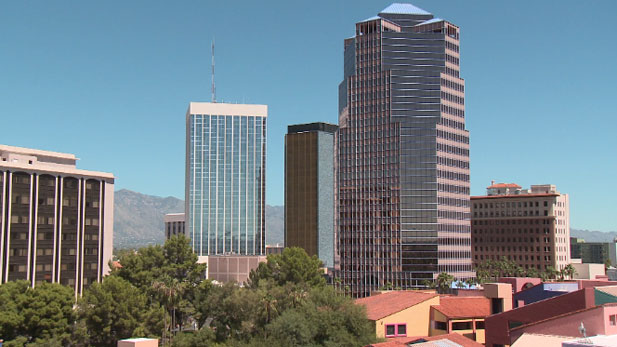 Tucson real estate agent Rah Kohli has proposed a fountain for downtown Tucson area based off of the Bellagio in Las Vegas. Kohli believes the proposed fountain could lead to hotels, restaurants, and other attractions.

AZPM
Raj Kohli is a real estate agent in Tucson who has a vision for downtown Tucson: He would like the community to embrace the idea of some fountains based on the popular attraction at the Bellagio Hotel and Casino in Las Vegas.
He says an ideal location would be on south Granada Avenue west of the Tucson Convention Center and east of I-10, where there's a large vacant area between Congress and Cushing Streets that could accommodate much more than the fountains, which he believes could be built at a cost of 10 to 12 million dollars. Kohli envisions shopping, restaurants, hotels and other attractions to include musical performances and artistic events. "We in Tucson have this beautiful location, beautiful, perfect location where we could bring 20 to 30 thousand people per day, we could change Tucson forever and ever," he says.

Speaking in front of a median on Granada Avenue, Kohli explains part of his plan. "Right where I'm standing will be the fountain, a musical fountain, something that can be covered up and made into a stage and then we can have concerts here, and to the right of me where Cushing Street is along that side, we'll have restaurants, nightclubs, department stores and right in the corner there we would have a big stage, a permanent huge stage where different performers will perform three, four, five different performances every single day. "
Kohli has been spreading his message to as many people as possible including listeners to a weekly radio show that he does on 1330 AM. He also plans to attend the Tucson Meet Yourself festival and other events to provide information and answer questions.
There have been multiple plans for revitalizing downtown Tucson over several decades but most have fallen by the wayside. Still, Kohli remains determined and optimistic. He says the water could be recycled, the pool for the fountains could be covered when not in use, and Tucson would be a big winner with the project. "Because if you're afraid to do something, it's not going to happen," he says. People who succeed are people who make things happen, that's my job."
Tucson real estate agent Rah Kohli has proposed a fountain for downtown Tucson area based off of the Bellagio in Las Vegas. Kohli believes the proposed fountain could lead to hotels, restaurants, and other attractions. (VIDEO: AZPM)