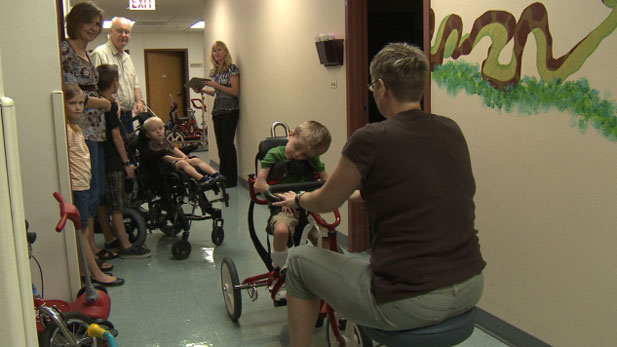 The Children's Clinics for Rehabilitative Services is celebrating a major renovation that will be dedicated on Thursday October 21st. As a tour of the facility proves, the clinics provide a variety of priceless services and carry a rich history. (PHOTO: AZPM)
A pediatric polio clinic that opened in Tucson in the 1940s has been evolving ever since and now its descendant is celebrating a major remodeling with a modern facility that provides a more enjoyable atmosphere for the children and their families.
The polio clinic eventually became the Square and Compass Crippled Children's Clinic which was named and funded by the Freemasons. It was located in midtown Tucson for decades but eventually moved to a building near Tucson Medical Center where it opened as the non-profit Children's Clinics for Rehabilitative Services in 1991.

Since then the facility has been growing quickly, with about 20,000 visits a year so CEO Jill Bemis says it was time to renovate. She's grateful that the masons made it possible again by raising funds for the project. "We really believe that if families come and children are happy here, they'll get more out of their medical care and more out of their therapy and treatment. We have interactive light walls, we have a saltwater aquarium home to Nemo and Dori and games and toys and computer learning centers to help children enjoy coming, " she says.
Patients include 12-year old Jesus Chacon who has been visiting the clinic for several years with his four sisters. They have muscular dystrophy and he has a similar condition. "I really enjoy coming here because they've helped me with treatments and all that I've needed to get better," says Chacon. "I feel great, I'm fine."
Children's Clinics for Rehabilitative Services
The Children's Clinics for Rehabilitative Services is celebrating a major renovation that will be dedicated on Thursday October 21st. As a tour of the facility proves, the clinics provide a variety of priceless services and carry a rich history. (VIDEO: AZPM)