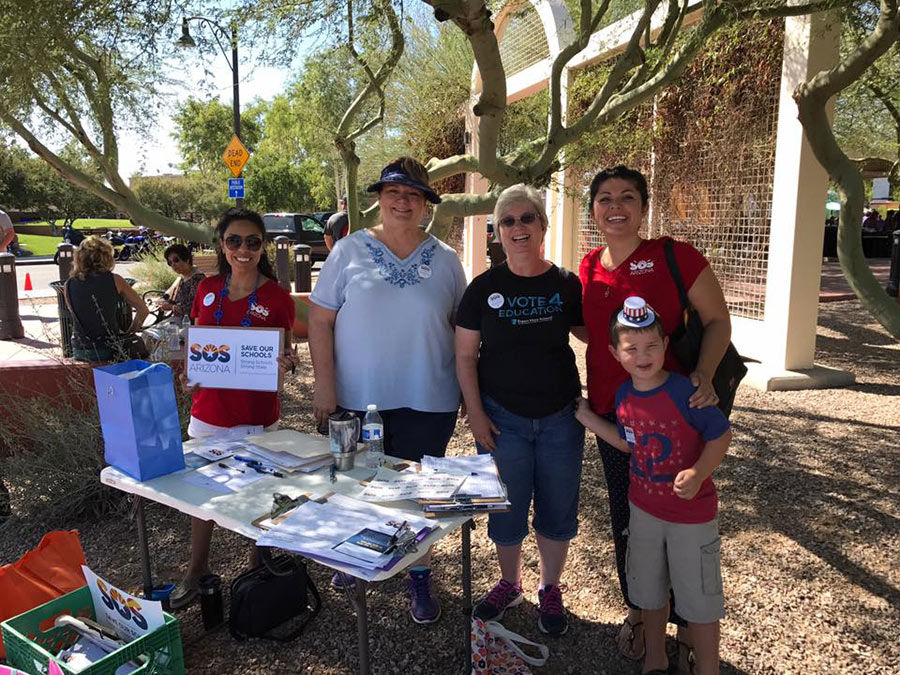 VIEW LARGER Signature gatherers with Save Our Schools Arizona

Save Our Schools Arizona via Facebook
Organizers of an effort to block the expansion of Arizona's school voucher program say they are on track to succeed.
The group, Save Our Schools Arizona, has been canvassing the state to collect the required 75,321 signatures from registered voters in order to block a law that would make all students in the state eligible for vouchers to pay for private schools,
The group isn't disclosing how many signatures have been collected, said communications director Dawn Penich-Thacker.
"But they are coming in, literally, in huge stacks all day every day."
She said the group expects to exceed the number of required signatures and is aiming for upwards of 100,000.
"We know that historically the secretary of state's office will invalidate tens of thousands of signatures for various reasons," said Penich-Thacker. "So to make sure that we definitely hit that requirement we are going to build a cushion of extra signatures."
Arizona's school voucher program, or Empowerment Scholarship Accounts, was created in 2011 for students with disabilities. In recent years, it's been opened up to kids on reservations; those with parents in the military; wards of the state; or children in failing schools.
Gov. Doug Ducey signed a bill into law earlier this year that extends eligibility to all students.
"Every bit of money that leaves our already-starving public schools hits families the hardest," said Penich-Thacker. "Most families — upwards of 85 to 90 percent — are choosing public schools, so this is affecting the vast majority of Arizonans.
Supporters of the voucher expansion say the law is giving power back to parents and making private schools accessible to students who can't afford them.
The law is slated to take effect Aug. 9. However, if Save Our Schools Arizona's petition is successful, it will be put on hold until voters have a chance to weigh in in next year's election.