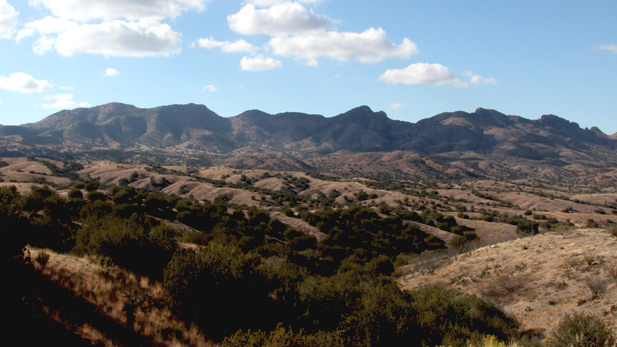 Site of the proposed Rosemont copper mine, looking west from Highway 83.

Mark Duggan
The Center for Biological Diversity is challenging a biological opinion from the U.S. Fish and Wildlife Service in federal court. The center says the agency's findings lead to a pre-mature approval of the mine.
The environmental group has filed a lawsuit against the Fish and Wildlife Service saying the opinion did not fully consider the impact the proposed Rosemont Copper Mine would have on wildlife in the Santa Rita Mountains south of Tucson.
The center claims the mine would cause damage to habitat for various endangered species, including jaguars and ocelots.
A spokesman for Fish and Wildlife declined to comment, saying the agency does not comment on pending litigation.

A male jaguar known as El Jefe has been photographed in the Santa Ritas numerous times. The most recent footage of El Jefe was released by the group in February 2016.
"And then there's also a whole other set of impacts that is going to be caused by the groundwater drawdown, which will affect a number of listed species that rely on some downstream creeks," said Marc Fink, an attorney for the Center for Biological Diversity.
The group hopes the challenge will result in a reversal of Fish and Wildlife's opinion.
"We're asking for Fish and Wildlife Service to basically go back to the drawing board," said Fink. "We feel that the impacts to jaguars and other species in the area are too severe for this mine to proceed."
The lawsuit also names the US Forest Service. Fink said the service was included because the Fish and Wildlife biological opinion was used in the forest service's record of decision on Rosemont. The proposed sits on land that is a part of Coronado National Forest.