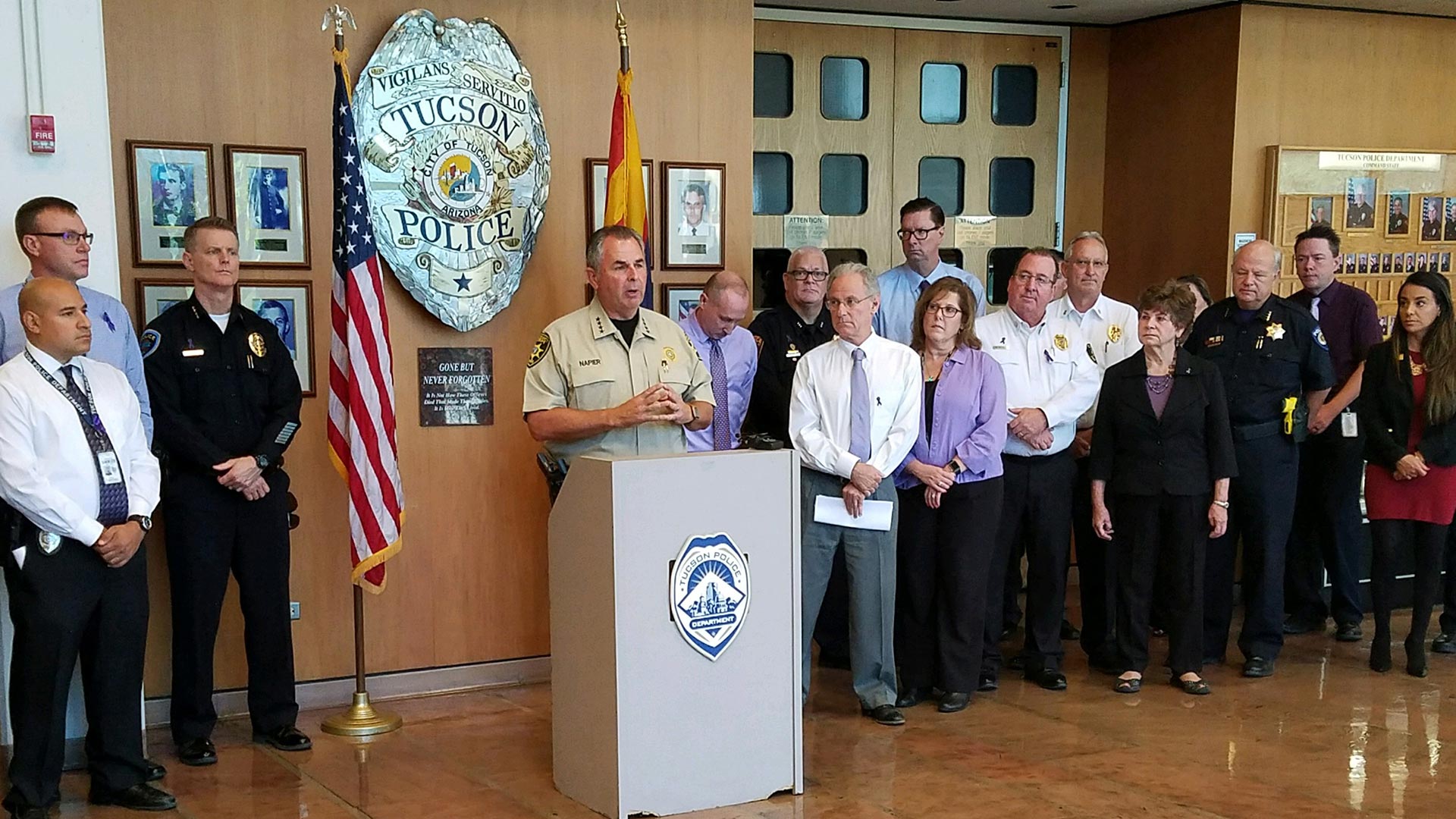 Pima County Sheriff Mark Napier speaks at Tucson Police Department on South Stone Avenue.
Zac Ziegler, AZPM
Heads of law enforcement, elected officials and the nonprofit sector gathered at the Tucson Police Department station near downtown to lend their support to a day meant to raise awareness of domestic violence in Pima County.
The event, headed by Emerge Center Against Domestic Violence, asked Tucsonans to help by wearing purple on Thursday, Oct. 19.
The group dubbed the action "Paint Pima Purple."
"We, the community, have a role in not just acknowledging that it exists, but in changing it," said Emerge CEO Ed Mercurio-Sakwa. "Changing our culture, changing what's acceptable, changing what we teach our children — all of those things that will ultimately create additional safety."
Officials at the event included Tucson Mayor Jonathan Rothschild, County Attorney Barbara LaWall, Tucson Fire Chief Jim Critchley, Sheriff Mark Napier and Marana Police Department Chief Terry Rozema.
Mercurio-Sakwa said law enforcement agencies in the Tucson metropolitan area respond to about 15,000 domestic violence calls a year.
"That's 15,000 times that somebody felt the need for an armed intervention in their relationship," he said. "We also know that research suggests only about one in 10 cases get reported. So you take that 15,000 — we're up to 150,000."
Emerge serves 6,000 domestic violence victims each year, providing emergency help, education and outreach, and housing stability and community services.