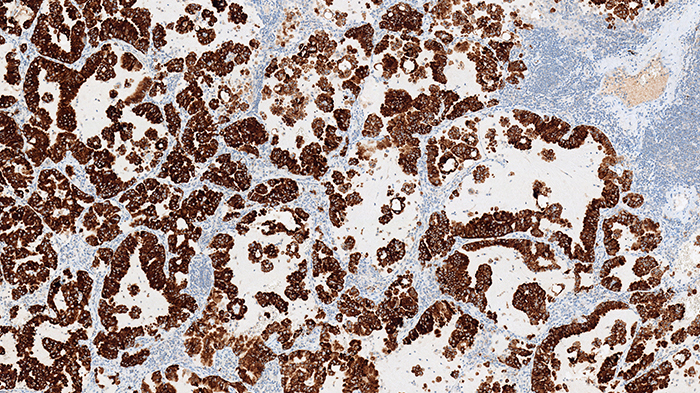 Non-small cell lung cancer tissue stain

Roche Tissue Diagnostics
Oro Valley-based Roche Tissue Diagnostics, known locally as Ventana Medical Systems, has developed a tool that helps oncologists better diagnose and treat a rare form of lung cancer.
Lung cancer is the leading cause of cancer deaths in the United States. It's estimated that more than 200,000 Americans will be diagnosed with lung cancer this year, and many find out when the disease is in an advanced stage.
Roche's tool will help doctors identify a rare genetic mutation in patients with non-small-cell lung cancer and target that marker, called anaplastic lymphoma kinase, with specially developed drugs.
"What we've learned over the past 15 to 20 years is that lung cancer isn't one disease like we used to think. Lung cancer is actually multiple diseases at the molecular level. And now, we have the technology to determine which particular molecular type of lung cancer a patient has," said Dr. Eric Walk, the company's chief medical officer.
Walk said having that knowledge will help oncologists decide how to treat the cancer.
Swiss pharmaceutical company Roche developed one of the three drugs approved to treat the strain of cancer, which affects about 5 percent of people diagnosed with non-small-cell lung cancer.
Ventana Medical Systems was founded in 1985 by University of Arizona pathologist Thomas Grogan.