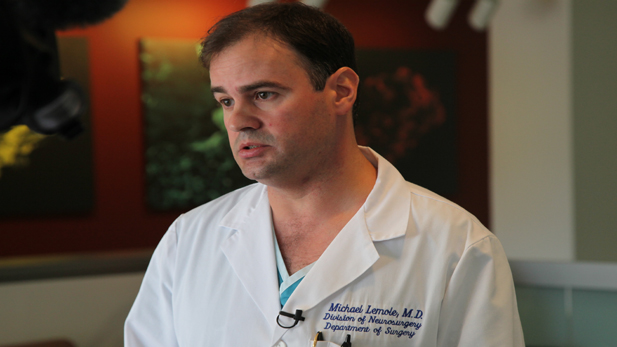 Michael Lemole, chief of neurosurgery at University Medical Center, discusses the details of Congresswoman Gabrielle Giffords' surgery and treatment. (PHOTO: Mark Duggan)
Surgeons treating U.S. Congresswoman Gabrielle Giffords in the aftermath of yesterday's shooting are "cautiously optimistic" about her recovery despite the "devastating" nature of her wound. Her doctors spoke at a press conference this morning. (Click below to watch the video.)

Press Conference at University Medical Center on condition of Rep. Gabrielle Giffords (VIDEO: AZPM)
The Congresswoman and 19 others were shot Saturday morning at a "Congress on Your Corner" public forum held outside a Safeway store on Oracle and Ina. The rampage claimed six lives.
"I never thought I would experience something like this in my own backyard," said Dr. Peter Rhee, chief of trauma at University Medical Center and a veteran of battlefield hospitals in Iraq and Afghanistan. "This is a trying time for all of us."
Rhee reported that 11 victims of Saturday's shooting were treated at UMC, including 9-year-old Christina-Taylor Green, who "came in dead" and could not be resuscitated despite multiple interventions. Rhee and colleagues performed 6 surgeries in the shooting's wake; all patients except for Giffords have since been moved out of ICU, and one has been discharged. Giffords is the only victim who remains in critical condition.
Giffords was in surgery within 38 minutes of arriving at the hospital, according to UMC chief of neurosurgery Michael Lemole. Lemole confirmed that Giffords was shot in the head but was responsive to verbal commands when she arrived at UMC.

Doctors have removed half her skull to allow the brain to swell without excessive pressure or damage.
"When we talk about shots to the head, what most concerns us is if the bullet crosses the geometric center of the brain from one hemisphere into the other, and that was not the case," Lemole explained to reporters.

"Brain swelling at any time can take a turn for the worse, but I am cautiously optimistic."
Giffords is currently in a medically induced coma, but physicians are periodically rousing her from it to track her brain function. She is so far able to follow simple commands, such as squeezing a hand.
"We take these simple commands for granted, but they imply a very high level of functioning in the brain," Lemore said. Nevertheless, both Rhee and Lemore cautioned that it is too early in her course to predict how well she will recover or what her future "deficits" will be.