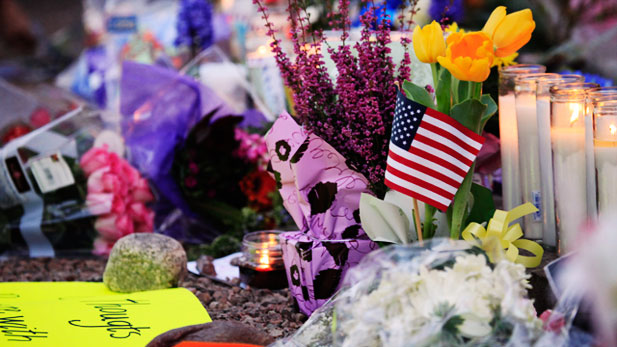 Vigil at Gabrielle Giffords' headquarters in Tucson, Arizona.

AZPM
A former staff member in Gabrielle Giffords' office, Jacquelyn Jackson had no idea that the Congresswoman was hosting a "Congress on Your Corner" event at her local grocery store that Saturday morning. She stumbled upon the event by accident, and escaped with her life only because she left to grab a forgotten phone. In this heartfelt essay, Jacquelyn vividly describes her thoughts and feelings both as the shooting happened, and how it feels now, days later, as she comes to terms with the shock and grief.
Jacquelyn Jackson is the former Director of Community Outreach for Congresswoman Giffords, and is now the Executive Director of Tucson Values Teachers. She is the wife of KUAZ News Director and Arizona Spotlight executive producer Peter Michaels.
This essay was produced by Matt Felix, with background music by Calexico.