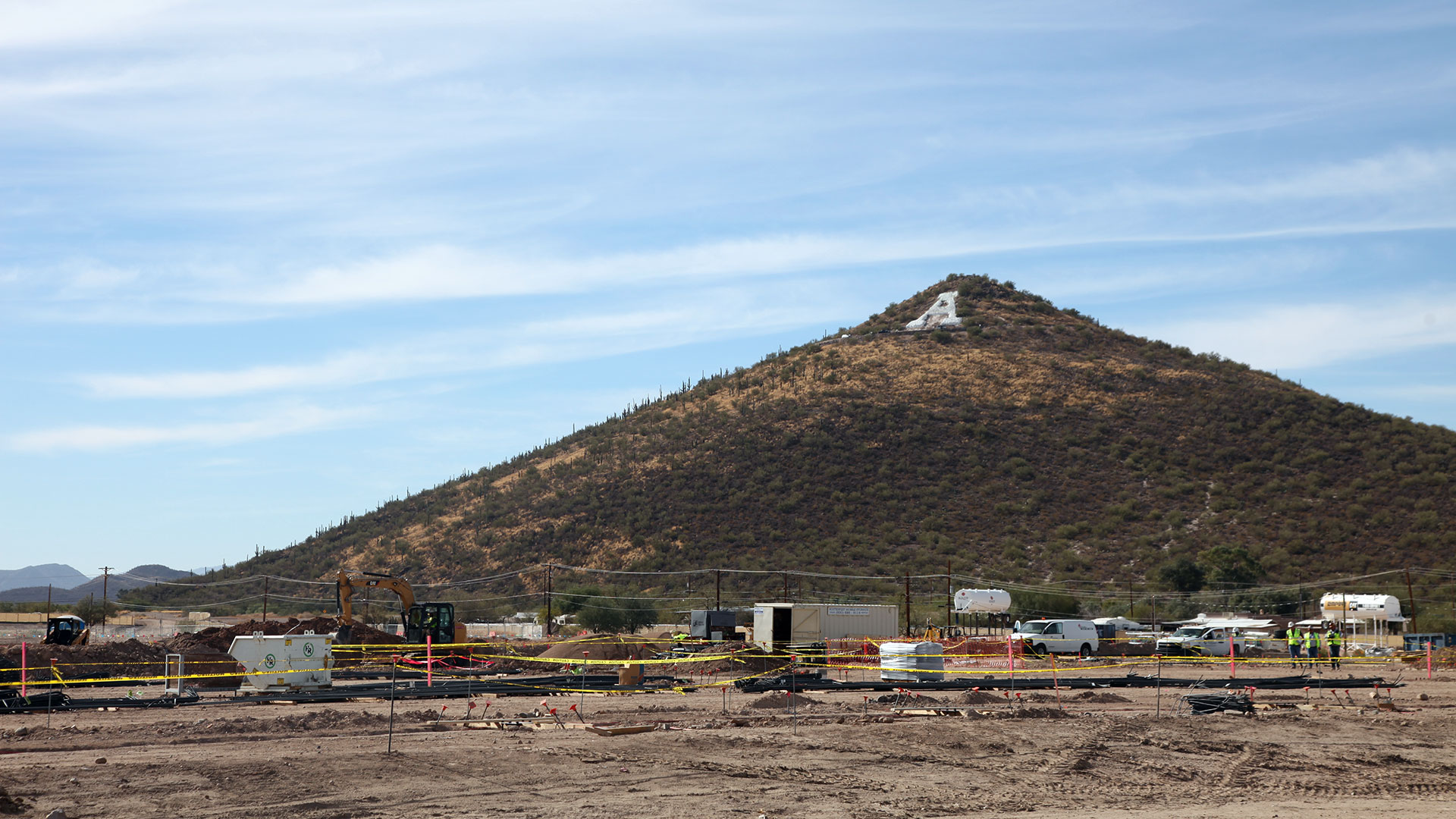 Construction near the base of 'A Mountain.'
Colleen Greer, AZPM
Construction and homebuilding in Tucson have rebounded since the Great Recession, but the skilled workers needed to complete the ongoing projects continue to prove hard to find.
During the recession, Arizona lost 60 percent of its skilled labor force as construction fell off, according to Tom Dunn, vice president for the Southern Arizona Builders Alliance.
"We have a skilled labor shortage, and we're seeing that in our construction projects right now, especially in Southern Arizona," Dunn said. "There is close to $1.5 billion of construction going on."
Dunn said developers like the University of Arizona, UA Tech Park and Rio Nuevo have planned $1.3 billion in construction projects over the next three years.
"Tucson is a hot market right now, with out-of-state companies coming here to build," Dunn said. So much so, he added, that the Arizona Builders Alliance has developed a council for builders under the age of 40.
They have also reached out to Pima JTED, a high school district that offers career and technical education programs and facilitates student tours of construction sites.
"They have interacted with projects like the Banner UMC tower being constructed," Dunn said.
The Southwest Regional Council of Carpenters is also adjusting to the rise in new construction. The union plans to get its newly reopened Tucson apprenticeship program an affiliation with PCC.
Fabian Sandez, president of the union's Carpenters Local 1912, said they're seeing more interest in the apprenticeship due to the amount of construction including an Interstate 10-Ina Road project and a project on Interstate 19.
"We started seeing the increase in May 2016 and all of 2017," Sandez said. "It went from 25 apprentices to over 90, so that's why we felt it necessity to reopen the training center."
The training center, off Prince Road, was closed in 2008 because of the recession. Before recently reopening, apprentice candidates in Tucson would have to travel to Phoenix for training.
Sandez says there is a growing need for skilled construction workers throughout the state. Follow Brandon Mejia on Twitter or contact him via email at BMejia@azpm.org.