The University of Arizona Poetry Center has become a valued resource in the community, and it's recognized nationally and internationally as one of the best of its kind. Since 1962 the center has hosted thousands of readings by most major contemporary U.S. poets, significant international visitors and emerging artists. Now, a new exhibit at the center features vintage poetry posters that chronicle the early years of these public readings.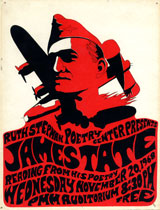 Vintage poster used to announce a poetry reading by James Tate and the University of Arizona Poetry Center.
Richard Shelton is a poet and UA Regents Professor. He was also acting director of the poetry center on two different occasions. He says the posters were an attempt to raise awareness about the ongoing reading series.

"We were bringing in nationally known poets but we were having a hard time getting people to attend," he says.

Shelton says it was his idea to replace the simple typed announcements with ones created by UofA Students in the commercial design classes. Shelton says each of the posters was a unique artistic expression, and helped to cultivate an audience for the many readings. The practice continued through the 70's, long after Shelton's tenure as director.
He points out that at that time, during the early sixties, the UA Poetry Center was housed in a small cottage just outside the main campus.
The center has since grown, and while the posters are no more, their celebration of poetry lives on. Shelton says the iconic printed posters reflect the culture and the mood of the early readings they promoted, reflecting a unique marriage of two dynamic art forms.

The University of Arizona Poetry Center has become a valued resource in the community, and its recognized nationally and internationally, as one of the best of its kind. Since 1962 the center has hosted thousands of readings by most major contemporary U.S. poets, significant international visitors and emerging artists. Now, a new exhibit at the center features vintage poetry posters and it chronicles the early years of these public readings. (VIDEO: AZPM)