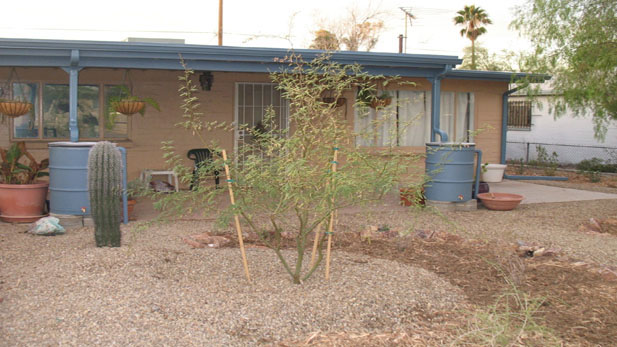 Eric Magrane and his wife harvest rainfall with gutters and cisterns and grow native plants in swales that reduce water waste. (PHOTO: Eric Magrane )
When Eric Magrane and his wife moved into their house in midtown Tucson, they began a series of improvements, and one of the major ones is helping their community and the environment.
The couple is installing water-harvesting measures like cisterns and swales, where they are are growing native plants like saguaro cacti and a mesquite tree. They'll also redirect the water from their washing machine into an area where they'll be planting a citrus tree.
"That'll help provide us with fruit, oranges we love, and also help shade this side of the building that gets very hot," says Magrane while standing next to a shed in the backyard. "So everything serves a number of purposes here."

Magrane and his wife are getting help from the Watershed Management Group, a local non-profit organization that provides classes and guidance in conserving water and other environmentally-friendly practices. James DeRoussel is a local landscape architect who also works with the group as a project manager.
"So the work at this residence was done as part of our co-op program, which is a sweat equity program whereby if you volunteer at someone's house to help install sustainable practices, then you can get discounted services from design and consulting and you get the co-op to come to your house to install similar practices," he says.
And the group is also working with businesses and neighborhoods on larger-scale projects.
Eric Magrane says he's glad to see these measures gaining momentum, especially in light of ongoing droughts coupled with an increasing population in this region.

"In the long run," he says, "for us to survive in the desert as a culture for a number of generations more, I think we need to do more of this as well."
The Watershed Management Group is a non-profit organization that is helping out residents in area like water harvesting and native landscaping. We speak to a homeowner and others who are making a difference in their areas. (VIDEO: AZPM)