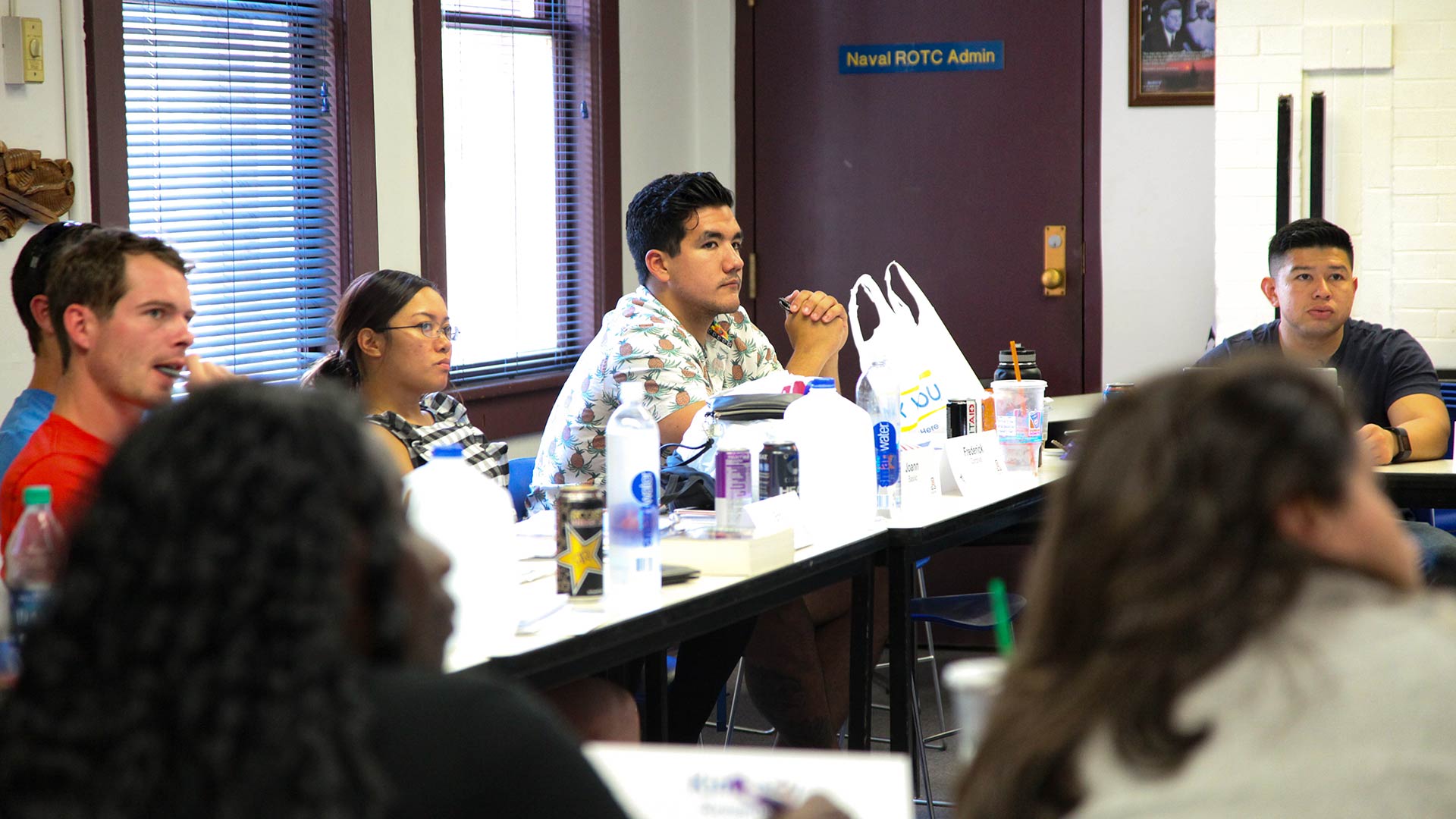 Tucson participants in the Warrior-Scholar Project, a grant-funded program that started in 2012 to help people in uniform make the most of their GI college benefits.
Carolyn Yaussy, AZPM
The University of Arizona campus is usually quiet at this time of year, but there is one classroom where about a dozen people are hard at work, preparing for a new phase in their lives.
The setting is a classroom in the UA's ROTC building. A group of students sit in a circle as history professor Steve Johnstone leads them in a discussion of an academic reading. It's the usual kind of talk you hear in a college classroom as students unpack what they've read.
But this isn't a regular class, and there won't be a grade at the end. The students are active-duty military, or veterans, and they're practicing at learning in a college environment. It's called an academic boot camp, and it's run by the Warrior-Scholar Project, a grant-funded project that started in 2012 to help people in uniform make the most of their GI college benefits.
Eric Winenger went through the program after leaving the Coast Guard several years ago. He says the very things that he learned in uniform — focus, discipline, and a sense of mission — actually made him a bit of an outsider when he first tried to go to college.
"It was a struggle trying to find, I guess, a community that fit well with my military history as well as I made the transition back into school," Winenger said. "And when I found out about Warrior-Scholar it just is a group of people like myself who had service time and we're all trying to go push themselves and challenge themselves academically."
As a Warrior-Scholar fellow, he travels around the country in the summer. "This is my fourth campus this summer," he said. "I was at Yale, got to run my hometown program at the University of Notre Dame, went to Texas A&M and then I'm ending the summer with a two-week course here at Arizona."
One of the students is Kimberly Richardson-Sanchez, who retired from the Air Force eight years ago. She's enjoying life as a grandmother, but wants the rigors of college study. The first step was applying for the Warrior-Scholar Program, and answering all nine of the essay questions. Then came the "boot camp" itself.
"It's a 12-hour day for us. but we're also staying here, in residence, just as the students do, so I'm not going home every night in my house. I'm here, just as students would be," she said.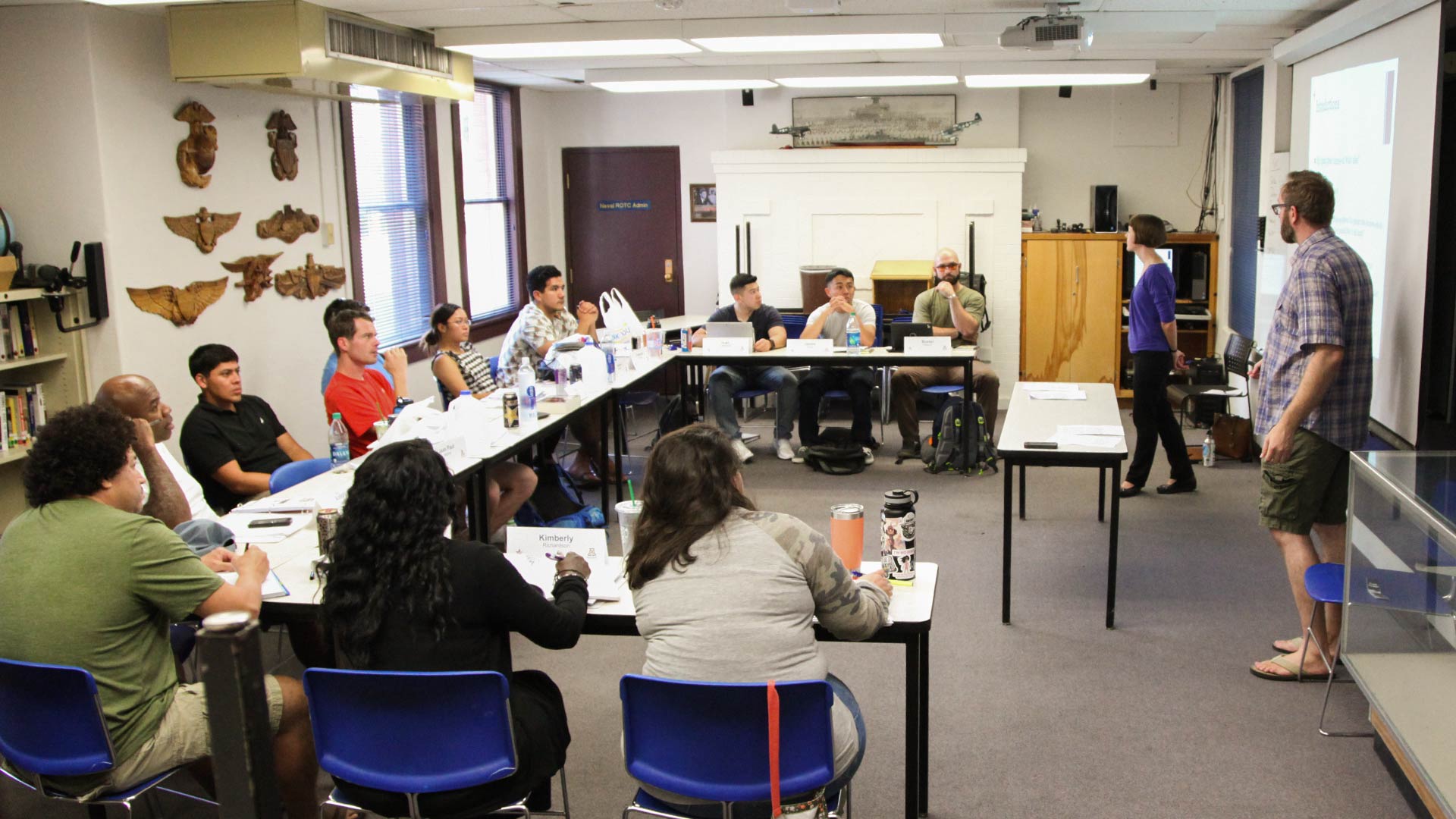 Active-duty military or veterans practice at learning in a college environment through the Warrior-Scholar Project.

Carolyn Yaussy, AZPM
Assistant Program Director Ted Scoufis left the military in 2014 and says the Warrior-Scholar project helped him succeed.
"It helped me transition into college by putting it back in the classroom, kind of letting me work out the kinks in a place where it is okay to fail," Scoufis said. "There's a safe-to-fail environment and I got really close instruction with writing and academic reading and it gave me some tools to better handle the academically rigorous readings like Plato and Aristotle."
Not having to worry about failing means a lot to Richardson-Sanchez, because it addresses one of her anxieties about entering college life: "You know you can end up failing because you're just so uncomfortable because you don't know," she said.
At the UA, the Warrior-Scholar Project is a two-week program. This week focuses on the humanities and next week is all about science, technology, engineering, and math or STEM subjects. Richardson-Sanchez was a communications specialist in the Air Force, and she's aiming for a degree in information systems management. She's looking forward to week 2.
"I'm just going to soak it up," she said.
While she plans to attend to UA, most of this summer's Tucson class will be going to other campuses around the country.