The MY MUSIC series returns to PBS with an exiting retrospective that focuses on hip, hit-making artists from the second half of the 1960s.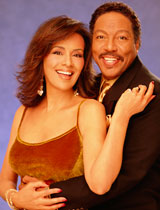 Marilyn McCoo and Billy Davis Jr., original members of the Fifth Dimension, perform a pair of their million-selling hits, "Wedding Bell Blues" and "One Less Bell to Answer," in this new special on PBS.
Leading off the celebration of the peace and protest decade are the New Rascals, who perform their chart-topping pair of blue-eyed soul smashes "People Got to Be Free" (1968) and "Groovin'" (1966). The dynamic Dennis Tufano of the Buckinghams brings back another number-one rocker, "Kind of a Drag," and Ohio's state song singer, Rick Derrenger, returns to the stage to perform his frat-rock anthem "Hang On, Sloopy," which features extended lyrics edited from the songs original 1965 release.

We Five of the folk music craze in the mid 60s reunite to sing "You Were on My Mind," while Roger McGuinn of the Byrds reprises his legendary folk-rock group's rendition of Bob Dylan's "Mr. Tambourine Man," one of 1965's biggest hits.
From the softer side of the 60s, the Association reunites with two million-selling standards, "Cherish" and "Never My Love." Marilyn McCoo and Billy Davis Jr. of the original Fifth Dimension offer their top-of-the-chart take on the late Laura Nyro's "Wedding Bell Blues."
Watch it Sunday, June 1st at 10:00 p.m. on KUAT6.
Show your support for this outstanding program by calling in with your pledge or go online to our secure site. Thank you.