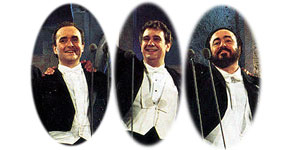 Recorded at the Terme di Caracalla in Rome on July 7, 1990, the performance stars renowned tenors Jose Carreras, Placido Domingo and the late Luciano Pavarotti.
Brought together for the closing concerts of the 1990 World Cup, Carreras, Domingo and Pavarotti thrilled the international audience with an eclectic set of opera, classical and pop standards. With its musical selection ranging from "Memory" to "O Sole Mio," the production appeals to a diverse audience, bridging the gap between classical and popular tastes and captures the interests of opera buffs and pop fans alike.
Show your support for this outstanding program by calling in with your pledge or go online to our secure site. The entire Southern Arizona community benefits from your generous support. Thank you.