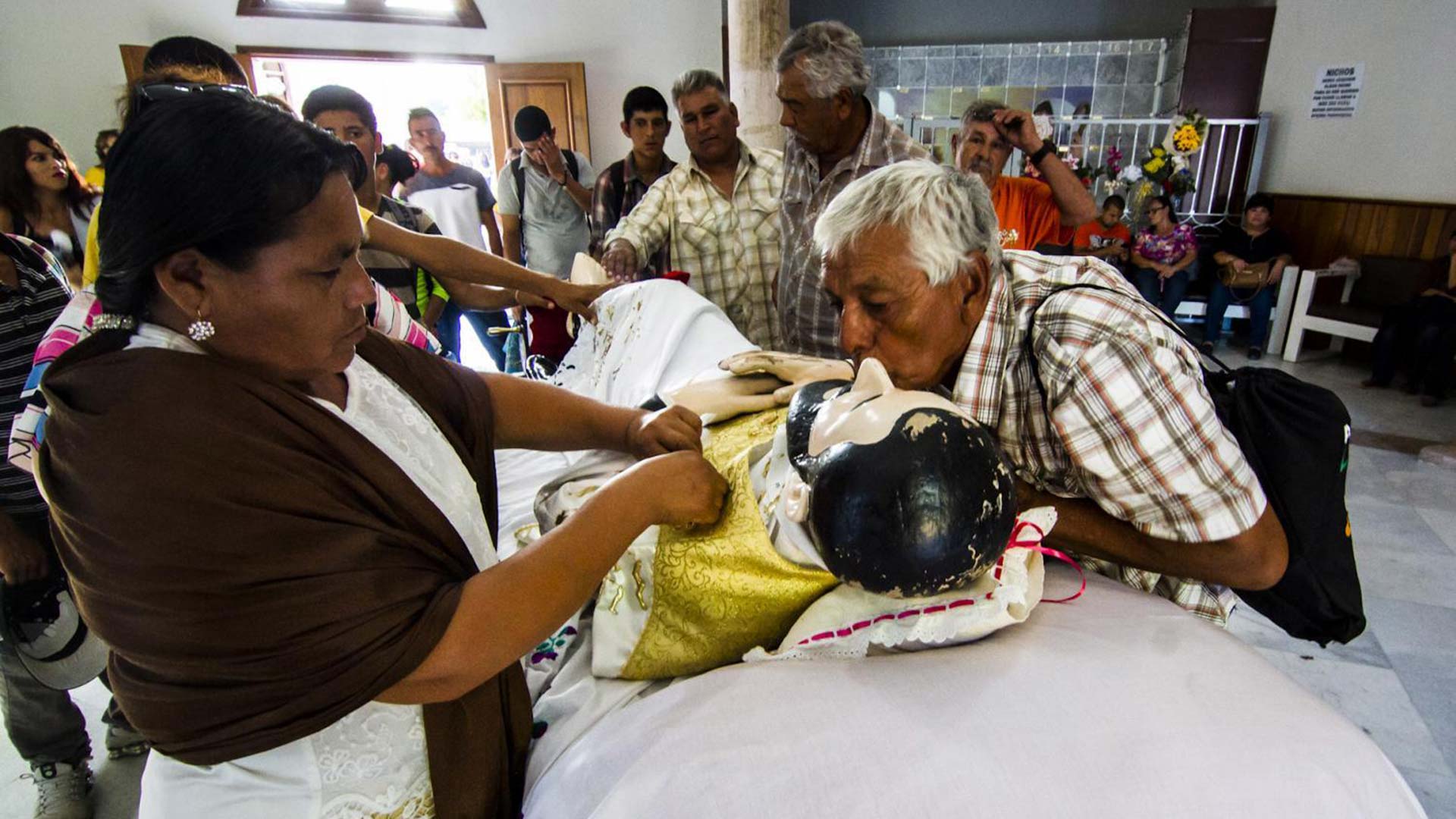 Pilgrims kiss a replica of the San Francisco Xavier in Magdalena, Sonora.
Murphy Woodhouse, Fronteras Desk
Every year, thousands of Catholics make their way to a small town in Sonora, Mexico, to honor a revered saint. Many come on foot as part of their sacrifice to the saint. But ongoing highway construction between Nogales and Magdalena has made the journey more dangerous for some this year.
The streets and plazas in Magdalena de Kino start filling with peregrinos — or pilgrims — who make their way to this otherwise quiet city two hours south of the Arizona border. They come every October to celebrate the town's patron saint, San Francisco Xavier.
Vendors set up shops selling trinkets and sweets along the cobbled streets. Hundreds of tents are squeezed onto patches of grass around the town's church and Chapel of San Francisco as people wait to pay their respects and touch a replica of the saint. It's a reclined statue of the brown-robed San Francisco, his hands resting on his heart.
Pilgrims come from far and wide to make their mandas, or offerings, to the saint. Many come from nearby Sonoran towns, often walking more than 50 miles from the border in Nogales, Sonora. Others come from the Tohono O'odham Nation in Southern Arizona. It sometimes takes this pilgrims several days to make the cross-border trek.
And they come for all kinds of reasons.
"We have a St. Francis that belongs to the family. So we take turns every two years to bring him over here, and this year is our turn, my family's turn. So that's why we came," said Olga Francisco, from the Tohono O'odham Nation.
Robert Willcutt from Fort McDowell, Arizona, said he goes for blessings.
"You know, good things to come next year. I'm going through some surgeries right now. I'm surviving on stage 4 kidney failure, so you know, I might need a little help, too," he said.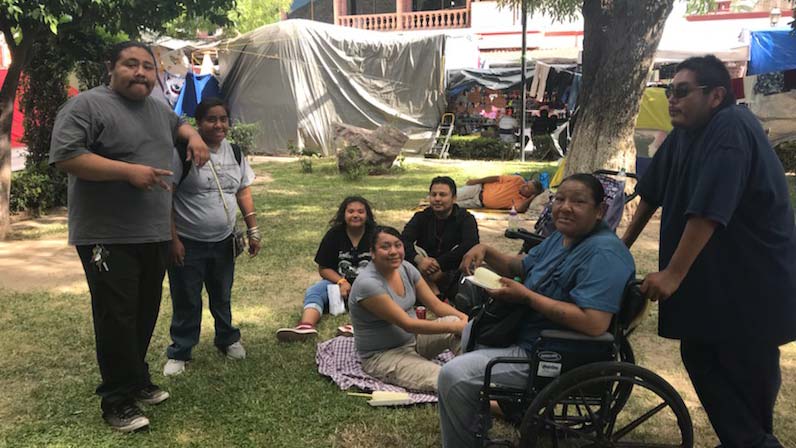 Tracy Cook, at center, with members of her family in Magdalena.

Kendal Blust, Fronteras Desk
"Renewing your faith and being willing to sacrifice anything to come see St. Francis. Sacrifices, like you leave everything behind or leave your troubles home or, let them go here, clear your mind," said 25-year-old Tracy Cook from Sells.
Sitting with her family on a shaded patch of grass, eating corn-on-the-cob from a nearby vendor, she said she's been coming to Magdalena to honor St. Francis all her life.
"From what I heard when I was in my mom's womb, when she was pregnant with me," she said as she laughed.
But her mother, Gabriella Shirley, said road construction has made her family's drive to Magdalena more dangerous this year.
"It was kind of scary. I mean it was just traffic going too fast," Shirley said.
It's even worse for walkers, who often make their way along the highway's narrow shoulder.
"Yes, they walk on the side of the highway. What happens is some parts of the road are being repaired, so we have recommended that they travel with a lot of care," said Ricardo Vazquez, director of emergency and disaster attention in Sonora.
"But people don't listen. They walk there anyway. They have their offerings and nothing will deter them," he said.
"Renewing your faith and being willing to sacrifice anything to come see St. Francis. Sacrifices, like you leave everything behind or leave your troubles home or, let them go here, clear your mind"
The rugged walk has softened somewhat over the years. Ambulances and military Humvees with soldiers patrol the road where people are making their trek. A Red Cross trailer is set up in the main plaza to assist the injured, though it stands closed on a recent Tuesday.
Volunteers at other attention centers said they've been helping pilgrims for years.
"We love to do it," said Francisco Guadalupe Mangues with the group Brigada del Sol.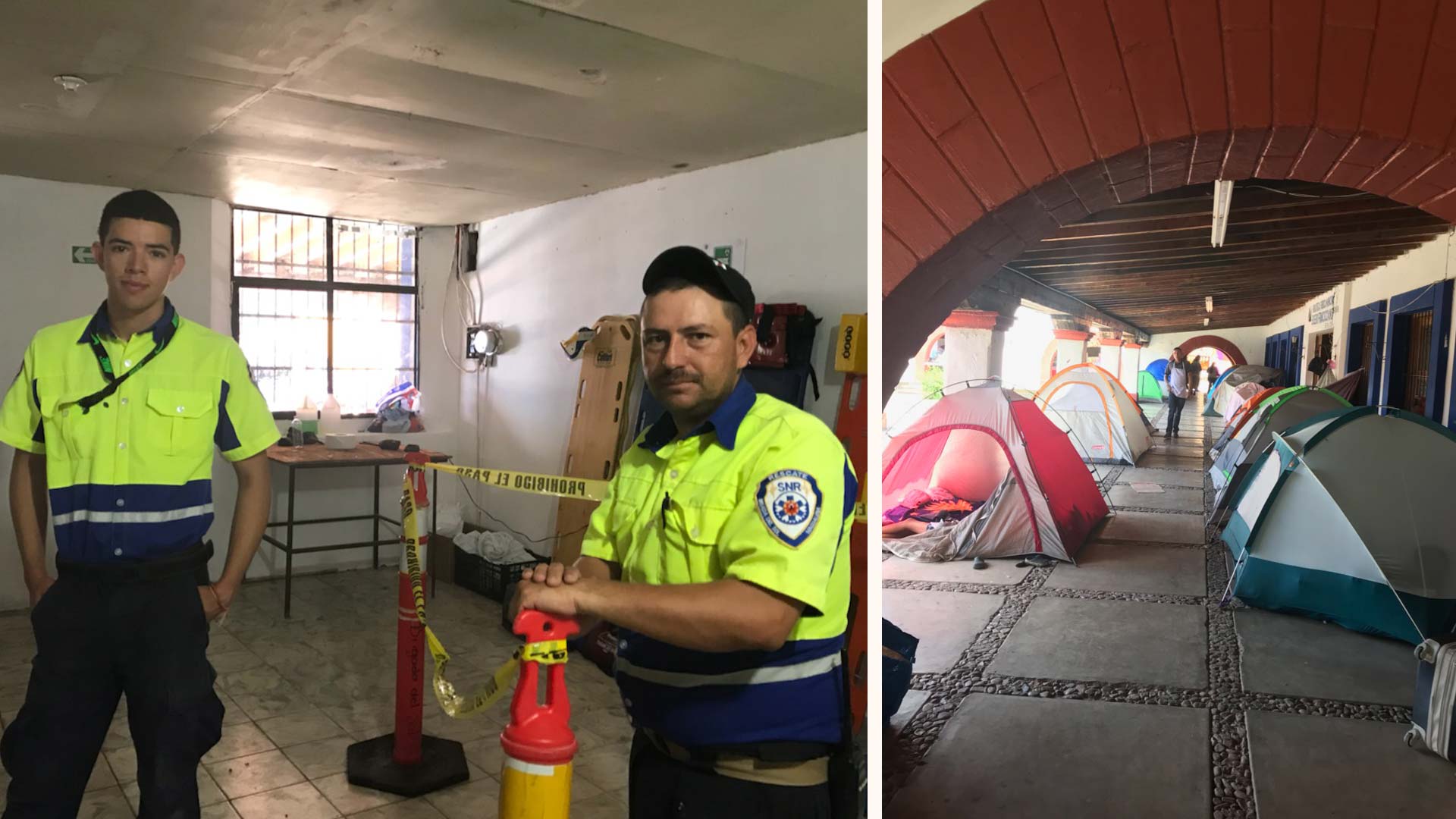 Members of the Brigada del Sol, left. At right, pilgrims' tents fill the main square in Magdalena.
Kendal Blust, Fronteras Desk
They attend to the basic health needs of the travelers, like dehydration, blisters or minor scrapes and bruises.
This year's roadside conditions haven't stopped the flow of people making their way to Magdalena.
Julia Lopez drove alongside her son and grandson as they slowly walked along a rural side road Tuesday.
She said the road construction is just one of the challenges her family faces every year making the pilgrimage from the Tohono O'odham Nation — but that hasn't stopped her yet.
"Every year when this comes, I'm always like, 'How I'm going? I don't know. But I'm going.' I've always been, had that faith like that. So, we're here," she said.
Especially because this year is an important O'odham milestone for her 8-year-old grandson Dimitri.
"This is gonna be my fourth year, to be here with my family, pray with my family," Dimitri said.
"For us, for the O'odham people, everything is in fours, everything, everything is in fours," said Lopez. She said after this year, Dimitri will be able to decide if he wants to continue the pilgrimage.
He said he thinks he'll keep coming.
They head on toward Magdalena. And when the festival wraps up at the end of the week, they'll all make the long walk back again. After all, Lopez said, it's tradition.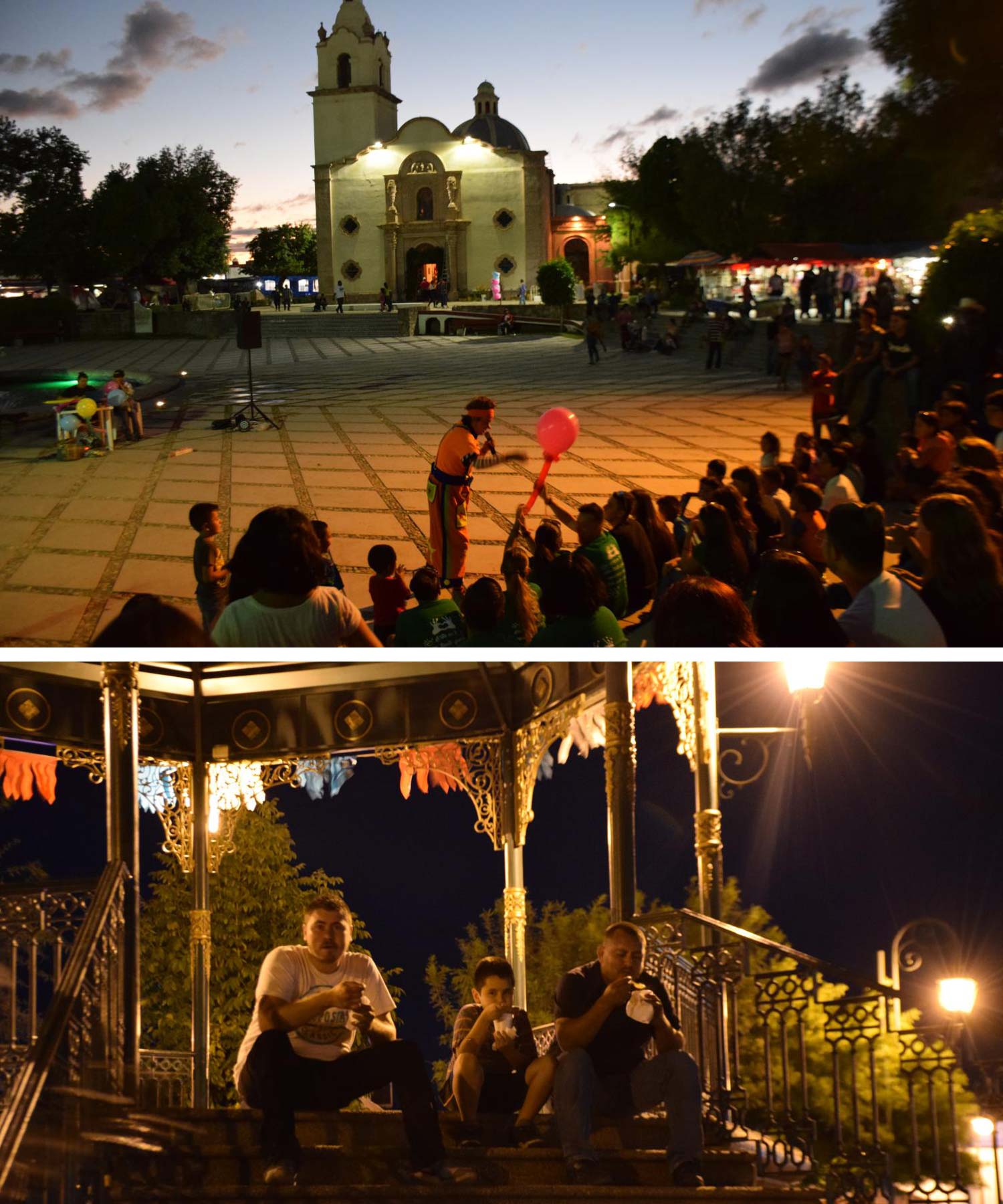 A clown entertains children in front of the cathedral in Magdalena de Kino as the sun goes down. Below, pilgrims enjoy a treat in the plaza.