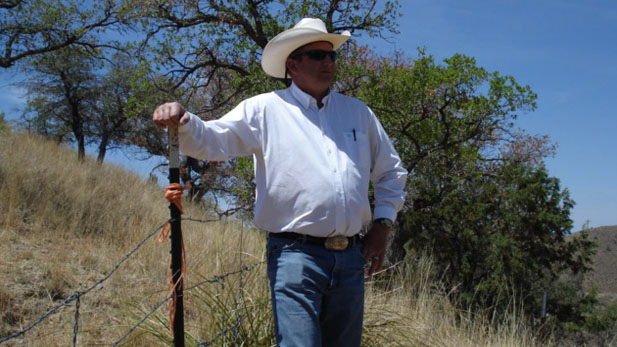 Rancher Daniel Bell stands on the U.S.-Mexico border on his ranch, where a permeable fence forms the international boundary. (PHOTO: Tony Paniagua )
The federal government is reporting a significant decline in the number of apprehensions of illegal immigrants, but members of the Arizona Cattlemen's Association are asking for additional equipment and personnel along the border.
Daniel Bell of ZZ Corporation in Santa Cruz County is one of them. He says ranchers need protection from smugglers and a steady stream of migrants on their ranches.
Bell's family has been ranching near Nogales, Arizona since the 1930s. They lease more than 30,000 acres from the United States Forest Service. It includes about eight miles on the border with Mexico, where only a four-strand barbed wire fence separates both countries. He says he spends a lot of time fixing the permeable barrier.
"Even though we have a gate right down here not more than 20 yards away, but for fear of being sensored they go ahead and cut our fences, and the problem is this is most likely drug smuggling here and when we're out here working these pastures with our cattle, you just never know what you're going to come across," Bell says.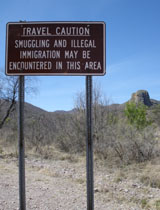 (PHOTO: Tony Paniagua )
Bell and others are concerned about violence, especially in light of the unsolved murder of Cochise County rancher Rob Krentz last year.
"It seems like it's getting more violent out in these areas," he says. "Last year on September 5th we had a shooting here on the ranch; November 18th we had another shooting."
And just like Governor Jan Brewer, Bell is worried about the removal of National Guard troops from the border in June, although he's grateful for these and other government efforts to stem the tide of unwelcome intruders on the land.

"For instance on our ranch there's more technology coming in, there's more infrastructure, more roads," he says. "We have seen more agents come into the area. We like the fact that the National Guard is here, we don't like the fact that they're going to be leaving at the end of June, we'd like to see them extended."
And Bell says ranchers will continue to express their opinions, hoping their concerns will be taken into account in the ongoing debate over the border.
Despite a decrease in the number of apprehensions along the border, members of the Arizona Cattlemen's Association want additional resources and personnel along the border. (VIDEO: AZPM)