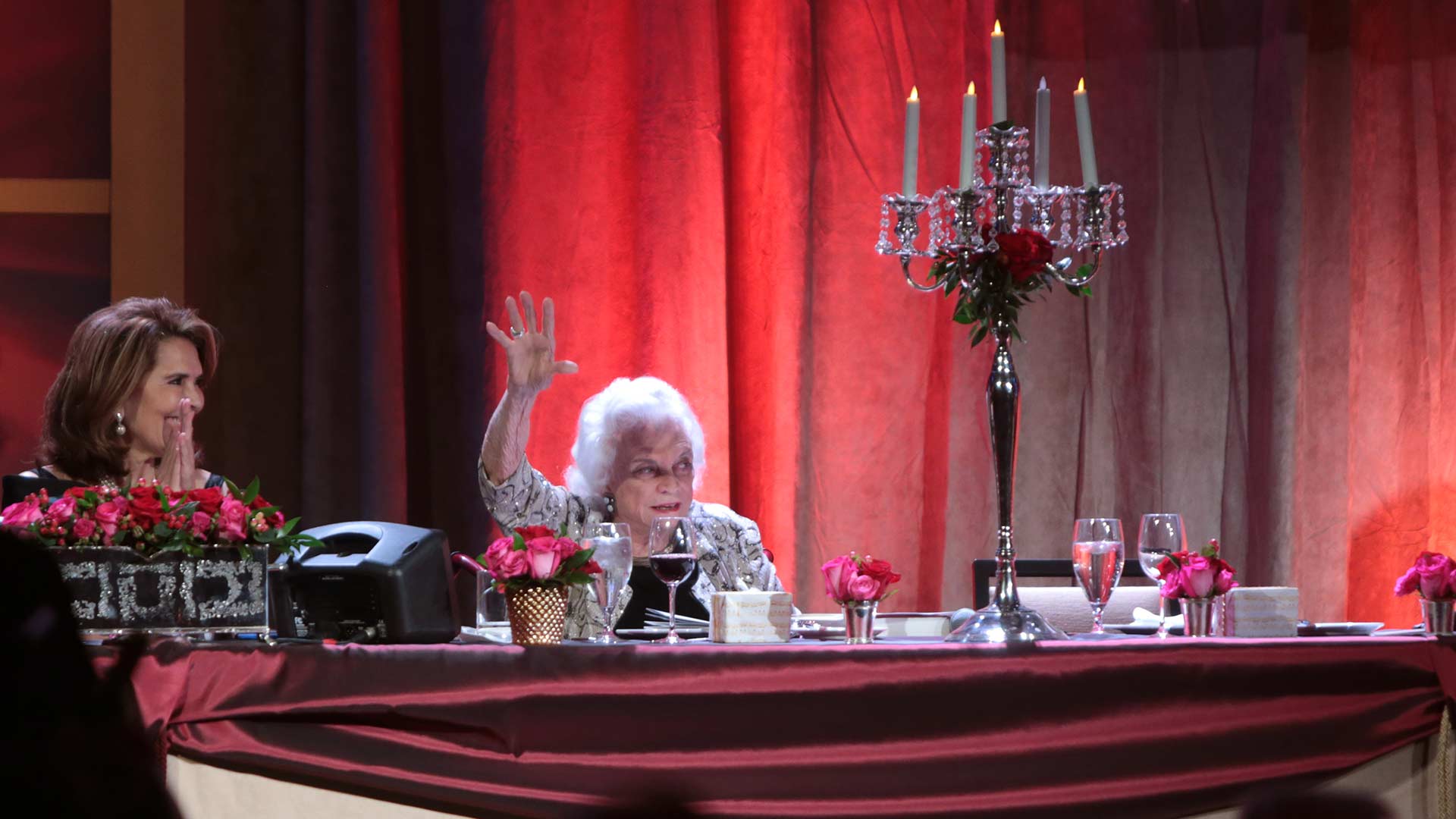 Former U.S. Supreme Court Justice Sandra Day O'Connor at a Phoenix event in 2016.
Gage Skidmore via Flickr
WASHINGTON — Sandra Day O'Connor, the first woman on the Supreme Court, has stepped back from public life.
For more than a decade after leaving the court in 2006, O'Connor kept up an active schedule: serving as a visiting federal appeals court judge, speaking on issues she cared about and founding her own education organization. But the 88-year-old, for more than two decades often the deciding vote in important cases, is now fully retired. She made her last public appearances over two years ago.
This summer she turned over an office she had kept at the Supreme Court to the court's most recently retired justice, Anthony Kennedy.
Her son Jay O'Connor said in a recent telephone interview with The Associated Press that his mother, like many who reach their upper 80s, began to have challenges with her short-term memory. That made some public events more difficult. Hip issues have meant she now primarily uses a wheelchair. And she now stays close to her home in Phoenix, he said.
"When she hit about 86 years old she decided that it was time to slow things down, that she'd accomplished most of what she set out to do in her post-retirement years, that she was getting older physically and her memory was starting to be more challenging, so the time came to dial back her public life," said Jay O'Connor. His mother is no longer doing interviews.
Over about the past year, Jay O'Connor and his brother Brian cleared out O'Connor's Supreme Court office and went through hundreds of boxes of files and other items she had in the building's basement. A gavel used at her 1981 confirmation hearing, her Presidential Medal of Freedom and T-shirts made annually by an exercise class she started at the high court are among the items O'Connor has now donated to the court's collection, the Library of Congress and the Smithsonian.
O'Connor was a state court judge before being unanimously confirmed to the Supreme Court at 51. She had graduated third in her class from Stanford Law School and was the first woman to lead the Arizona state senate. On the Supreme Court, her votes were key in cases about abortion, affirmative action and campaign finance as well as the Bush v. Gore decision effectively settling the 2000 election in George W. Bush's favor.
She was 75 when she announced her retirement from the court in 2005. It was a decision influenced by the decline in the health of her husband, John O'Connor III, who had been diagnosed with Alzheimer's disease.
Her departure was a moment not unlike Kennedy's retirement this summer. The fellow Reagan appointees were moderate conservatives who often held the key vote in high-profile cases. O'Connor's retirement and replacement by Justice Samuel Alito shifted the court right, making Kennedy's vote the often-pivotal one. Kennedy's replacement by Justice Brett Kavanaugh is expected to shift the court right again.
For her part, O'Connor wasn't always delighted with the court's more conservative direction after she left. Asked at a 2009 event how she felt about the court retreating from or undoing rulings she was instrumental in shaping, she responded: "What would you feel? I'd be a little bit disappointed. If you think you've been helpful, and then it's dismantled, you think, 'Oh, dear.' But life goes on. It's not always positive."
After the court's 2010 Citizens United ruling allowing corporations to spend freely on elections for Congress and president, she told an audience: "Gosh, I step away for a couple of years and there's no telling what's going to happen." Still, that year she told an interviewer that she didn't "regret for one minute" retiring when she did.
O'Connor found other ways to make a mark off the court. In 2009, the same year her husband died, she founded the group iCivics, which promotes civic education in schools through free, educational online games. O'Connor has called it "the most important work I've ever done." Last year, the group's 19 games were played by 5 million students.
Even as she was championing iCivics, O'Connor was working on other projects. She wrote a children's book and a book about the history of the court. She served as a visiting appeals court judge, participating in more than 175 cases on appeals courts nationwide. And she campaigned to persuade states that judges should be appointed, not elected, to preserve judicial independence.
One of the last times O'Connor made public comments was in 2016, after Justice Antonin Scalia's death. Interviewed by an Arizona television station, O'Connor was asked what she thought about Republican senators' argument that the conservative justice's seat should be filled not by President Barack Obama but his successor because the vacancy happened in a presidential election year. She said she disagreed.
"I think we need somebody there, now, to do the job, and let's get on with it," she said, a recommendation Republicans didn't heed, holding the seat open until President Donald Trump could choose Scalia's successor, Neil Gorsuch.
Though O'Connor has stepped back from public life, the court's other retired justices have varying degrees of public presence. David Souter, 79, lives in New Hampshire but rarely speaks publicly. Kennedy, 82, has already started making post-retirement appearances. Florida resident John Paul Stevens is still making appearances at 98.
Three women now serve on the Supreme Court, a development O'Connor approved of.
"It's all right to be the first to do something, but I didn't want to be the last woman on the Supreme Court," she said in 2012.
---