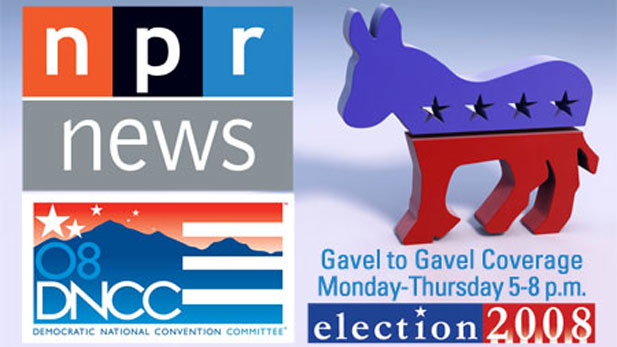 One campaign was all but over this time last year; the other survived one of the most contentious primary elections in memory. But in the span of two weeks, John McCain and Barack Obama will each claim their party's nomination for President.
NPR will send more than 40 people to the Republican and Democratic Conventions in order to provide in-depth coverage for our newsmagazines. NPR also will produce a nightly special covering the key speeches and providing analysis of the day's events. And, for the first time, the network will take its convention coverage on the road, sending correspondent David Greene from Obama's hometown of Chicago to McCain's hometown of Phoenix to find out what voters are talking about this election year.

NPR Election Call-in Special: August 28, 2008
On Thursday, August 28, Senator Barack Obama will officially become the Democratic Nominee for President. Immediately following NPR's special coverage of his acceptance speech, NPR will offer a talk show Call-In Special, hosted by NPR's Neal Conan. This will allow callers from around the country to express their views on the election and candidates.
Follow the coverage at NPR's Website.