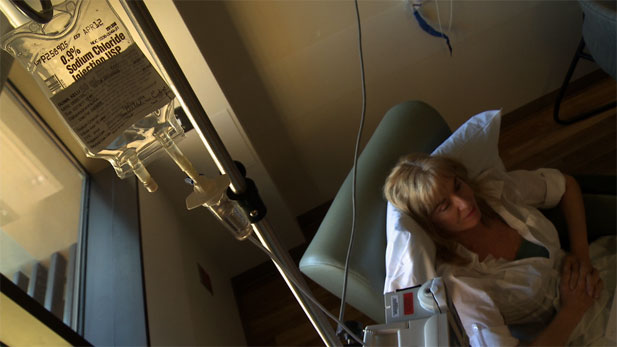 Kelly Guinn's breast cancer treatment complements chemotherapy with alternative therapies. (PHOTO: AZPM)
Substantial research results have shown that there's more to medical treatment than medicine--the emotional and social aspects of healing can provide physicians with a powerful ally.
The Arizona Cancer Center has taken note, and now offers several programs that reach beyond traditional therapy to promote holistic healing throughout each cancer patient's journey.
Kelli Guinn is on such a journey. Her diagnosis was one of over 200,000 new cases of breast cancer in the U.S. last year.
She receives her chemotherapy at the Arizona Cancer Center's clinic at UMC North. Through the Cancer Center, Guinn is taking part in an in-depth, 10-week mind-body program--appropriately called the "Eye of the Hurricane," patients say--that helps build resilience and supplements medical treatment. The program is helping her find her way in a world now redefined and reshaped by her illness.
(VIDEO: AZPM)