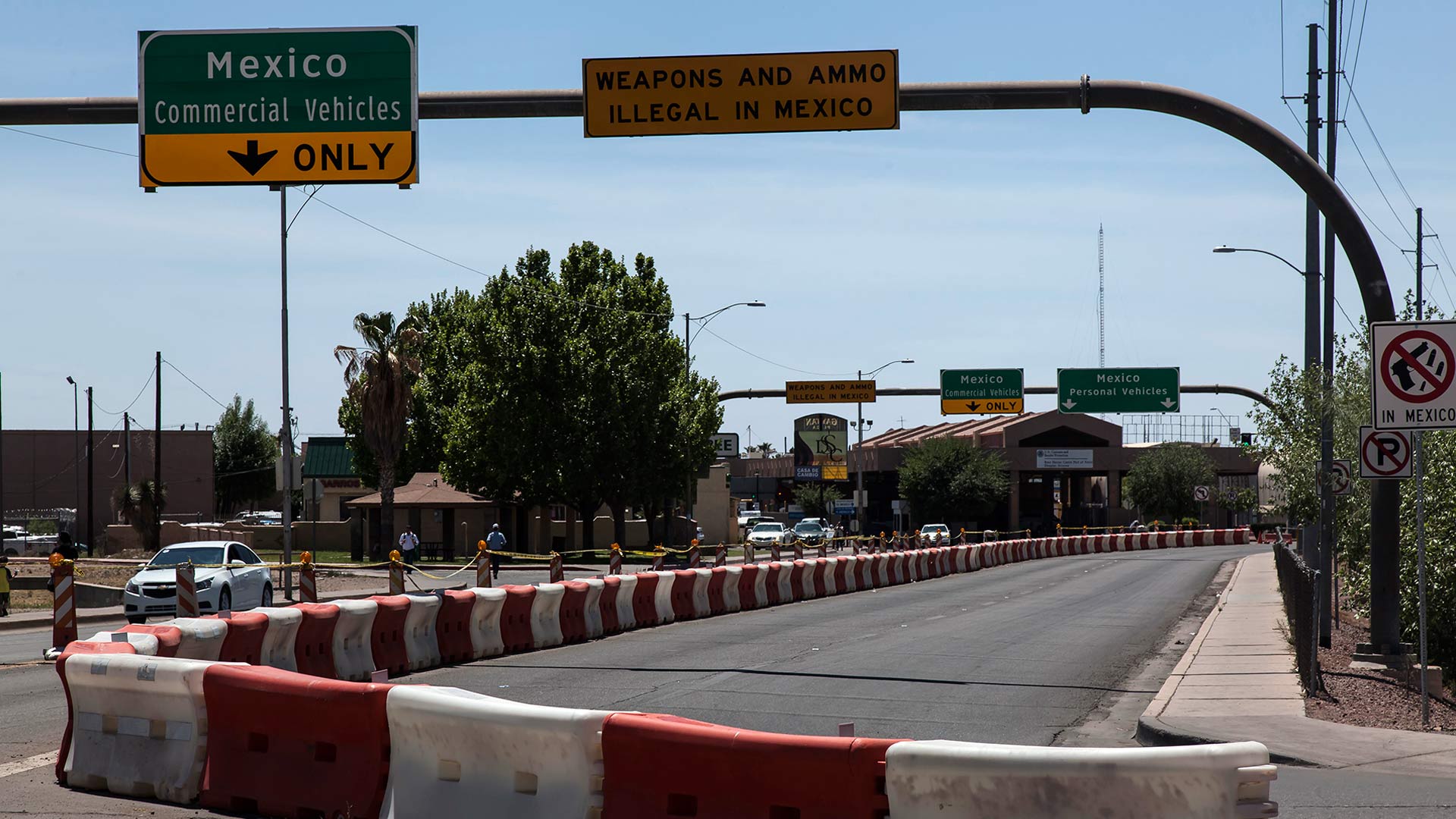 The port of entry in Douglas, Arizona in April 2016.
Steve Riggs, AZPM
The Douglas City Council and the Cochise County Board of Supervisors voted last week to support a proposed location for a new commercial port of entry in Southeastern Arizona.
The existing Raul H. Castro Port of Entry in Douglas has been facing traffic congestion issues for years.
Support from city and county officials for a location at James Ranch Road is the latest step forward in a years-long effort to build a new dedicated commercial port of entry in Douglas, says Cochise County Supervisor Ann English, whose district includes Douglas.
"It's vital for us to have a way to energize our economy," she said. "This is a catalyst that we couldn't ignore."
The current port serves both commercial and passenger vehicles, which contributes backed up traffic. A new commercial port would ease that congestion and support industry north of the border, she says.
"We decided to look at the port as a stimulus. The port is not an end all," she said. "We're hoping that once the commercial port is established and it makes for ease of transportation back and forth with our biggest trading partner, which is Mexico, that more industry, more people will invest in that area around that port."
That will bring jobs and support economic growth in the city, the county and Arizona, she says.
There are already millions of people and billions of dollars in trade crossing through the port of entry in Douglas. In 2018, more than $1.8 billion in commodity flows, as well as 28,00 trucks, 1.7 million cars and nearly 4 million people in northbound traffic, according to data from the U.S Bureau of Transportation Statistics.
A new port would hopefully increase those numbers, English says.
The U.S. General Services Administration proposed the new port location as part of a port feasibility study. That study should wrap up in the next month or so, English said.
Cochise County is also setting aside funds to do its own study into infrastructure needs that would support a new port, including roadways, water and sewage systems.
"It is a total commitment from the county," she said.
The next step will be looking for funding for the project, and Douglas and Cochise County leaders are reaching out to Arizona senators and representatives in Congress for support, English said.
Arizona Rep. Ann Kirkpatrick visited with officials in Douglas on Wednesday to learn about the two-port solution.
Congresswoman @RepKirkpatrick confirms the 2-Port Solution in #DouglasAZ is a national priority at the POE Summit with local stakeholders. This project will be a catalyst for growth, promote investment, job creation, and border security. #LeadershipMatters pic.twitter.com/HhDw7Uz7LN

— Robert Uribe (@RobertYUribe) April 17, 2019