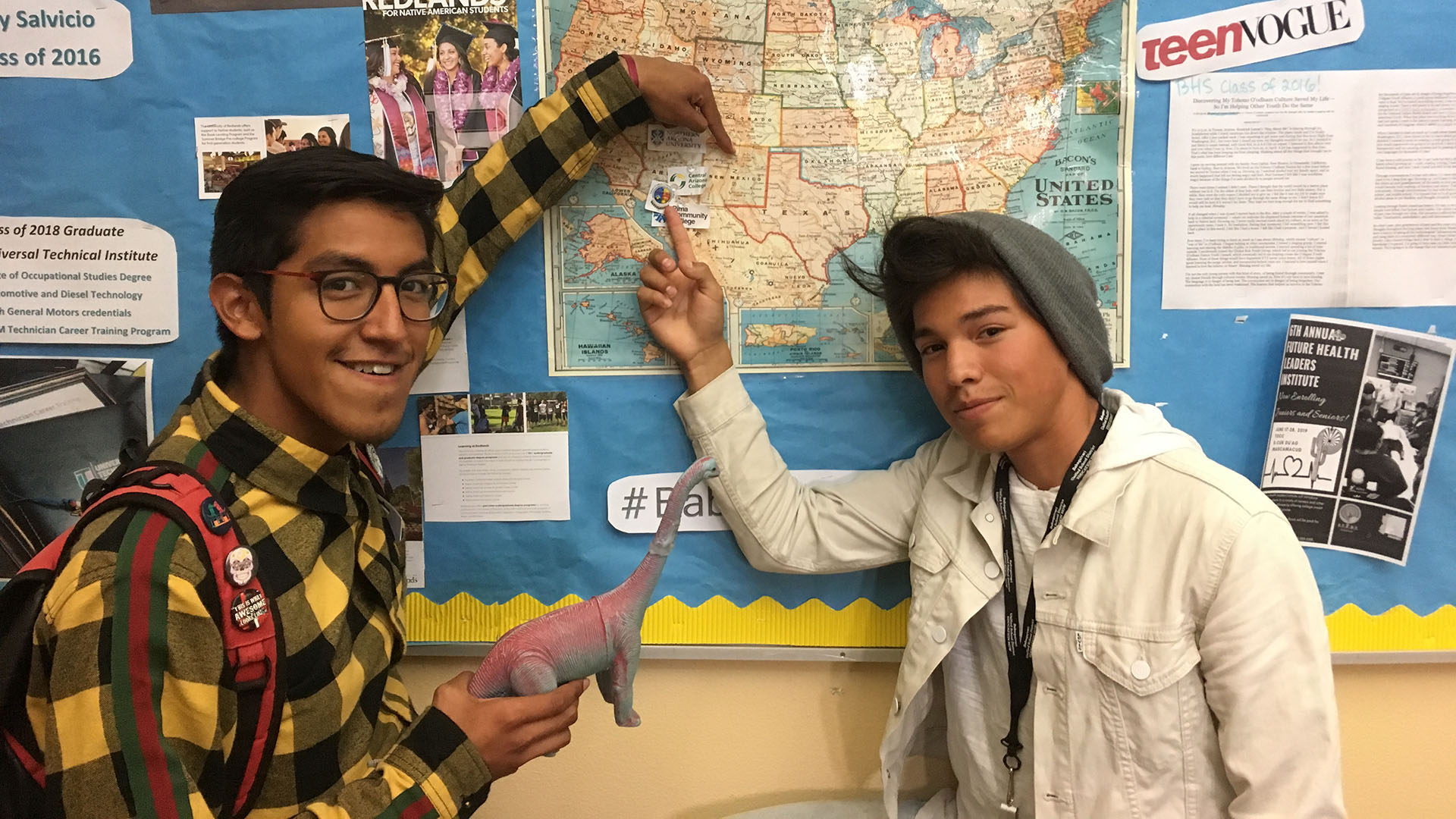 Jonah Patricio, left, and Daniel Marquez, right, pose with their class mascot, Dennis, as they point to colleges they'll be attending in the fall of 2019.
Emma Gibson/AZPM
The majority of Baboquivari High School's class of 2019 announced their college choices to the community Friday during a college signing ceremony.
College Signing Day at the high school on the Tohono O'odham Nation recognizes the students going off to college, vocational schools or the military after graduation. The event is tied to former First Lady Michelle Obama's Reach Higher campaign, which encourages students to go to some form of post-secondary education. Baboquivari Unified School District Superintendent Edna Morris said this promise to get a college degree shows indigenous students of all ages that they have a place in higher education.
"Your commitment today is not just to sign on the piece of paper, but to finish. We want that data. In Indian Country we all know that that data doesn't look good, but you can start and make that data wonderful for all Native American students," said Morris.
She thanked the elementary students in the crowd for coming to celebrate with the seniors and their families.

According to the National Center for Education Statistics, 23 percent of American Indians or Alaska Natives between the ages of 18 and 24 were in college in 2015. Native Americans, of all ages, made up 1 percent of undergraduate students in 2014.
Morris said the district has seen big gains by participating in a program — Advancement Via Individual Determination — that sets college as a realistic goal for all students.
She said this program helped the district increase the number of students attending college by 67 percent since 2013.
Rebecca Cohen, the college and career mentor at the school, said 79 percent of the seniors participated in college signing day. She said over the last six years more and more students have enrolled in post-secondary education.
"Last year we had over 50 percent of our student body enroll in a two-year [or] four-year college immediately after graduation, so within one semester, and that's up from about ... 12 or 13 percent, when I came on in 2013," said Cohen.
Many of the students decided to go to Tohono O'odham Community College, but there were some who pledged to go to art schools, Northern Arizona University, Arizona State University or another institution.
One of the students preparing for Tohono O'odham Community College is Daniel Marquez.
"I'm going to be majoring in business over there, because when I come back to my community out here, I want to be able to start up a skate shop. It'll be pretty cool," said Marquez.
Marquez said he's been to a couple of the college signing events since the school started the tradition in 2015. He said he's looked forward to being up on the stage and going to college for years.
"Not every person on the reservation just goes to college. It's always gonna make a big difference, if we have more kids going there. It could always just benefit everybody," said Marquez.
Marquez's friend Jonah Patricio said he'll be going to the Institute of American Indian Arts in Santa Fe, New Mexico, to study cinematic arts and technology. He said college signing day has become a celebration of the support systems the students can rely on back home.
"You don't see a lot of native people going out there to actually pursue their dream. Everybody has the opportunity, but it's just finding that self-determination and support system to get there. I believe it's a really big thing that all communities need, so they can have that leader to look up to and hopefully, inspire others to do the same," said Patricio.
Jameson Lopez, an assistant professor from the University of Arizona, spoke to the students about how his family first went to college. He said when his mother was a child, a man from the Tohono O'odham Nation visited the Quechan tribe in Fort Yuma, California, and introduced her to a group of Native American college students.
"He saw her, and he said: 'You can go to college. You can make it.' And my mom, at the age of 12 years old, she believed them, because they looked like her, they smelled like her, they ate like her, they laughed like her. And she saw these Native young people who were going to college come back to our reservation and tell her she could do the same thing. Thanks to a Tohono O'odham man who came from this reservation, coming to our res, my mom effectively changed the legacy of our family and it's why I stand here today," said Lopez.
Jordan Francisco, a graduating senior, is also following her family's legacy by enlisting in the Marine Corps. She said she thinks it's important to prove that she can do anything a man can do during boot camp.
After all the students signed their commitment papers and the lucky one won prizes from the raffle, Annamarie Stevens, the Governing Board clerk for the district, asked the people in the audience who completed college to stand up. A couple dozen people rose, and she addressed the seniors.
"These people are your support system. These people are the people who know how to navigate a system that many Native Americans do not attend. They are a resource for you," said Stevens.
With support, she says, they'll make it through this next step and realize they are stronger than they think.
Members of Baboquivari High School Class of 2019 commit to continuing education during College Signing Day.
Photos: Emma Gibson/AZPM