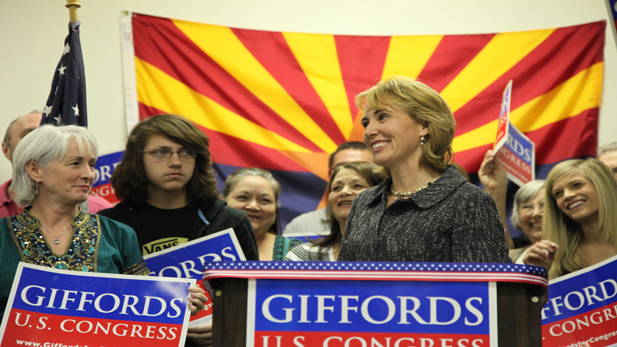 Congressional Victory Party, November 2010
By CHRISTOPHER CONOVER and ANDREA KELLY, Arizona Public Media


The latest round of campaign finance reports shows that, even as wounded U.S. Rep. Gabrielle Giffords' political future is uncertain, her campaign continues to spend money as if she is intending to run again.
Just as Giffords and fellow Democratic Rep. Raúl Grijalva have in years past, they are employing fund-raising or campaign consultants year round, even in this, a non-election year, according to spending records filed last week with the Federal Elections Commission.
Federal candidates are required by law to file quarterly campaign finance reports. These reports show how much money presidential, Senate and U.S. House of Representatives candidates raise and spend, and it names their donors. Candidates can only spend the money on legally allowed expenses, such as fund-raising events, staff and travel. The reports show money raised and spent from private individual and political action committee donors, not taxpayer dollars.
"The transparency of who provides the money for campaigns, and especially that now we have so many attack ads and so much negative campaigning, I think that's useful for the voter to know," said Ruth Jones, an Arizona State University professor of political science who specializes in money and politics.
In an interview for Friday's Arizona Week broadcast, Jones also said: "If we know more about where the money is coming from and where it's going to, then the voter can make a decision more informed about the overall campaign itself."
In Southern Arizona, the Grijalva and Giffords campaigns both raised less in the spring of 2011 than they did during the same part of the campaign cycle two years ago. Giffords' campaign raised $281,000 in the past three months, compared with $370,000 in the same three months of 2009. Grijalva's campaign brought in nearly $89,000 for the reporting period of April through June 2011 and $112,000 in the same time in 2009.
Other than spikes in travel-related spending for both candidates this year, the reports show the representatives apparently preparing for the 2012 election cycle in the same way they readied for the 2010 cycle in early 2009.
Officials with the Grijalva campaign say their boss is running for reelection next year, so his spending on fund-raising and campaign consultants has kept pace with previous quarters.
Giffords' plans are unknown, and her staff has said repeatedly that her sole focus is recovering from a gunshot wound to the head suffered at a Jan. 8 constituent meeting in Tucson. Six people died in the shooting, and Giffords was among 13 wounded. She is recovering in outpatient therapy at a rehabilitation hospital in Houston.
Arizona Public Media on Thursday provided her campaign with a list of questions about Giffords' future political ambitions and specific fund-raising and expenses included in the finance reports. Giffords' campaign political director, Jessica Schultz, said she couldn't provide answers to those questions at this time.
Pia Carusone, Giffords' congressional office chief of staff in Washington, D.C., told the Arizona Republic in June there's no need to make a decision about the congresswoman's future political activities until the candidate filing deadline, next May.


FUNDRAISING CONSULTING
Giffords' campaign reports show about $8,500 a month, or about $100,000 a year, is being paid to fund-raising consultants. That's on par with the campaign's spending on such consultants in the last non-election year, 2009.
Most of the money goes to two consultants, Molly Allen Associates, a Washington, D.C.-based firm, and Linda Quinn, in Tucson. The two plan events to raise money for future campaigns and were reimbursed $6,443 in the first six months of this year for travel and expenses related to such events. They are the same consultants Giffords' campaign used in 2009 and 2010.
In addition to the expenses, they were paid monthly retainers. Molly Allen Associates received $3,500 monthly, and Quinn received $5,000 monthly, both dating back to at least early 2009, the reports said.

Molly Allen Associates, according to the firm's website, also works for other members of Congress and for the Blue Dog Coalition, a caucus of fiscally conservative Democrats. In years past, Giffords has been an active member of the coalition.
Grijalva's campaign also spent money on fund-raising and campaign consultants in non-election years, about $3,300 a month for two months in 2009 on Fraioli & Associates, based in Washington, D.C.
Grijalva's campaign hired Peter Clerkin, also of Washington, D.C., in January 2011, to serve as a general campaign consultant and to fund raise. Clerkin is paid $2,000 to $6,000 a month, reports show.
Grijalva's campaign also contracted with Dominion Capital Solutions LLC for fundraising consulting. In May, for example, that firm earned $8,000; in January, $5,500.
It's not unusual to keep a campaign running, including consultants and fund-raising, in a non-election year, Clerkin told Arizona Public Media in a phone interview.
"The employment of consultants during election years and in off years is fairly typical for most congressional campaigns," he said.


TRAVEL
Travel expenses are one area where Giffords' spending varies greatly between the two years compared.
In the second quarter of 2009, Giffords spent $321 on travel. In the first quarter of this year, she reported spending $5,915. Of that, about $3,300 went to Delaware Administrative Services LLC. The campaign's spending report marks that as a travel expense. Federal Aviation Administration records indicate the company is a co-owner of a NetJet airplane.
Giffords' campaign travel spending rose again in the second quarter of 2011, to $6,995. Of that, $4,523 was for nine airline tickets purchased around the time Giffords' husband, astronaut Mark Kelly, was scheduled to take off in the space shuttle Endeavour's final mission to the International Space Station. That launch was postponed.
Around the time of the second, successful launch of Endeavour, the Giffords campaign paid for four plane tickets and two hotel rooms in Cocoa Beach, Fla., near the launch site. NASA pays for the transportation and lodging of astronaut spouses and children.
Grijalva's travel numbers also increased this year. His campaign spent less than $1,000 in the first quarter of 2011. In the second quarter, he reported spending $6,174. His campaign paid for seven airline tickets in June, including three that cost more than $1,000 apiece.
Clerkin, a consultant working for the Grijalva campaign, said some of those tickets and hotel expenses were for a Netroots Nation conference in Minneapolis and an event in New Mexico for U.S. Rep. Ben Lujan, a Democrat.
The campaign paid for Grijalva and a staff member to go on those trips because they were not part of his official duties as a congressman, and thus not paid for in his office budget, Clerkin said.


STAFF
The Giffords campaign listed two campaign staff members working this year. Jessica Schultz, the campaign's political director, works from Tucson and makes $59,800 a year. The reports show the campaign paid Washington, D.C.-based Hayley Zachary a monthly salary but only through May.
In June, Elena Ruiz appeared on the payroll. Zachary was being paid a salary equivalent to $84,000 annually, while Ruiz was earning a salary equivalent to $32,500 a year. According to the spending report, Ruiz has a Tucson address.
Grijalva's campaign paid a single Tucson staff member, Michelle Crow, at a rate of $32,500 a year.
In some ways, Grijalva and Giffords spend their campaign money differently. Grijalva's reports show him purchasing campaign T-shirts, signs and lapel pins during the less busy months after a campaign has ended. Grijalva consultant Clerkin said the campaign purchases those items when they run out rather than waiting for the campaign to come into full swing.
An Arizona Public Media review of federal campaign finance law showed that the reports and the listed expenses by the Giffords and Grijalva campaigns appeared to comply with the law. Under the law, challenges or complaints about campaign spending can be made to the Federal Election Commission.


OTHER CANDIDATES
Gabriella Saucedo Mercer, a Republican running against Grijalva, reported raising $22,396 last quarter. She reported spending $16,874, but her report does not identify the types of expenses, although the FEC requires such disclosure.
Mercer's campaign did not respond to questions about why those disclosures were missing from her reports.
There are no other declared candidates in Southern Arizona's congressional races, and the state's redistricting commission has not yet finalized how the new district boundaries will be drawn.
The commission redraws the districts every 10 years, based on census population data. Arizona will add a ninth congressional district for the 2012 election cycle, so it is not yet clear how that affects boundaries for other congressional districts and prospective candidates may be waiting on that information.
Giffords' 2010 opponent, Republican Jesse Kelly, filed an updated report listing no fund-raising. He reported $3,272 in expenses, mostly for e-mail and website hosting, storage and some consulting.
In statewide campaigning, Republican U.S. Rep. Jeff Flake is running for the U.S. Senate seat being vacated by GOP Sen. Jon Kyl next year. Flake's campaign finance report showed he raised $830,226 between April and June. He spent $389,432 in the same three months.
Flake's spending is concentrated on fundraising and campaign events, such as campaign fliers mailed to prospective voters and donors. He spent $199,871 on activities directly related to bringing in money, including fund-raising consultants and fund-raising events. Another $120,355 went toward campaign events.
Flake's campaign paid James R. Foster & Associates $132,570 for handling direct mail, including expenses for stationery. The company is a national direct-mail and marketing firm based in the Dallas area. The company's website says James R. Foster & Associates worked on the Bush-Cheney presidential campaigns in 2000 and 2004.
Flake's campaign staffer, Sarah Morgan, first appears on the payroll in May, and is the only person listed in the newest campaign finance report receiving a salary. According to the FEC filing, she makes an average of $4,600 a pay period, which works out to an annual salary of approximately $120,000.
In travel, Flake's Senate campaign spent $13,402 in the second quarter. Those expenses included car rentals, airline tickets and hotel rooms.
READ THE FINANCE REPORTS:
Gabrielle Giffords' campaign finance reports
Raúl Grijalva's campaign finance reports
Gabriella Saucedo Mercer's campaign finance reports
Jesse Kelly's campaign finance reports
Jeff Flake's campaign finance reports
Christopher Conover and Andrea Kelly discuss the campaign finance reports and their findings with Arizona Week host Michael Chihak. Watch it now:
"Campaigning has become a year round phenomenon" Michael Chihak and fellow journalists discuss the latest federal campaign reports for Giffords, Grijalva and Flake. (VIDEO: AZPM)