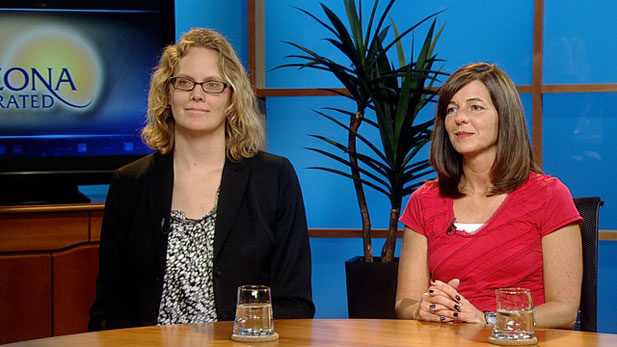 Epidemiologists Kacey Ernst and Elizabeth Jacobs are exploring the reasons behind declining child vaccination rates. (PHOTO: AZPM)
In the last decade, the number of parents choosing not to vaccinate their children for non-medical reasons in Arizona has more than doubled, according to the Arizona Department of Health Services.
Records show that a little more than 3 percent of the state's kindergarteners did not get vaccinated for religious or philosophical reasons during the 2010-2011 school year.
Arizona is one of several states in the U.S. that allow parents to skip childhood immunizations based on personal beliefs. This includes religious beliefs or just the belief that vaccination is harmful. There are also medical exemptions for children who are unable to tolerate vaccines due to allergies or cancer treatments, such as chemotherapy.
However researchers say some parents are afraid simply because they don't have the most accurate information.
Kacey Ernst and Elizabeth Jacobs, both epidemiologists at the University of Arizona College of Public Health, are working with the state to find out more about why parents are not vaccinating their children.

The goal is to then educate people regarding the pros and cons of vaccinations. They join Arizona Illustrated to discuss their work, as well as their own decisions regarding vaccination, as parents of small children.

Doctors Kacey Ernst and Elizabeth Jacobs join us to talk about child vaccinations. (VIDEO: AZPM)