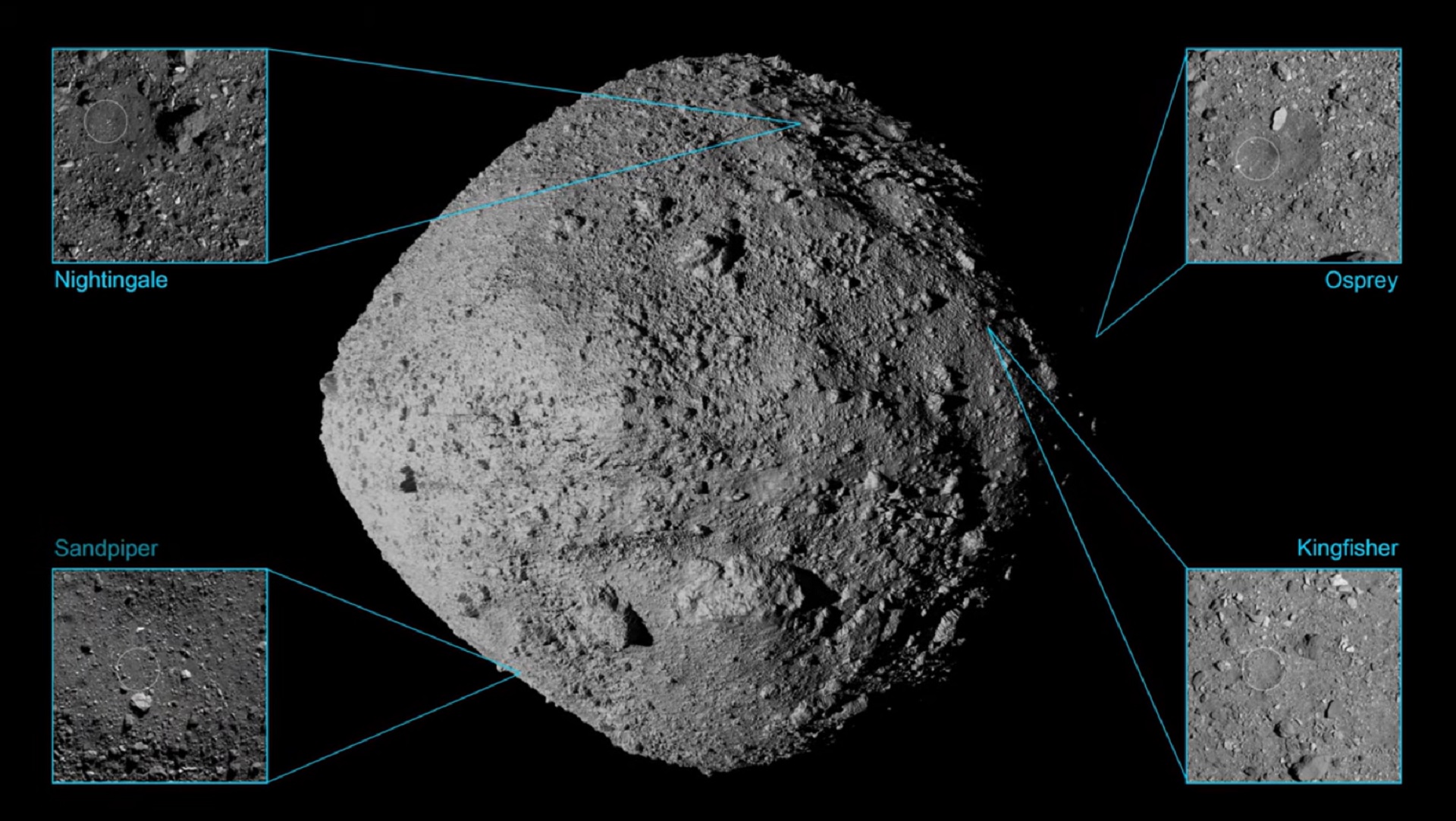 This screen grab from a NASA video released Aug. 12, 2019 shows four potential locations on Bennu for the OSIRIS-REx probe to collect soil samples.
The OSIRIS-REx team at the University of Arizona is preparing for a tougher-than-expected trip to the surface of an asteroid.

The spacecraft launched three years ago, with the goal of finding a flat, sandy spot on the asteroid Bennu, picking up some dust, and returning it to Earth. But since arriving at the asteroid, the probe's photos show it covered with boulders, and very few clear, flat spots.
Project leader Dante Lauretta says they've created a whole new approach to grabbing a sample, called natural feature tracking.
"The spacecraft will, in advance, have a catalog of known terrain on the asteroid," Lauretta said. "And then as it's flying towards the sample site it'll be taking images and comparing the images against its onboard catalog, figuring out where it needs to go and then making corrections on its thrusters to get us into the right location."
Monday NASA released photos of four candidate spots, each just 16 to 32 feet across. That's half as large as the team was hoping for. The plan is to choose a site late this year, pick up a sample next fall, and deliver it to earth by 2023.
Here's the location of each of the 4 candidate sites on Bennu. The sites are named after birds native to Egypt which complements the mission's other naming conventions – Egyptian deities (the asteroid and spacecraft) and mythological birds (surface features on Bennu). pic.twitter.com/5ImeBncb79

— NASA's OSIRIS-REx (@OSIRISREx) August 12, 2019