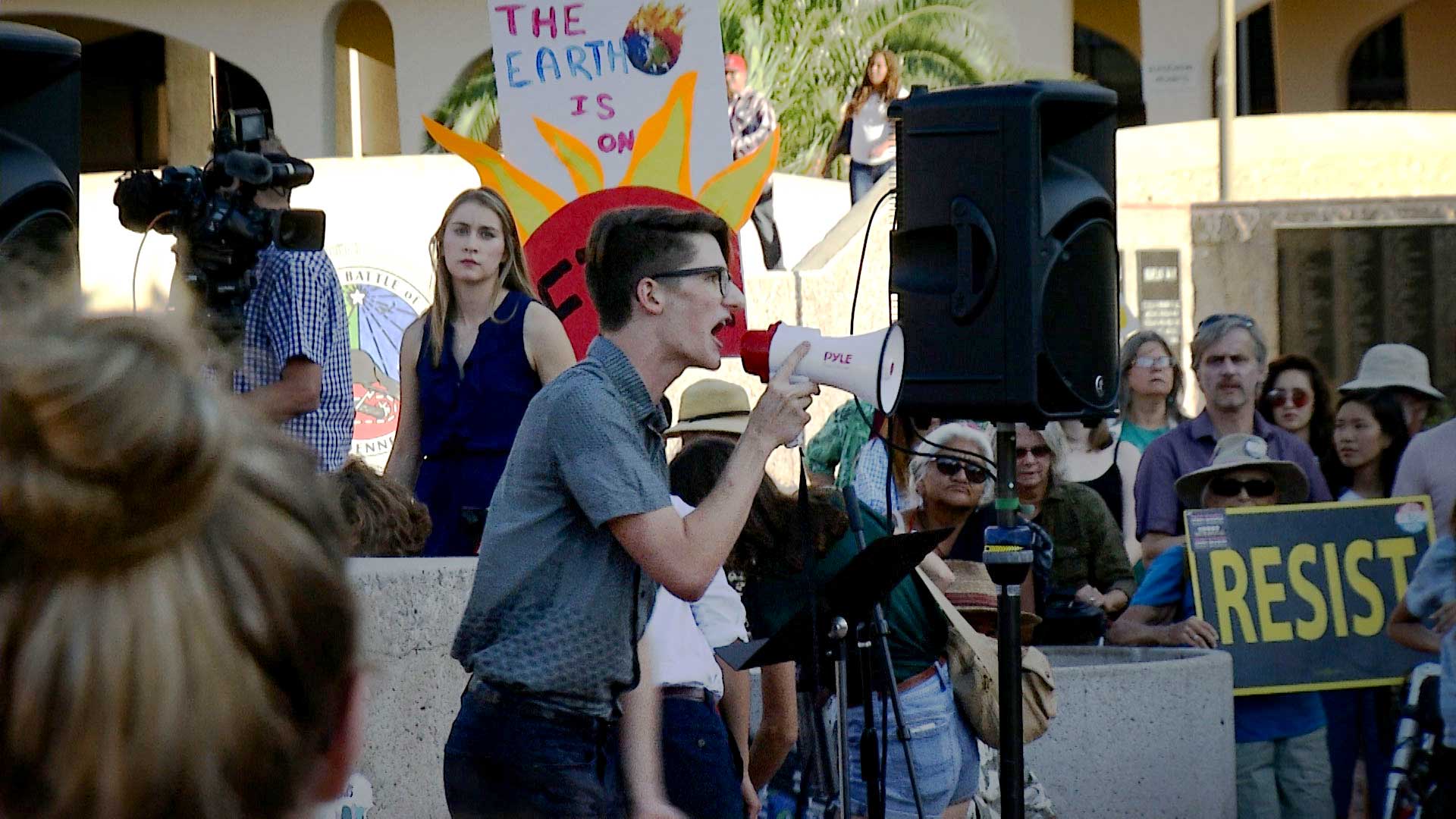 University of Arizona sophomore Kyle Kline speaks to a crowd gathered at a climate strike protest at El Presidio Park in Tucson on Sept. 20, 2019.
AZPM
The Arizona Youth Climate Strike is pushing for the state and cities in Arizona to declare a climate emergency and pursue climate action and adaptation plans. As part of the push, it is holding another strike event Friday.
Tucson mayor Regina Romero, who has promised to create such a plan, will headline the list of speakers at Friday's rally. Kyle Kline, co-director of the Tucson group, said he's excited about her leadership.
"What oftentimes scares a lot of people who are traditionally aligned more with conservative values about climate change action is it can be seen as kind of a threat to what we see as our everyday lives," Kline said. "But Regina's model actually follows a theory called environmental decoupling where you don't have to give up say, economic benefits to support environmental ones."
Area high school students will also participate in walkouts to join the climate strike. Kline said they have seen some progress since their last strike in late September, and are making their voices heard in other ways besides the rallies.
"We were up at the NAU Seven Generations Climate 2020 conference where we were able to act as youth activists and serve on a panel for what demands we really want to be proposing to the state at large," Kline said.
They've also been meeting with some local politicians to get them to sign a "No Fossil Fuel Pledge," rejecting donations from that industry.
Friday's climate rally in downtown Tucson, part of a global youth initiative, will include a march around city government meetings. Arizona Youth Climate Strike will also have voter registration booths on site.
"One of the most important things that we can do in the climate movement or any movement is get people out and voting, especially the youth of our generation who are going to be affected by the climate crisis," Kline said. "So it's really important as an age demographic that doesn't vote to get our voices out into the polls."
Friday's event runs from 2:30 to 5 p.m. at Jacome Plaza in downtown Tucson. Similar events are planned in Phoenix, San Luis, Mesa and Chandler.