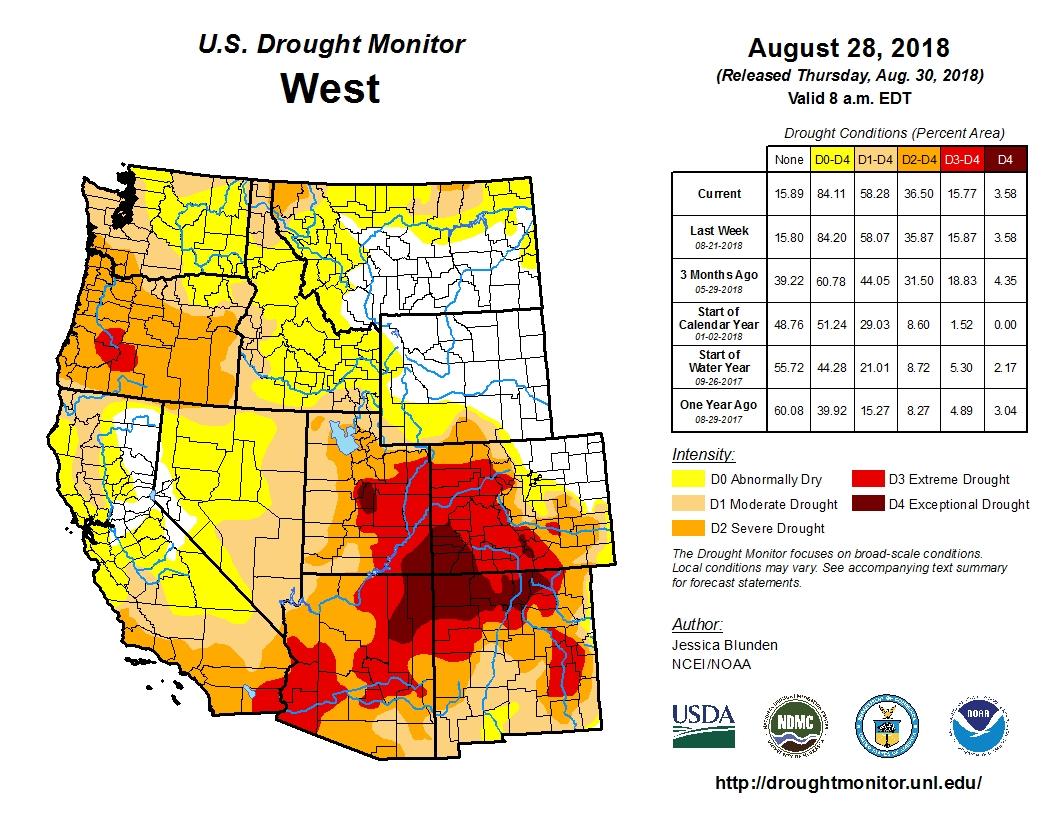 VIEW LARGER A drought map of the West dated Aug. 28, 2018.

U.S. Drought Monitor
The Four Corners drought of 2017 and 2018 caused $3 billion in losses and led the Navajo Nation to issue an emergency drought declaration.
Now, new research in the Bulletin of the American Meteorological Society suggests a sizable portion of the drought's impacts stemmed from human-induced climate change.
"We're going to keep seeing temperature rise, meaning we're going to keep seeing these extreme events, these impacts occurring, and that makes it really important to start thinking about adaptation," said co-author Emily Williams, a doctoral student at University of California, Santa Barbara.
In addition to UC Santa Barbara colleagues Chris Funk and Shraddhanand Shukla, Daniel McEvoy of the Western Regional Climate Center in Reno, Nevada, contributed to the research.
The Four Corners drought was intensified by the hottest regional temperatures on record, and occurred during a severe meteorological drought.
Unusually high temperatures worsen droughts in the Southwest by reducing snowpack and causing snow to melt earlier, depriving affected areas of seasonal river flows.
They also increase the amount of water the atmosphere can hold, making air "thirstier" and causing it to pull moisture from plants and soil.
According to model simulations, human-induced warming added 2.3 to 3.6 degrees Fahrenheit (1.3 to 2.0 C) to that heat — parching soil and shrinking plant coverage by 18–30 percent and making poor rangeland conditions worse.
It also drained away 20% of potential snowpack meltwater.
Williams said events like these reveal climate change already at work.
"And this drought, which hurt so much of the interior of the U.S., is one of those examples of what climate change looks like in the here and now," she said.
As available water is exhausted, an additional feedback between land and water can occur: As evaporation, which absorbs latent heat and cools the area, becomes impossible, sensible heat can climb even higher.
"If this is happening in a really dry environment and there's no more moisture in the soil, that will then lead to even greater temperature rise," said Williams.
Because the study did not model such effects, its results likely reflect a conservative estimate of the impacts of human-induced warming.

Fronteras Desk
is a
KJZZ
project covering important stories in an expanse stretching from Northern Arizona deep into northwestern Mexico.