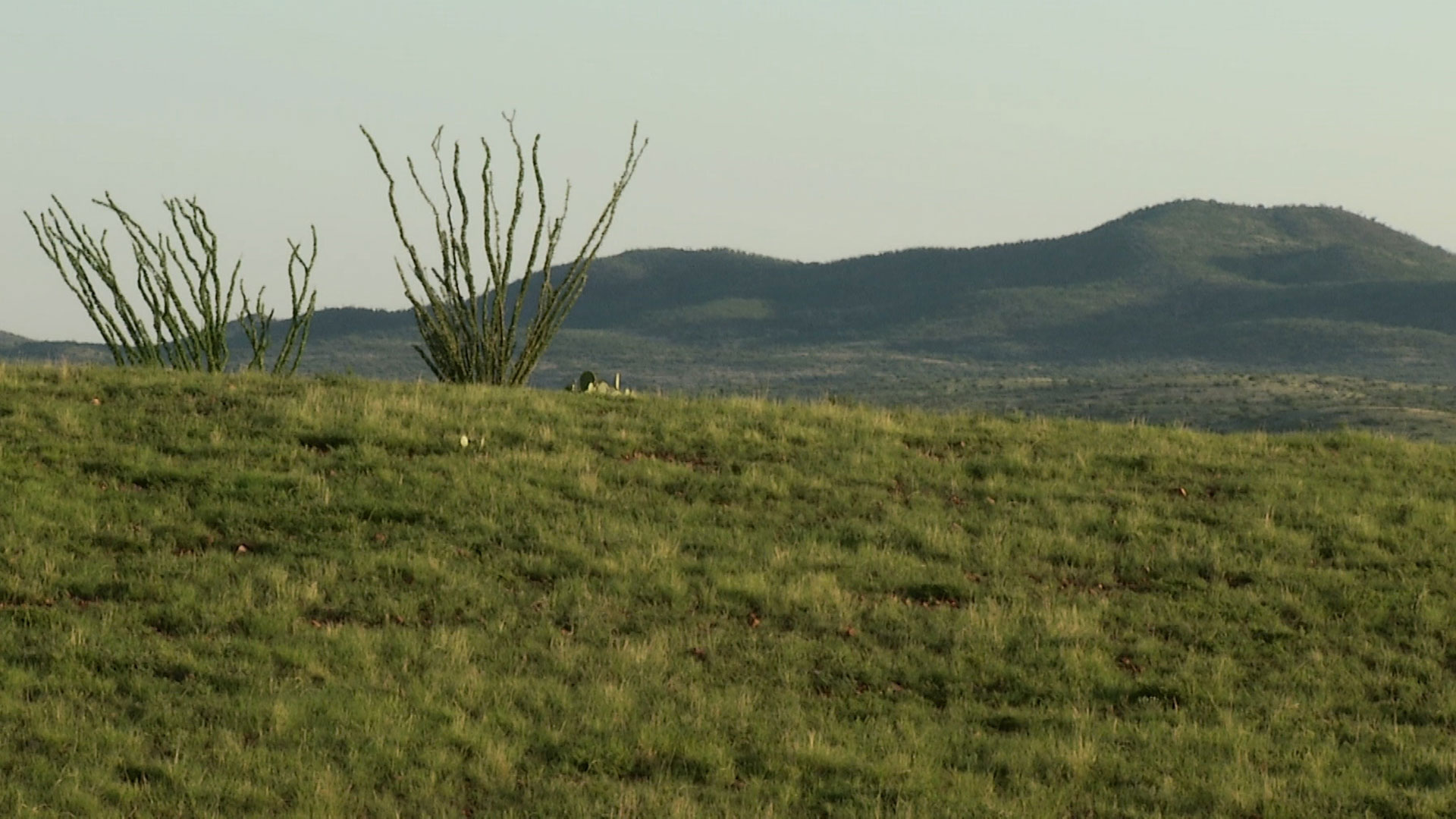 Buenos Aires National Wildlife Refuge encompasses nearly 118,000 acres southwest of Tucson and includes a stretch of the border with Mexico.
Robert Lindberg/AZPM
A lot of people pass through Ajo on the way to another destination. But the small Arizona border town was the destination last week for more than 200 people who gathered there for a four-day symposium about the borderlands.
The Ajo-based International Sonoran Desert Alliance has held this event every two years for more than a decade. Executive Director Aaron Cooper said it's a chance for communities from both sides of the border to come together.
"So it's the Tohono O'odham Nation, United States and Mexico, particularly the state of Sonora, coming together across these borders to say we all share the same Sonoran Desert. We should all share content, information and just a collegial atmosphere around that," he said.
Cooper said the event provides a platform to share knowledge and research about the web of people and wildlife who call the Sonoran Desert home. Speakers from government agencies like the National Park Service, U.S. Fish and Wildlife and Customs and Border Protection join scientists, tribal leaders and community members to present on myriad issues important to the region.
"It could be anything from talking about border infrastructure impacts, to citizen scientists, school interactions and bringing students out into the landscape," Cooper said.
The gathering came just before the spread of coronavirus prompted school closures and event cancellations across Arizona and around the country. In his opening address to the symposium, Cooper also reminded attendees of the importance of social distancing as concerns continued to arise. He said the timing of his event made it possible to still meet. Today things are different.
"For so many Sonoran Desert researchers, advocates, residents and stakeholders, this convening represented a kind of recentering and peer support that was desperately needed," he said. "With the info that was available last week we felt comfortable moving forward, but our new reality with the CDC recommendations being what they are now, we would have canceled the event."
In addition to holding the biennial conference, Cooper's group also provides community assistance like organizing food stamps and emergency utility payment assistance for residents in Ajo. He said now their work is focused on finding ways to continue providing those services while also keeping staff safe.
Less than 50 miles away from the conference, construction crews continued work on the border wall. Cooper says it's too early to tell exactly how ramped up border infrastructure will impact the delicate Sonoran landscape. But the topic isn't far from attendees' minds.
"As lovers of the Sonoran Desert, it's certainly a challenging topic to explore," he said. "Our goal and our hope is we continue to build community across the international border regardless of what infrastructure is there."
Yue "Max" Li is a research scientist at the Arizona-Sonora Desert Museum who always attends the event in Ajo. His research this year explored two desert species on opposite sides of the same ecological coin. His first presentation was about Arizona eryngo, an endangered plant growing increasingly sparse in the Sonoran and Chihuahuan deserts. His other work looked at the sweeping expansion of buffelgrass, an invasive species overwhelming other Sonoran plants.
"Whether you are on the south side of the border or the north side of the border, we want to work together to really protect what we have and also really cherish what we have," he said. "This has been the spirit of the symposium and I think it will continue to be."
A sense of collaboration was also at the heart of Stanley Cruz's conference experience. As the district chairman of the Pisinemo District of the Tohono O'odham Nation, Cruz presented traditional songs, stories and history about his district to symposium participants. He said he decided to take part to educate people about the tribal nation's culture, both in Ajo and back home.
"The information that I put together in my presentation will hopefully be used at our district office so that the next generation can use it to remember these places and this history," said Cruz, who also serves on the board of the International Sonoran Desert Alliance. "I like how people here collaborate, work together and share information about this area."
The symposium will convene in Ajo next in 2022.