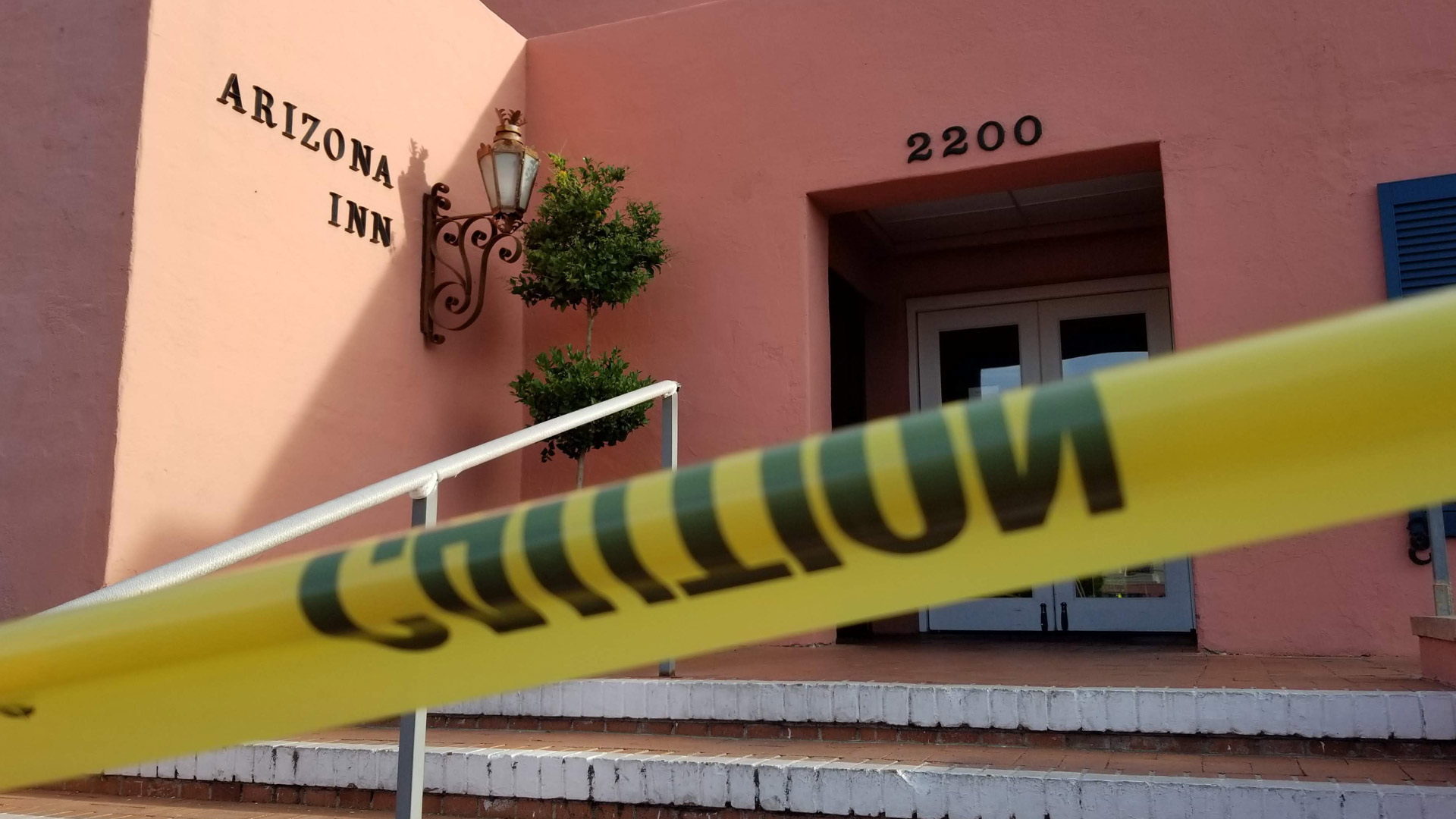 Yellow caution tape blocks the entrance to the Arizona Inn, which has temporarily closed as a precautionary measure against coronavirus. From March 16, 2020.
AC Swedbergh/AZPM
A roundup of coverage of the COVID-19 outbreak as of the morning of March 17. For more coverage, visit our resource page. This story may be updated.
---
Tucson mayor declares local emergency, suspends dine-in service
UPDATE: An earlier version of this brief reported a tweet that was later deleted by the mayor's office.

Tucson Mayor Regina Romero early Tuesday afternoon in a press release declared a local emergency due to the COVID-19 outbreak and announced the suspension of dine-in services at certain businesses. An earlier tweet of the announcement was deleted and later clarified.
My full statement regarding the declaration of a local emergency. RESTAURANTS ARE NOT ORDERED CLOSED. Dine in services at restaurants will be suspended and transitioned to all takeout/delivery. pic.twitter.com/ab2CaO4Ml4

— Regina Romero (@TucsonRomero) March 17, 2020
In the press release, the mayor is quoted as saying, "This morning, after consulting with business stakeholders, the City Attorney, and City Manager, I have made the determination that it is in the best interest of maintaining public health to suspend dine-in services in restaurants and food courts, and transition to delivery/pick-up only services. Bars, gyms, and other specific venues stated in the proclamation where groups of people congregate are directed to be closed through the end of the month."
Read the full proclamation here
Phoenix Mayor Kate Gallego made a similar announcement around the same time for the state capital.
Based on input from healthcare professionals, business leaders,& community members, PHX is declaring a state of emergency forcing immediate closure of bars & moving restaurants to delivery/take-out/drive-thru only starting 8PM tonight. @cityoftucson joins us in this. #COVID19

— Mayor Kate Gallego (@MayorGallego) March 17, 2020
---
Tucson preps for economic impact
Updated March 17, 1:25 to reflect business closure announcement
(AZPM) Mayor Regina Romero held a closed-door meeting Monday afternoon with city and business leaders, including Visit Tucson, Tucson Metro Chamber and Pima County Chief Medical Officer Francisco Garcia. Mayor Romero said the meeting was not to decide or announce new policy, but to build a working coalition as the city prepares to face the economic impact of the novel coronavirus.

The mayor said the meeting allowed her to hear the needs and concerns of the local business community so they could be taken into consideration. At the time, she said the city would not be ordering restaurants and bars to close. She said those decisions would have to come from state government. Then, early Tuesday afternoon, Romero tweeted that the city would be closing businesses like restaurants and bars.
She also said that the city had asked the courts to cease evictions while Tucsonans deal with economic hardship caused by COVID-19.

---
Ducey recommends Arizonans avoid going out: 'Our advice is don't'
(AZPM) Arizona will comply with new federal guidance issued Monday on COVID-19. But it's not going as far as other states.
Gov. Doug Ducey announced in a press conference Monday that the state is adopting recommendations issued today by the Centers for Disease Control. They include avoiding gatherings of 10 or more, working remotely whenever possible, and quarantining an entire household if one person tests positive for the novel coronavirus.
"Tomorrow [Tuesday] is Saint Patrick's Day. If you're thinking of going out to a crowded bar to celebrate, our advice is don't," Ducey said.
The governor's advice comes as other states announced stricter measures to contain the spread of the virus. Governors in New York, Illinois and nearly 20 other states have ordered bars and restaurants in their states to close to the public. Learn more
---
Flagstaff restricts restaurants, closes other businesses
FLAGSTAFF (AP) — Flagstaff has restricted service at restaurants and closed bars, theaters, fitness centers and other businesses over concerns about the spread of the coronavirus.
Mayor Coral Evans issued a proclamation that puts the restrictions and closures into effect late Tuesday. She says it's necessary to protect life and property in the city of about 70,000 people about two hours north of Phoenix.
No coronavirus cases have been reported in Coconino County, where Flagstaff lies. Phoenix and Tucson have not issued formal business closure proclamations but numerous restaurants and bars there have shut down or converted to take-out only.
---
Coronavirus scrambles Democratic contest as 3 states vote
WASHINGTON (AP) — The new coronavirus hampered efforts by voters to get to the polls in some states on Tuesday as the global pandemic scrambled the Democratic presidential contest.
Voting was called off in Ohio. But in Florida, problems popped up across the state. In Okaloosa County on the Panhandle, two dozen workers dropped out, leaving elections officials scrambling to train replacements. And in Palm Beach County, the elections department said 800 volunteer poll workers backed out on Monday and just 100 new volunteers offered to take their place.
Primaries in Illinois and Arizona were also moving forward Tuesday despite coronavirus concerns.
---
Inmates: Arizona lacks adequate coronavirus plan in prisons
PHOENIX (AP) — Inmates in Arizona's prisons have asked a judge to order the state to develop an adequate plan for confronting the new coronavirus behind bars. Their lawyers say prison conditions and the state's lack of preparation put the lives of older prisoners with chronic illnesses at risk.
The Department of Corrections, Reentry and Rehabilitation says it has taken steps to reduce the potential spread of the virus, such as suspending a $4 co-payment on inmates who seek medical care for cold and flu symptoms. Eighteen coronavirus cases have been reported in Arizona. None have reported in state prisons.
---
Guatemala suspends US flights of deportees, asylum seekers
GUATEMALA CITY (AP) — Guatemala says it is suspending incoming flights carrying immigrants and asylum seekers sent by the United States, citing concerns over the global coronavirus pandemic.
The measure covered two flights of Guatemalan deportees scheduled for Tuesday, as well as indefinitely suspending flights carrying people from other Central American nations. They were being sent to Guatemala under an asylum cooperation agreement with the United States that is part of Washington's broader crackdown on immigration at the U.S.-Mexico border.
Guatemala says the suspension will last the indefinite duration of its state of emergency.
---
Trump wants quick checks sent to public in virus response
WASHINGTON (AP) — President Donald Trump is asking Congress to unleash a torrent of emergency economic aid to help people through the financial storm of the coronavirus crisis. Sizable checks directly to Americans are part of the deal he wants.
Treasury Secretary Steven Mnuchin says Trump wants the money sent to the public within two weeks. But the president has to deal with skepticism in Congress over the broad economic rescue package for businesses and taxpayers. The amount of the proposed checks hasn't been disclosed but Mnuchin says it's vital to get significant cash out to people quickly.
---
Trump moves to blunt coronavirus' heavy impact on US economy
WASHINGTON (AP) — Ahead of an expected surge in coronavirus cases, President Donald Trump is moving to blunt the impact of the pandemic on the U.S. economy, fundamentally altered by a push for a nation to stay home.
As the global markets fluctuated amid fears of a recession, the president conferred with tourism executives as well as restaurant leaders, retailers and suppliers. His administration is expected to propose a roughly $850 billion emergency economic stimulus to address the free-fall while considering checks to American workers trying to make their way in an economy deeply unsettled by the outbreak.
---
EU to ban most foreign travelers for 30 days to curb virus
BRUSSELS (AP) — The leaders of European Union nations have agreed to institute a travel ban that prohibits most foreigners from entering the bloc for 30 days to discourage the spread of the new coronavirus.
EU leaders agreed on Tuesday to shut down the 27-nation's bloc's external borders immediately. European Commission President Ursula von der Leyen said the proposal by EU officials "got a lot of support by the member states. It's up to them now to implement. They said they will immediately do that."
German Chancellor Angela Merkel said late Tuesday that European leaders agreed in a conference call to the commission's proposal for an entry ban with "very, very limited exceptions."