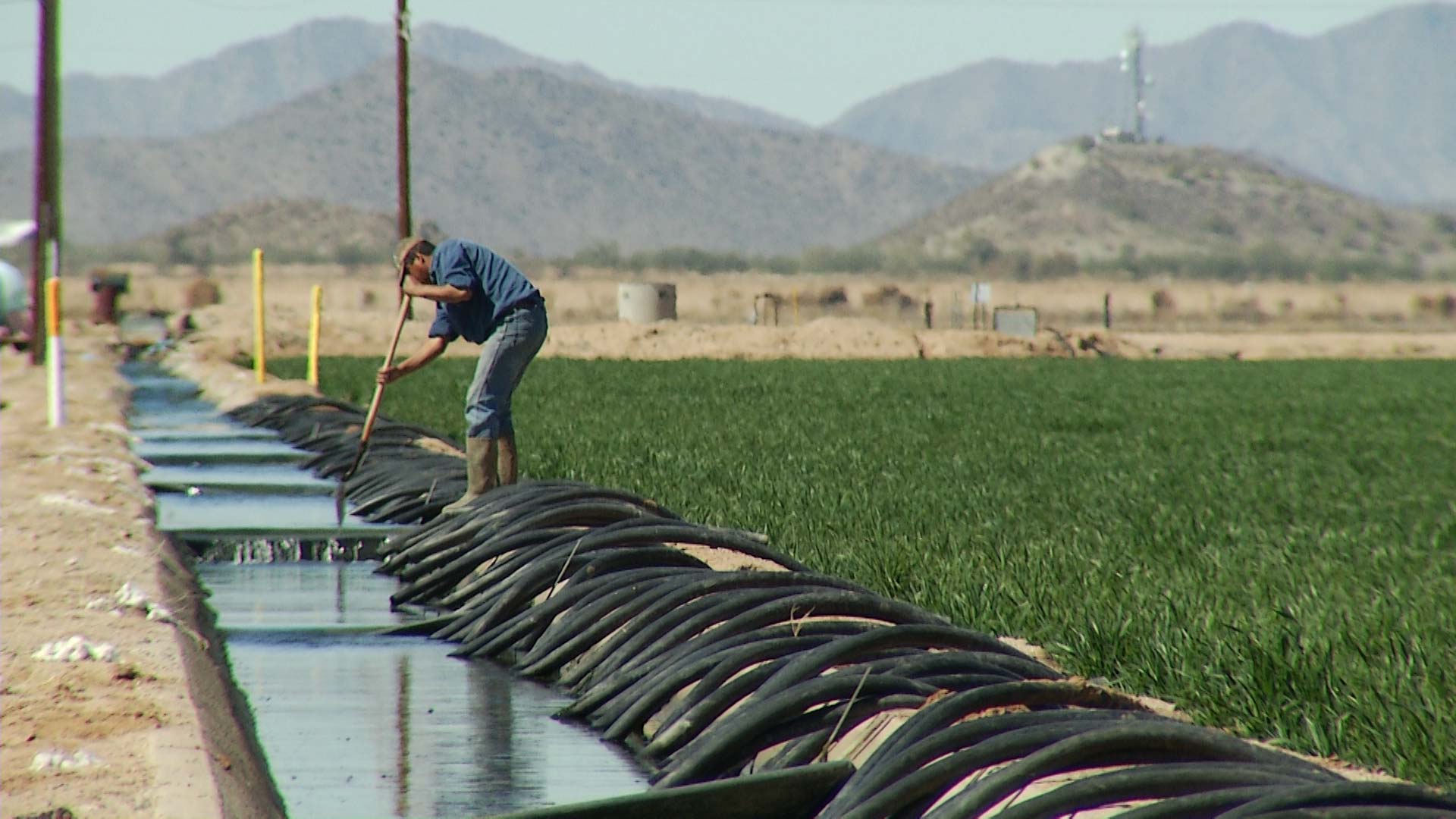 A farm in Central Arizona.
AZPM Staff
Canned beans, ramen noodles and eggs are in short supply at grocery stores.
George Frisvold, a professor of agriculture economics at the University of Arizona, said the empty shelves are due to grocery stores struggling to keep up with a sudden change in the types of food people want.
"America's demand for SPAM probably hasn't quintupled," he said. "I think right now a lot of the stuff is on the demand side with people hoarding and panicking."
He said the good news is there's plenty of food in Southern Arizona.
For farmers, that means demand is high at the end of the winter growing season. But not all farmers are thriving, and a recession induced by the coronavirus could harm Arizona agriculture.
In the long term, Frisvold said Arizona farmers may struggle as more people lose their jobs and incomes. A recession could also harm Arizona's $5.2 billion cattle industry. "Beef prices tank during recessions," he said. "People go to other types of meat and protein that's cheaper."
He said social distancing measures may begin to affect the supply of food. Arizona crops like lettuce, melons and citrus need to be hand-picked and could see reduced productivity. He said if the U.S.-Mexico border remains closed, it may harm Southern Arizona industries dependent on migrant farm labor, especially around Yuma.
Small farmers haven't had to wait to feel the economic effects of coronavirus. Efforts to contain the spread of COVID-19 have cut off niche markets like farm-to-table restaurants, and led to the closing of farmers markets.
As restaurants across Southern Arizona have closed or scaled back service, some small farmers are trying to sell directly to consumers.
Merchant's Garden, an urban farm that grows organic leafy greens like romaine and bok choy, opened up a drive-thru farmers market in the parking lot of an old school building in midtown Tucson last week.
"We normally provide for restaurants and schools. Basically we never provide directly to customers, and we just want to make this more accessible, especially when grocery stores aren't accessible to people right now," said community engagement manager Tasha Chhabra.
When Tucson ordered restaurants closed to dine-in service last week, it affected a quarter of their business, according to CEO Chaz Shelton. He said the plan is to open up the drive-thru market to other farmers looking for a place to sell their produce.
Erik Stanford, founder of Pivot Produce, said he's had to completely change his business model. He used to work as a distributor, getting food from small farms to restaurants in Tucson. Now, he's delivering bags of produce to people's doorstep.
"The food on the farms needs to be harvested, and the farms need to be paid for, and we have a large wealth of people that have raised their hand to volunteer," he said.
In his first week, he garnered over 150 orders. He said the deliveries won't make up for losing the restaurant sales. He's hoping the restaurants will still be here when the pandemic is over.