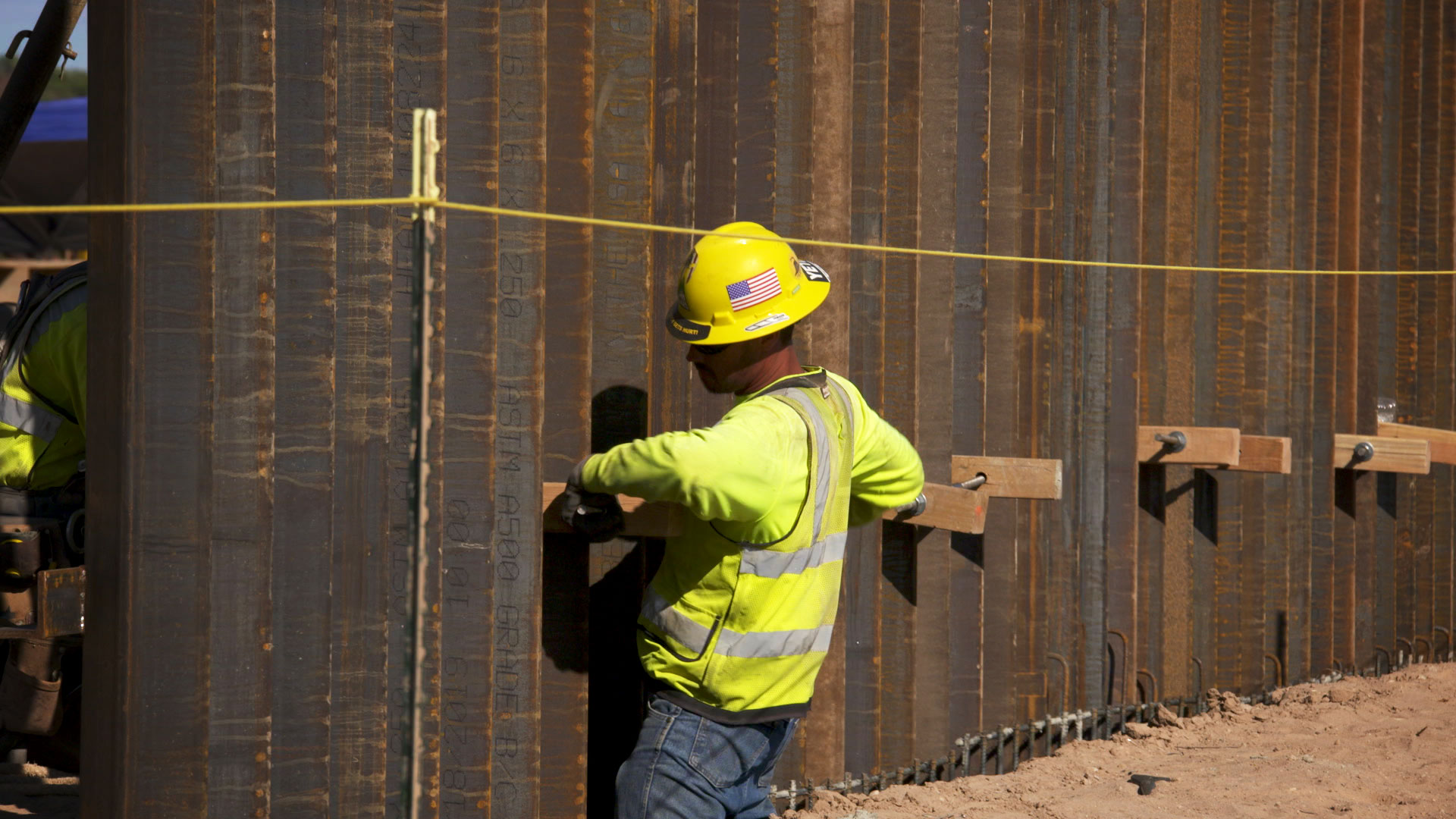 A construction worker works on installing 30-foot bollard fencing along Arizona's border with Mexico in Organ Pipe Cactus National Monument, February 2020.
Nate Huffman/AZPM Staff
Gov. Doug Ducey's shelter-in-place order tightened COVID-19 precautions in Arizona this week. But while most people are being asked to stay home, construction on the border wall continues. Groups say that doesn't make sense in the middle of a pandemic.
Dan Millis, a borderlands campaigner with the Sierra Club's Grand Canyon Chapter, estimated in some cases border wall construction even appears to be accelerating. He said the project is costing more than $18 billion in government funds that could be put toward coronavirus relief. And these mass construction sites make social distancing impossible.  
"You have large crews of dozens of people in close proximity to each other. Those folks, in this case, come from all over the United States and beyond," he said.
Millis said many of those workers make frequent trips to visit family in other states. He said that puts added stress on resources like lodging, food supplies and health care in places like Douglas and Ajo.
"If you go to one of these staging areas, you'll see license plates from all over the United States, Mexico and even Canada," Millis said. "Then when you consider the fact that in some of the places we're not talking about just dozens of workers, but even hundreds of people supporting primary construction workers, you end up with a whole lot of people and vehicles in small border communities."
Gail Emrick is a public health expert who works in Nogales as the executive director of the Southeast Arizona Area Health Education Center and a board member of the Binational Health Council of Ambos Nogales.
She said it's not just the health of crews themselves at stake. It's also that of small border communities with limited health care facilities and staff.
"Given the ratio of health providers we have to serve our small communities, the fact they would be bringing in outsiders when people are being asked to stay home is more than mildly ironic," she said.
In March, U.S. Customs and Border Protection (CBP) announced plans for more wall construction along 150 miles of borderland in Arizona, California and New Mexico.
Over 100 environmental, civil rights and religious groups across border states have signed onto a letter to the U.S. departments of defense, homeland security and justice calling for the halt of construction during the pandemic.
The U.S. Border Patrol Tucson Sector and CBP have not responded to requests for comment. 
MORE:
Arizona
,
Border
,
Coronavirus
,
Government
,
Immigration
,
Infrastructure
,
Mexico
,
News
,
Public Safety
,
Travel
,
U.S.