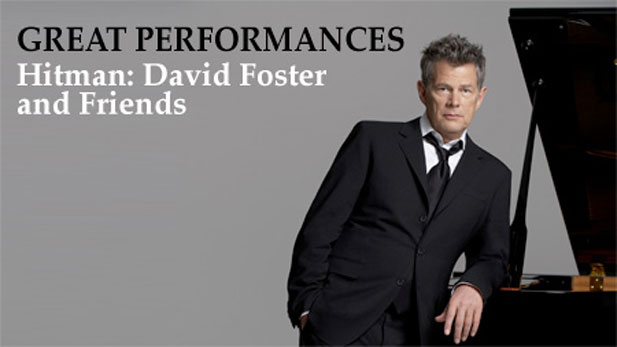 Recorded live in performance at Las Vegas' Mandalay Bay Events Center, "Hitman" features Foster presiding at the keyboard, center stage. The evening is a virtual jukebox worth of songs written by and/or produced by him. Kenneth "Babyface" Edmonds and brother Kevon offer "I Swear"; Brian McKnight revisits Earth, Wind and Fire's "After the Love Has Gone"; former Chicago front man Peter Cetera gets down with "Hard to Say I'm Sorry," "You're the Inspiration" and "Glory of Love"; and Boz Scaggs reprises "Look What You've Done to Me" from Urban Cowboy.
Neatly arcing Foster's remarkable 35-year career, other highlights range from early hits like St. Elmo's Fire Love Theme, recalled here by Kenny G, and "Man in Motion," performed by "American Idol" finalist Michael Johns, through foot stompin' disco with Cheryl Lynn's "Got to Be Real" to the neo-jazz swing of Michael Bublé's "Feeling Good."
"Hitman: David Foster & Friends" also features American Idol Katharine McPhee, who solos on "Somewhere," then joins Italian tenor Bocelli for "The Prayer"; Bocelli's silky "Amapola"; Bublé and country's Blake Shelton duetting on Bublé's "Home"; and new Foster discovery William Joseph at the keyboard for "Asturias." And if Josh Groban brings the house down with signatures "Bridge Over Troubled Water" (in duet with Brian McKnight) and "You Raise Me Up," the "Scene Stealer Award" would have to go to 16-year-old powerhouse Charice from the Philippines. Best known in America for her appearances on "The Oprah Winfrey Show," she stuns both audience and Foster with the Whitney Houston-by-way-of-Dolly Parton hit "I Will Always Love You."
Visit our secure web site to view the gifts, or to make a donation on-line.
Watch it Sunday, April 5th 9:30 p.m. PBS-HD