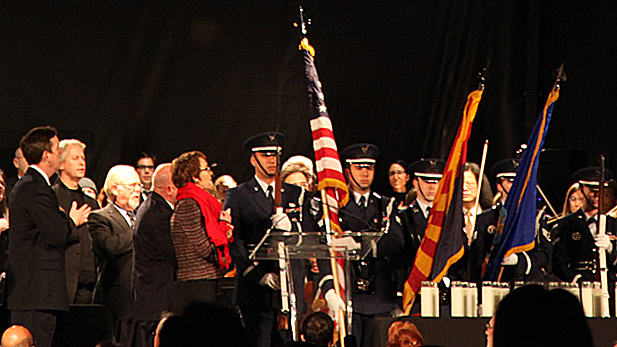 U.S. Rep. Gabrielle Giffords returned to her hometown to lead the Pledge of Allegiance during the Jan. 8 anniversary vigil. (PHOTO: Christopher Conover)
More than 2,000 Tucsonans saw U.S. Rep. Gabrielle Giffords in public Sunday for the first time since she was shot in the head a year ago.
The congresswoman was greeted with cheers, applause and chants of "Gabby! Gabby! Gabby!" as she waved to the crowd at the Remembering January 8th Candlelight Vigil at the University of Arizona.
Giffords, with the help of her husband Mark Kelly, walked across the stage to lead the Pledge of Allegiance at the beginning of the event. She spoke loudly and clearly, her voice rising and a big smile coming to her face as she concluded with " ... and justice for all."
Listen to Giffords lead the pledge:
UA President Eugene Sander, Tucson Mayor Jonathan Rothschild, trauma surgeon Peter Rhee and Arizona Secretary of State Ken Bennett were among the speakers at the vigil.
Bennett spoke emotionally of his newborn grandson, who was in an intensive care unit in Salt Lake City, saying, "Perhaps that's the message I was supposed to bring tonight: I think we need to show a little more intensive care to each other."
In honor of those who died - Phyllis Schneck, Dorothy Morris and Dorwan Stoddard, U.S. District Judge John Roll, Giffords' aide Gabe Zimmerman and 9-year-old Christina-Taylor Green - and the 13 who were wounded, 19 candles were lit on stage to the music of the Tucson Symphony Orchestra and the Symphony Chorus.
Photos: Cooper Christensen, AZPM

Giffords and Kelly lit the first candle followed by shooting survivors and family members. When all the candles were burning, the crowd activated colored glow sticks and waved them in the air.
"For the past year we've had new realities to live with," Kelly said. "The reality and pain of letting go of dear friends and family members and the reality of knowing that perhaps with adequate mental health treatment we may not be here tonight."
Jared Lee Loughner, accused in the mass shooting, has been diagnosed with schizophrenia and is under treatment at a prison health facility in Missouri.
Rabbi Stephanie Aaron, who is Giffords' rabbi, said the closing prayer, and the event ended with a lively performance by local favorite Calexico.