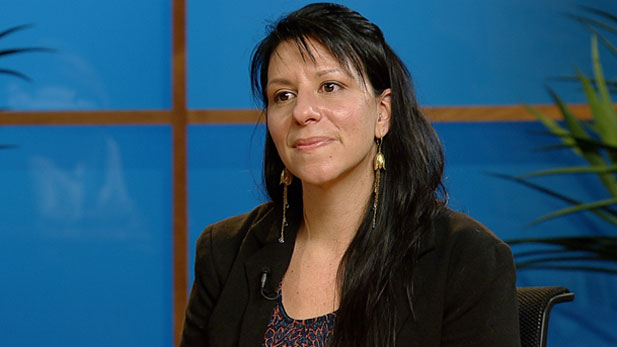 Jennie Grabel, executive director for the Fund for Civility, Respect and Understanding, says anti-bullying, mental health support top the fund's agenda. (PHOTO: AZPM)
Two Tucson organizations with goals of encouraging civility in public discourse in the aftermath of the Jan. 8, 2011 shootings are working on distinct but complementary agendas.
The Fund for Civility, Respect and Understanding was formed by Jan. 8 shooting victim and current congressional candidate Ron Barber, and the National Institute for Civil Discourse was formed at the University of Arizona on an idea from Arizona Board of Regents member Fred DuVal.
Jennie Grabel, newly appointed executive director of the Fund for Civility, Respect and Understanding, and Brint Milward, director of the National Institute for Civil Discourse, offered updates on their work for Arizona Illustrated.
Milward says his institute is seeking an executive director and has held one major meeting in Washington, D.C., at the National Press Club. That meeting brought people committed to civil discourse, civic engagements and leadership from all over the country to begin a civil messaging campaign that will be tested in the upcoming election cycle.
Negative campaigning already is under way in the Republican presidential debates, Milward says, describing them as looking "like a circular firing squad. It's pretty nasty."
The institute's role in regard to negative campaigning is to try to encourage candidates to listen to their opposition, while being able to disagree and "take them on fundamentally, but do so in a way where the voters really learn from the process rather than just being turned off and turning off the television."
Caitlin Wilenchik talks with Brinton Milward, Director of the National Institute for Civil Discourse, to discuss his organizations mission. (VIDEO: AZPM)
Why people resort to negative campaigning is another issue, Milward says. "I think you're always afraid to disarm," he says. "It's sort of like an arms race. When people are scared to death if they put away arms they're going to be adversely affected."
Even though negative campaigning is looked down upon, it still works, but only up to a point, Milward says. "…if you compare yourself to others, or the candidate that is, that will work. But after a point, when you're really vitriolic, when you really get ridiculous, when you get untethered from the truth, it tends not to work. That's what a lot of political consultants don't understand when they say you always have to go negative to win."
Grabel says the Fund for Civility, Respect and Understanding is also involved in the upcoming election season.
"I anticipate that as we move closer to actual elections, close to the end of the year, that we will reach out more to that community, and try to just encourage that people be kind and can disagree without being disagreeable," she says.
The fund also is asking candidates to take a civility pledge, which isn't something to sign, but "an idea people can integrate into themselves."
The fund also has established task forces to look into causes and cures for bullying and issues of mental, and those groups meet monthly. The fund has developed public service announcements, which will spotlight three individuals and their relationship to people with mental illness. An information and resource Website also is in the works.
"What we found is the community is so excited to get involved in these projects because there's really a need for work in the anti-bullying community as well as to just make people aware that mental illness is everywhere," Grabel says. " ... if we can eliminate that stigma, and get people help, that's what we want to do. There is a road to recovery."
Caitlin Wilenchik gets together with Jennie Grabel, Executive Director for the Fund for Civility, Respect and Understanding which was established by Ron Barber following the shootings in Tucson last year. (VIDEO: AZPM)