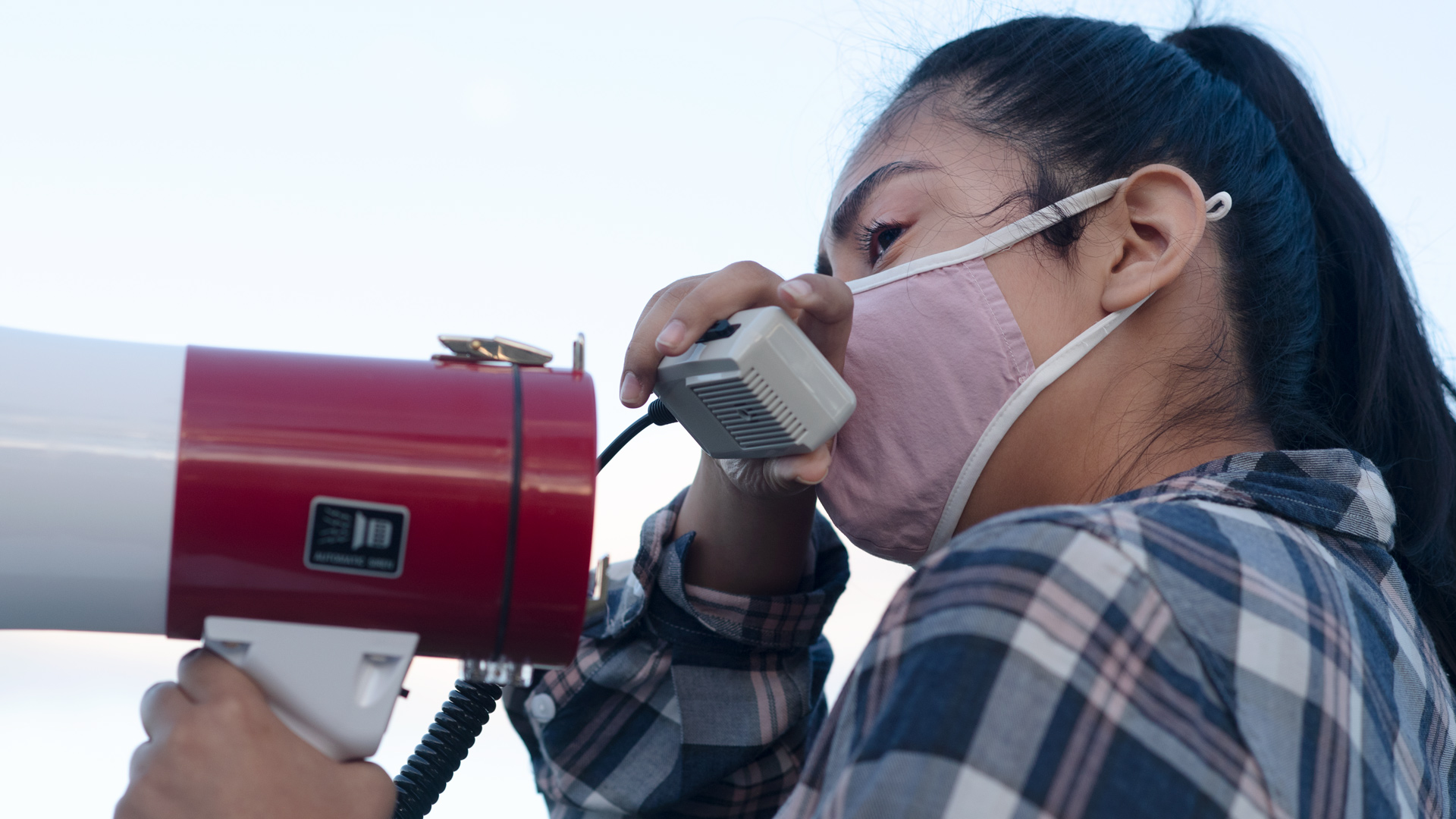 Daniela Ofelia Nava Leyva speaks at an event in downtown Phoenix celebrating Joe Biden's presidential win on Nov. 7, 2020.
Alisa Reznick/AZPM
After Joe Biden was declared the winner of the presidential election on Saturday, recipients of the Deferred Action for Childhood Arrivals program, or DACA, breathed a sigh of relief.
The Obama-era program gives some undocumented immigrants brought to the U.S. as children protection from deportation and a work permit. The Trump administration spent years rolling back those protections and Biden promised to reinstate them if elected.
Daniela Ofelia Nava Leyva is a U.S. citizen, but her family includes DACA recipients and undocumented people.
They were all together when they learned Biden would be the next president.
"Once we heard the news, we all got together and had a big full family breakfast. And it just sunk in in that moment, like, we have peace," she said.
Nava Leyva turns 18 this week, just shy of being able to cast a ballot of her own on Nov. 3. That's why this year, she focused on making sure people who could vote, did. As a volunteer with the Mesa-based immigrant advocacy group Aliento, she spent Election Day directing people to polling stations and making phone calls to voters across Maricopa County.
She was one of a handful of young people who gathered in downtown Phoenix on Saturday for a celebration organized by Mesa-based immigrant advocacy group Aliento.
DACA recipients Jesus Arredondo and Maria Leon Peña came to the park with their 6-month-old daughter. Gently bouncing her in his arms, Arredondo said he hoped Biden's win meant their daughter wouldn't have to worry about her parents losing status. Now, he wanted to see action from the new administration.
"Follow through on your remarks and your statements that you made when you were running for office," he said. "Because we have a voice, we matter, we're here and we're going to fight."
Speaking over gusts of wind, Aliento founder and DACA recipient Reyna Montoya told the group that 10 years ago, she was downtown protesting SB 1070,  the 2010 law that made it a state crime to be undocumented in Arizona. She said young immigrants have helped transform the state since then, but the fight isn't over.
"Today we celebrate, but come January we know we have to be jumping again," she said. "Because we know that for us to have our communities safe and protected, it's going to take work."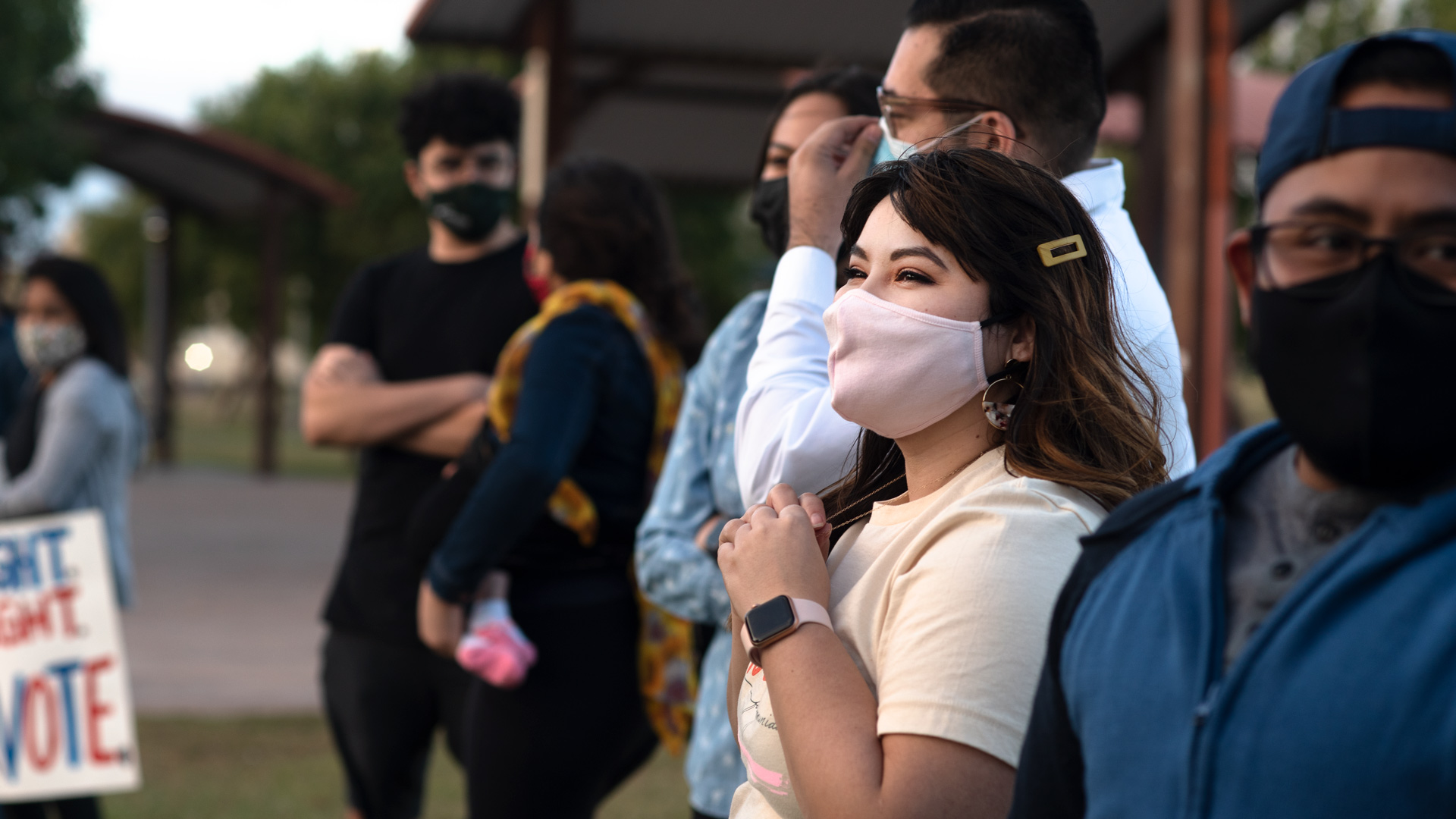 VIEW LARGER Aliento founder Reyna Montoya addresses a circle of other DACA recipients and mixed immigration status families on Nov. 7, 2020.

Alisa Reznick/AZPM
Though they couldn't cast a ballot themselves this election, Arizona DACA recipients like Montoya led get-out-the-vote campaigns in Maricopa County and across the state.
On election night, the AP called Arizona a win for Biden, marking the first time since the 1990s that the state went to a Democrat in a presidential election. Jose Patiño said that effort is years in the making, and it began with SB 1070.
"Without SB 1070 we wouldn't be here," said Patiño, another DACA recipient who works with Aliento. "It created all this hate and fear, and it has taken us a while, but it came back to bite them ... because you don't do that to a community. … People remember, they're never going to forget."
Patiño's own path started back then, too, when in 2010, he joined a student protest against SB 1070 at the Arizona State Capitol. Hundreds of students across Phoenix walked out of their classrooms in protest of the bill. Patiño remembers being met with counter-protesters.
Now that building and the Maricopa County elections office a few miles away are the sites of ongoing protests from Trump supporters. When those began last week, Patiño and other DACA recipients returned to witness them. He said he wanted to remember what drove him to protest a decade ago, and to prove he's not afraid.
"SB 1070 forced me to wake up and take a leadership role, that I needed to be out there even if I was afraid or didn't have the confidence to do the work," he said. "I'm never going to forget, and I'm not going to be afraid of them, those days, those times, are gone."