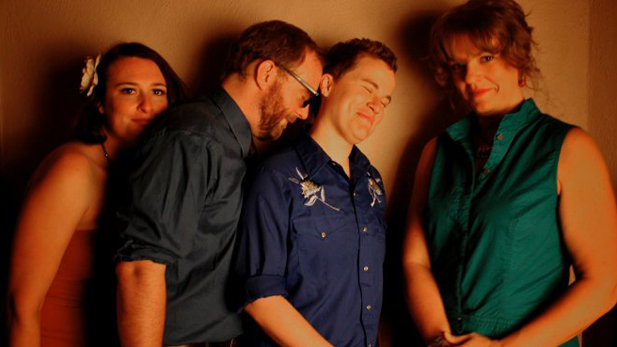 Seashell Radio was / is / will be the quartet of (from left to right) Esmé Schwall, Fen Ikner, Courtney Robbins, and Cassie Van Gelder

Aimee León
Following their 2009 debut, the band Seashell Radio quickly became a fixture in Tucson's downtown music scene. Together, the quartet produces a romantic, sweeping sound that includes classical touches amidst some very complex - and compelling - arrangements.
Seashell Radio's brand new album, Slick Machine, was recorded just as the band faced the prospect of going their separate ways. It was a decision made necessary due to new job opportunities and cross-country moves rather than creative differences, and although they are reuniting for a CD release party at Plush on Friday, March 2nd, the group's long term future seems uncertain.
The two remaining members of Seashell Radio, Fen Ikner and Courtney Robbins, discuss the excitement and the pressure they feel as they prepare for both a CD release party and a new U.S. tour, operating as a duo rather than a quartet...
Listen:
Bonus Track: Here is Seashell Radio live, performing Tsunami at the Rialto Theater, recorded by Jim Blackwood...