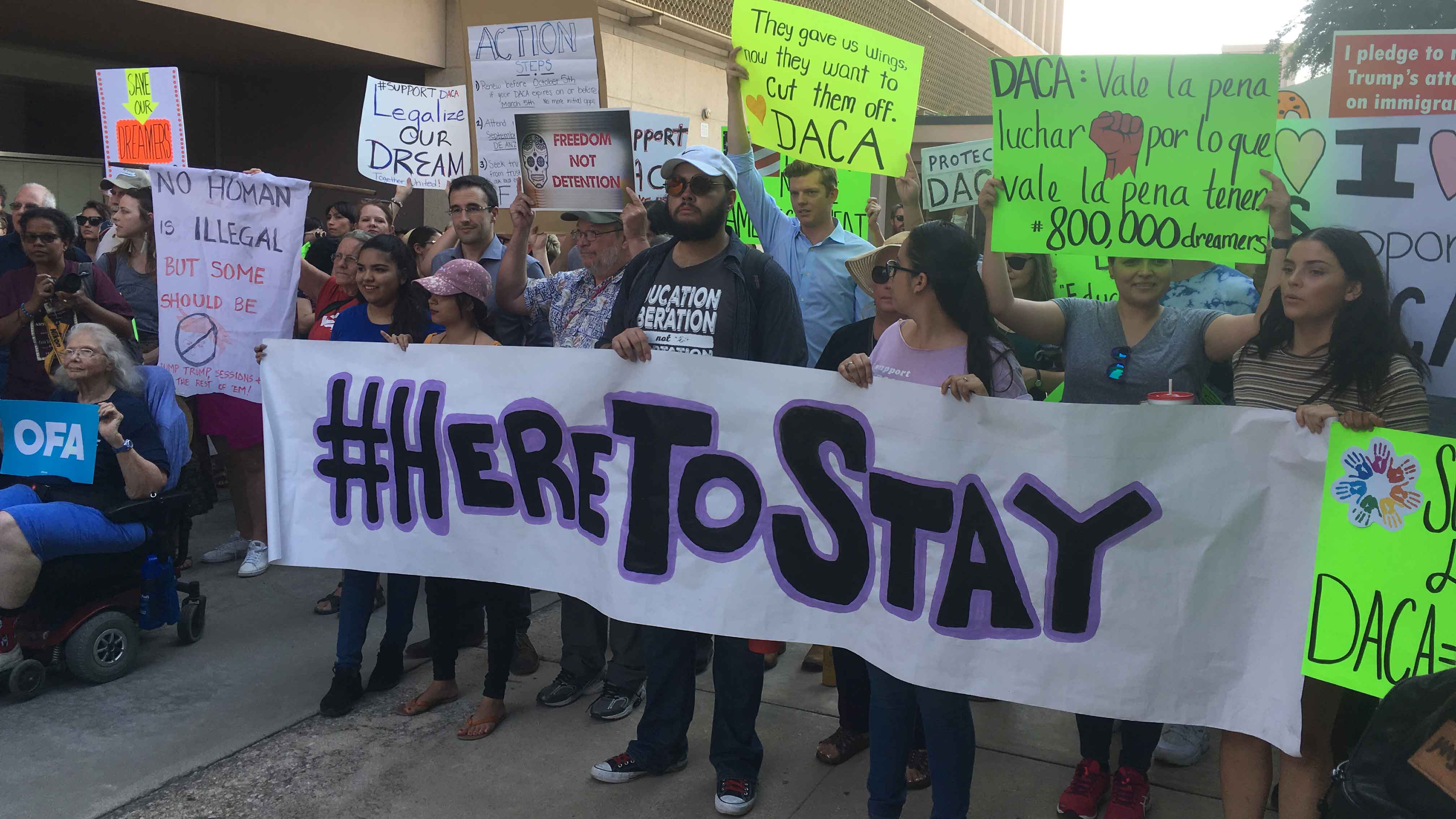 Protesters in support of DACA recipients gathered outside Tucson City Hall on Tuesday, Sept. 5, 2017.

Christopher Conover/AZPM
Last Friday, a New York federal court ruled the Trump administration must begin accepting new applications for the Deferred Action for Childhood Arrivals program, or DACA.
The ruling brought to an end a weekslong legal battle for the Obama-era policy that gives some undocumented immigrants brought to the U.S. as children protection from deportation and a work permit. But it has been in limbo for years.
First-time DACA applicants have been barred since 2017, when the Trump administration first tried to cancel the policy. A new hope came when the Supreme Court ruled against that effort this past summer.
But a memo from Acting Department of Homeland Security Chad Wolf stopped new applicants again. It also narrowed the amount of time current recipients can keep status and prohibited recipients from traveling abroad.
That's why, even after Friday's ruling, first-time DACA applicant Jesus Lucero didn't want to expect anything.
Then, a notice on the Citizenship and Immigration Services website made it official: DACA would be restored in full.
"I didn't even let myself have that optimism until USCIS officially changed their website. And when that happened, I turned my phone off and I went to sleep. I didn't have any words."
The new guidance goes into effect immediately and marks the first time new applicants will be accepted since 2017. Lucero is among some 300,000 DACA-eligible immigrants who were previously blocked.
Lucero said losing out on DACA has already cost them jobs, education, and many more opportunities. But this week, after a long sleep, Lucero gathered their documents and began preparing, finally, to apply.