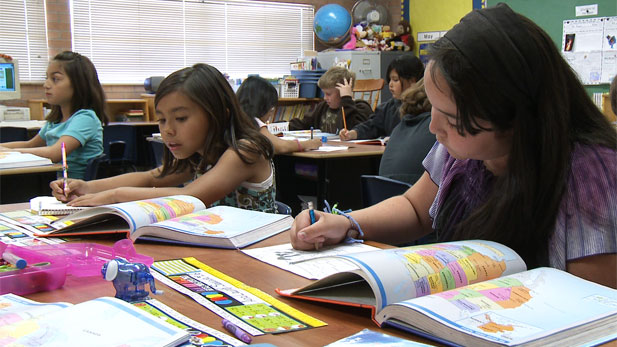 Tucson Unified School District students. (PHOTO: AZPM Staff)
A proposed initiative to extend the 1-cent sales tax beyond 2013 to help fund Arizona public schools has been filed with the secretary of state's office.
Listen to Fernanda Echavarri's story here
A group calling itself the Quality Education and Jobs Committee says in a press release sent out Friday that it will seek to gather nearly 173,000 signatures of registered voters to qualify the initiative for the November general election ballot.
Proposition 100, with strong backing from Republican Gov. Jan Brewer, was passed by voters in May 2010 to increase the sales tax by one cent for three years. The object was to raise $1 billion annually to support public education.
The governor has said she vowed to end the tax after three years, and she plans to stick to that. She has been vague about whether she would support an effort at a new tax to replace it.
Republican legislative leaders, however, have said they oppose its extension and any replacement for it.
Ann-Eve Pedersen, a Tucsonan who has worked as a public schools advocate, is chair of the Quality Education and Jobs Committee. She says there is strong support for the extension of the tax increase and does not expect much opposition.
Other members named in the release as supporters of the effort are George Cunningham, a former state legislator and founder of the Grand Canyon Institute; University of Arizona student body President James Allen; and David Martin, president and CEO of the Associated General Contractors of Arizona.