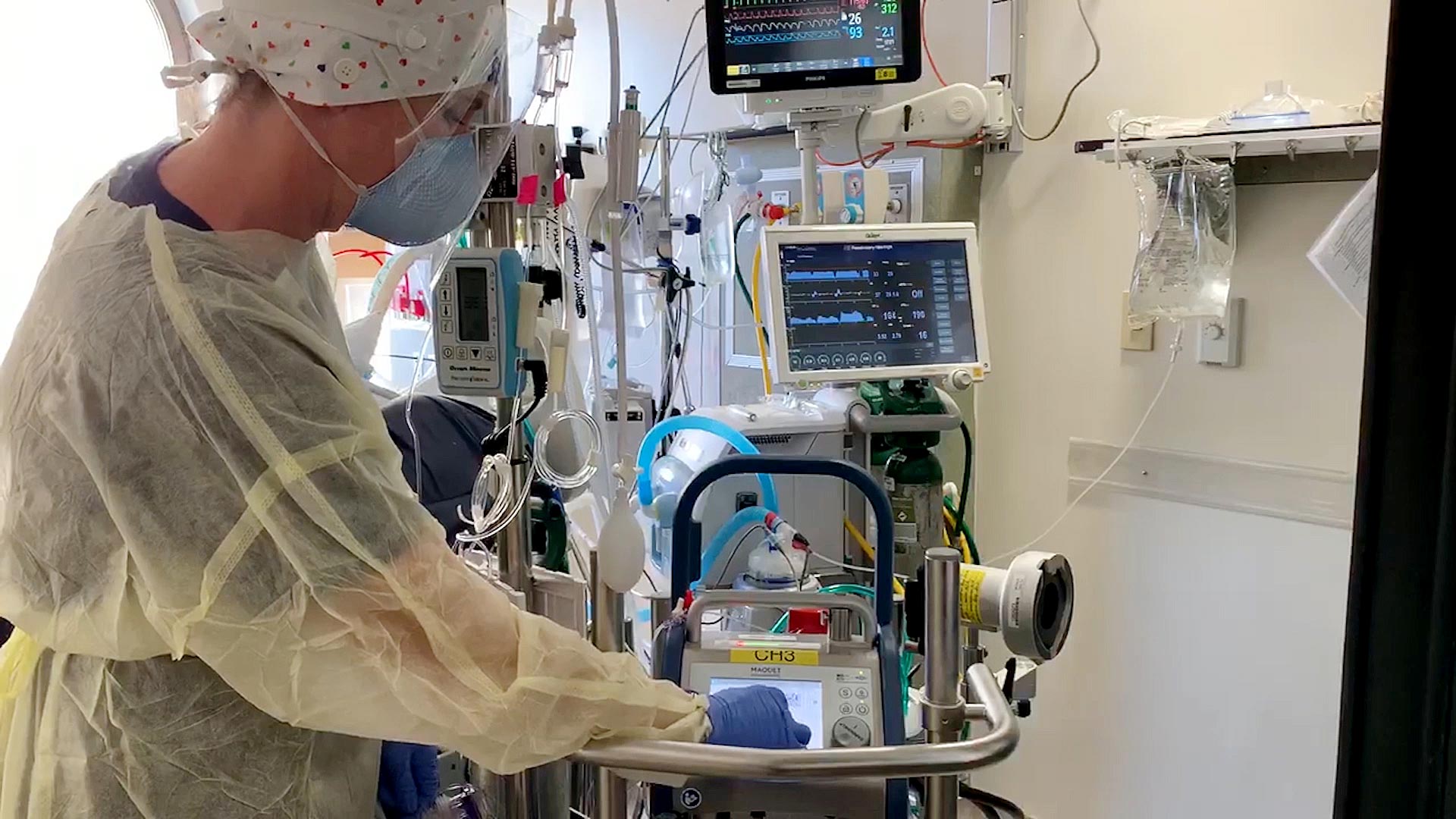 A handout image from Banner Health shows a health care worker in one of the hospital's COVID-19 units.
Banner Health
New cases of COVID-19 are skyrocketing across Arizona. The state health department reported over 11,000 new cases on Monday, including just over 1,800 in Pima County. County health officials warn this week hospitals could surpass capacity.
Alex is a progressive care nurse in Tucson. We're not using her last name or the name of her hospital because she worries she could be penalized for talking to the media.
She's been in medicine for more than a decade. And she says things have never felt like this.
"Just so distraught at the end of every shift, because I can't do my job," she said.
Right now, most hospital resources are going toward battling a surge in COVID-19 cases. Alex said that means people who are admitted for other reasons like heart attacks, uncontrolled diabetes and broken bones face longer wait times and have fewer nurses.
Over the last few months, she's spent most of her shifts in those units. She and her colleagues are overwhelmed, and she's worried there won't be enough staff to go around.
"I just don't want to be in a situation where someone has a worse outcome with an illness because I had too many patients to take care of, I didn't have enough resources and someone was too sick for me to do what I needed to do for them," she said.
In an open letter last week, Pima County health officials and medical personnel said the county's emergency departments and hospitals were at a breaking point.They asked the public to help by staying home, limiting gatherings and masking up.
Alex said her hospital is doing everything it can to keep staff safe and provide the equipment they need. But there's another problem: Many people still don't believe the virus is real. Recently, Alex had a patient on a non-COVID floor who was frustrated waiting for care and refused to wear a mask.
"'I don't wear a mask, I don't believe in COVID. It's all a scam.' And then he spit in my direction. I just spent the last eight hours caring for their person and then he immediately turns it into this emotional battle between him and I," she said.
She says she feels like anti-mask sentiment has become more aggressive in the last few months, even as cases continue to climb.
"If people saw what's happening in hospitals right now, I would hope that the empathy would kick in and people would take it more seriously. I would have thought as this got worse and worse, people would, but it just seems to be the opposite," she said.
By the end of last week, health data showed less than 2% of ICU beds were available in Pima County. Last Thursday, Arizona's COVID-19 infection rate was the highest in the nation.
Alex said at her hospital, all floors are stretched thin as more COVID-19 patients arrive who are not sick enough for the ICU but still need hospitalization.

"When we discharge a patient, that room is filled immediately. I know they are utilizing different spaces within the hospital to house patients who are not needing acute medical care anymore but they're waiting to go to an acute care rehab facility. They are also full. So then you just have this space with a bunch of patients who aren't waiting to go home, they're just waiting to go somewhere else."
As the Pfizer vaccine is set to arrive in Arizona this week, Alex said she sees a silver lining. Health care workers will get priority as counties roll out distribution plans, some in health care could get their first dose as soon as Thursday. After spending some time researching on her own, she said she'll get the vaccine as soon as possible. But that's not how everyone feels.
"There are a lot of people that I know, that I work with who are not going to get the vaccine," she said. "So the fact that people, even health care workers, are wanting to refuse this, gives me pause. Because we need to get to herd immunity, and if we don't do that, this will just continue to linger for another year or two."
As hospitals edge toward the brink, Alex said even if people don't want to listen to the science, she hopes they'll listen to the pleas of health care professionals like her.
"Please just heed our recommendations and our requests, because all we want to do is make you better so you can go on and live your life," she said.