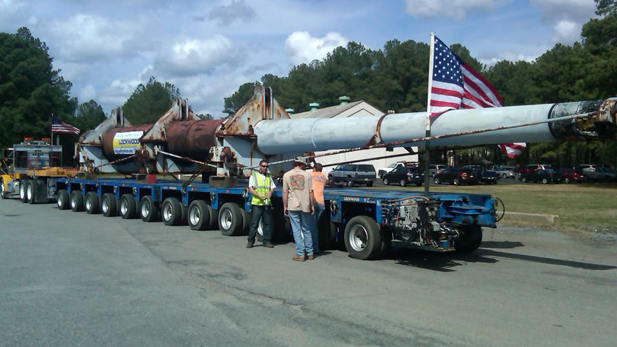 One of the gun barrels from the USS Missouri is loaded onto a truck in early March 2012, to be moved to Phoenix. It will become part of the state's WWII memorial, along with a gun barrel from the USS Arizona. (PHOTO: Courtesy of Arizona Secretary of State)
Arizona is adding another memorial to the many that recognize historic events outside the Arizona Capitol Complex, with the addition of two gun barrels from ships that played pivotal roles in World War II.
The USS Arizona sank and burned when the Japanese bombed Pearl Harbor on December 7, 1941, precipitating full-blown American involvement in the war. Nearly four years later, the Japanese would surrender aboard the USS Missouri, ending the war.
Barrels from the USS Arizona and the USS Missouri are now making their way across the country to become part of a World War II memorial in Phoenix later this year, said Secretary of State Ken Bennett.
"I called the Navy to see if they would loan us the Arizona barrel, and at first they said no because it was the last one they had," Bennett said. "I thought, well, the Arizona was the flagship at the beginning of the Pacific theater, the Missouri was the flagship at the end, so I asked for one of each."
Bennett's office has been working to get the gun barrels to Phoenix for the memorial using donations from private sources. Donations can be made at gunstosalutethefallen.com, or give $10 by texting the letters SOS to 50555 on a cell phone.